[dropcap style="font-size:100px; color:#992211;"]C[/dropcap]ontroversial Colombian artist Louis-Ferdinand Nieto Peralta Adams del Rio Siete Colores started out as a religious student but soon found a deeper inspiration in natural sciences, linguistics and psychoanalysis.
Influenced by the theories of the Latin American philosopher Francisco Flores he founded in his home country an artistic movement called 'El Perversionismo', culminating in a fictional documentary featuring Marcel Flores, a member of the perversion movement, who in the name of art made clandestine artistic creations. Andrés Dávila (bacanika.com) described the film as '…a sarcastic vision of art, a little affected but clearly humorous.' Trebuchet asked this mysterious yet playful artist about his relationship to depicting people and portraiture.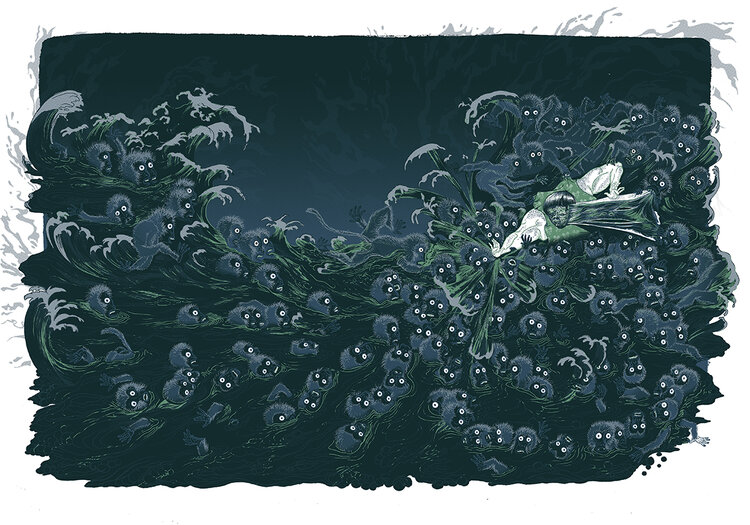 "Well, in my artwork portraiture is not a main topic, but I have made some pieces of 'depicting' people somehow. My own work process is quite complex with many conceptual layers, so it could become quite indigestible. However here is an example:
It is a portrait of an unknown man 'a man and chihuahua'. It's a nod to the Yves Klein's Anthropometries. The result of this piece come from another portrait I made of an artist called Marcel Flores, who painted a painting using a dead body of a man cut in half as a stamp. This artist come from a bigger project called 'The Perversionism' —an artistic movement I invented.
Other example would be the sculpture 'Ramus Velato'. It's a portrait of an art collector called Ramus Del Rondeaux. This sculpture is a nod to the "gisants"— European sculptural portraits of dead royals. This sculpture is the result of a video performance, also related to the bigger project of Perversionism and Marcel Flores.
'Any painting is a self-portrait'. To what extent is that true and what does this say about portraiture?
I think in our day, ART has arrived at a point where there is no more sense or rules to anything.
We contemporary artists are what I call 'Confetti sweepers' by which I mean the Party of Art is over now and we are just executing the nasty job of picking up the debris of what our ancestors created. So this is how even the idea of portrait could take many different shapes and directions. It would depend on which chunk of art history debris is inspiring us. For example, if I'm inspired by medieval philosophy, the representation of a portrait should be almost abstract, following the theories of neo-platonism or the dissimilarity in figuration from by Pseudo-Dionysius the Areopagite. The figure of a painting could become a self-portrait but taking the shape of a worm, or just the black stains on a piece of white marble…[Read more]
Read the full article in Trebuchet 7: Portraits
Image and artist courtesy of Galerie Da-End
The aim of art is to represent not the outward appearance of things, but their inward significance. – Aristotle