[dropcap style="font-size:100px; color:#992211;"]O[/dropcap]n a fast-and-loose press junket surrounding new release 'Change Your Position', we had the pleasure of sitting down with Tax The Heat for a talk.
We did snag a few of them, but on the day it was frontman Alex Veale who managed to be in a talkative mood yet without giving much away.
Good morning! How are you guys today?
Yeah all good man, all good.
Wonderful, so I thought we would start pretty basic. How did you guys get into playing music as a band?
We got together about five or six years ago. I knew Jack from when we were growing up, however. I was leaving a band I was in and happened to bump into Jack by chance. I knew he was a drummer, so that led to several conversations about shared interests and music which started developing into some jam sessions we had. After a while we put the feelers out to some other people that we knew, and that's how we met JP and Anton.
So when it came to you guys jamming, were there any artists in particular that you listened to and decided to jam on?
I think it all came from us talking about bands that we really loved, particularly '60s rock and blues bands. For instance; The Rolling Stones, The Beatles and The Yardbirds. It was those bands that we started talking about first, and then there are obviously loads of rock bands that we love over the years since the 60s, like Queens Of The Stone Age. When we started we were talking about starting something fresh and new, but we were really inspired by those great 60s blues and rock bands.
I can definitely hear in your album through songs such as 'Cut Your Chains', for example, where there was a different feel as it felt slightly more upbeat and 60s-ish. It was an interesting break from the rest of the album that was very reminiscent, to me, of Royal Blood.
Yes, we get compared to them every now and then, and I think that they are probably coming from a similar place to us in terms of being a 'real' rock band, really inspired by great rock music. Probably growing up listening to the same sorts of things as well, influences like that tend to come out in various ways. I think 'Cut Your Chains' is definitely a little bit different, and there are a couple more moments like that on the album as well. Which is good! We like to keep things fresh.
So, in terms of shows, were there any of the older bands you mentioned that you listened to, except for maybe The Beatles, that you saw live and had an 'oh shit! This is awesome and I need to do it!' moment?
Well, for me as a child, my first experiences of going to Rock concerts were bands such as ACDC and Aerosmith. I went to a couple of those stadium shows at age 11 or 12. It was there that I think I decided that I wanted to pursue a music career and start my own band.
Personally, I was lucky enough to see Black Sabbath when I was younger and it absolutely melted my mind! It opened up a whole new world of evil riff-ing I had never heard before and had a profound effect on me as a songwriter from then on.
We were lucky enough to see Sabbath at Download Festival one of the times we had played there. It was one of the only times that I had got to see them but I agree; it definitely was a great experience to be able to see them.
So were there any other key moments that have happened that specifically inspired this album?
Speaking personally and musically, I've recently stumbled across a band called White Denim. Listening to them has gotten me quite excited about rock music again. I went back listening to stuff like David Bowie, and on top of that there is a lot of situations and social change in the world that was definitely inspiring from a lyrical point of view. Seeing all of these different situations manifest themselves such as conflict and division. All of these are things that are key themes that are running through the album.
You can tell. The song 'We Are Consumers' in particular it is made very apparent that these themes have inspired you.
Yes, definitely. I think there are a lot of issues on different songs within the album, and that is something really special to us. We really wanted to ensure that this album is a snapshot in time of where we were at, at the time that we wrote these songs, both musically and thinking about everything that is going on in the world at the moment.
Talking about recording the album and trying to capture this snapshot. What was one of your favourite studio memories that you have of recording this album?
We've been asked that question quite a bit actually! It is a really hard one to answer as generally, everyday you are in the studio just working flat out to try and achieve the best thing you possibly can. I mean, there is a lot of fun that goes into it, but they have become kind of in jokes really! If I think back to being in the studio and writing the album, I just think of us having a really great time, being on the same page, and being really proud of what we were doing.
Marvellous. This album is brilliant in my opinion, but are there any plans to do more in the same vein in future or are you going to look into trying to expand your sound a little bit more by diversifying?
I think we really like seeing this album as a snapshot in time of where we are at, and we see it as part of the progression of our band that is Tax The Heat. We have a vision of what we want to create with that and we will keep going along with that progression, as long as people keep tuning in to the music and coming to the shows and keep moving the band along really. We will be playing as many tours and festivals and gigs off of the back of this album as we can. So I think it is going to be a while before we look at doing anything again as we are set on carrying on that progression for as long as we can.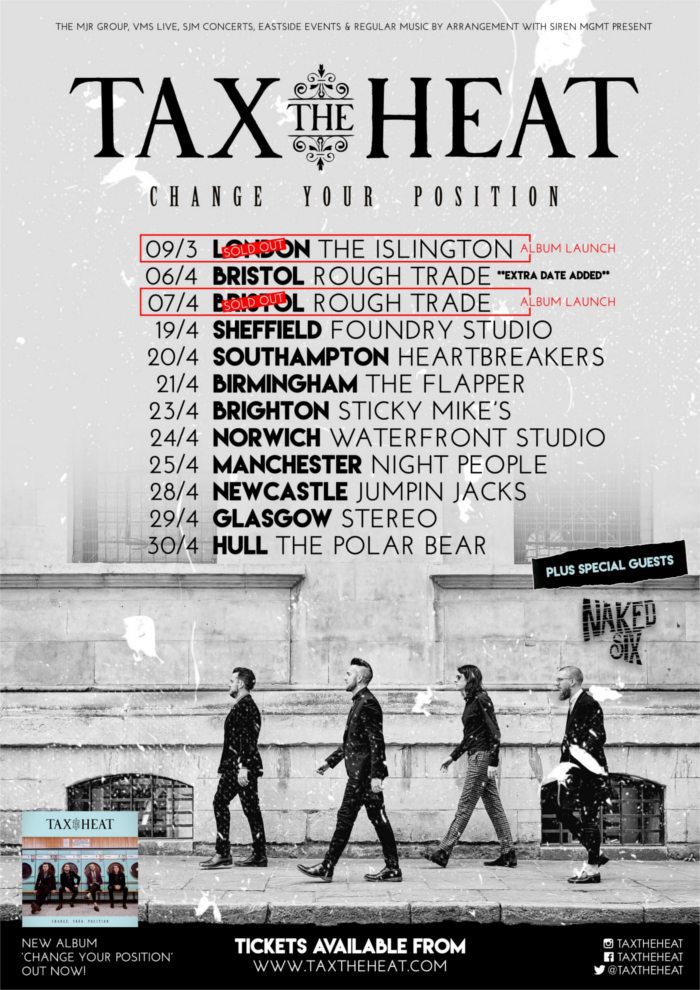 You mentioned festivals, from a personal standpoint, if someone was to see you at a festival and they weren't to be aware of who you are as a band. I can see it being very well received as it has a cool rock and roll vibe, whilst also being upbeat and badass.
There is a lot of energy that goes into the songs and that is what we really try and put across in our recordings, and that is kind of the reason why we put so much emphasis on playing the songs together in the recordings and I think that it really comes across when we play it live. We really can't wait to get out there and play some shows so that we can try and put that energy across and see how that goes down.
So what are you most looking forward to on your upcoming tour? Is there anything in particular?
We are just looking forward to playing new songs really! That's because this will be the first time a lot of these songs will have been played live. So I think on a purely selfish level, I think we are purely just looking forward to challenging ourselves with these new songs and these new parts and trying to put our all into them. But, it will be great just getting back out there and seeing everything grow and playing some new places, as well as meeting some new people.
Awesome! Is there anything you aren't super stoked about going on tour?
Sharing a bedroom with JP!
Fantastic.
Believe me its anything but fantastic!
I have one last question for you, and then I will let you all get on with your day. Have you got any advice for bands who are already established, but are trying to get out and gig more? I'm sure you get asked frequently for a piece of advice for new musicians and bands. What about people who are already musicians, already have some music released and a decent enough following, but are just looking to lift themselves off the ground that little bit more?
There are so many ways of doing it really; there is no right or wrong way. However I think that the best option is to just try and do it! Try and get out there some more. There is nothing stopping you from putting on your own shows in local areas, booking out rooms, hiring in PA's. That's the way that I cut my teeth playing in bands and I think more kids should be doing that, for sure. Trying to chase every possible gig that they can, trying to get their friends into it as well. That's because there is such a social element of being in a band, and when I think back to being a kid and playing, trying to get into the music scene in my town, like the older bands. They were like rock stars to me, they were people that inspired me,  I believed that if I could break into that, I could break into anything! So I think that you have just got to try and get out there as often as possible and try and get your friends into it to start with!
Thus concludes my interview with Tax The Heat. If you get the chance to see them on their upcoming album launch tour then I strongly urge you do – they promise to bring you one hell of a show!