[dropcap style="font-size:100px; color:#992211;"]A[/dropcap]s we mourn the passing of the mighty Nick Knox we are confronted with a choice of The Hollywood Vampires or Starcrawler.
It really wasn't difficult at all to choose, and judging by the sea of photographers that gradually amassed shoulder to shoulder during the top-drawer support action, many had made the smart choice and subsequently upped the odds of hitting any workable shots. This was going to be a show the media had to fight for, and rightly so.
Question is, in a sterile world of posed Instagram selfies, are Starcrawler the ultimate in contrived heroin chic or are they more 'for real' than the late Richey Manic? Apparently Steve Lamacq was in the building but Starcrawler's theatrics didn't stretch quite as far as arm slicing. Arrow de Wilde appears as the personification of the Warhol-esque manufactured commodity – the LA child and grandchild of music photographers and a drummer; born to be shot with supermodelism taken to the skin 'n' jutting bones extreme.
It is no wonder that with a pedigree like Arrow de Wilde's, she has become this living breathing musical piece of art, an ever changing photograph, a shuddering 8mm short or a life-sized poseable horror doll that will suck out your soul, gargle and spit its bloody remnants back into your dirty little mouth.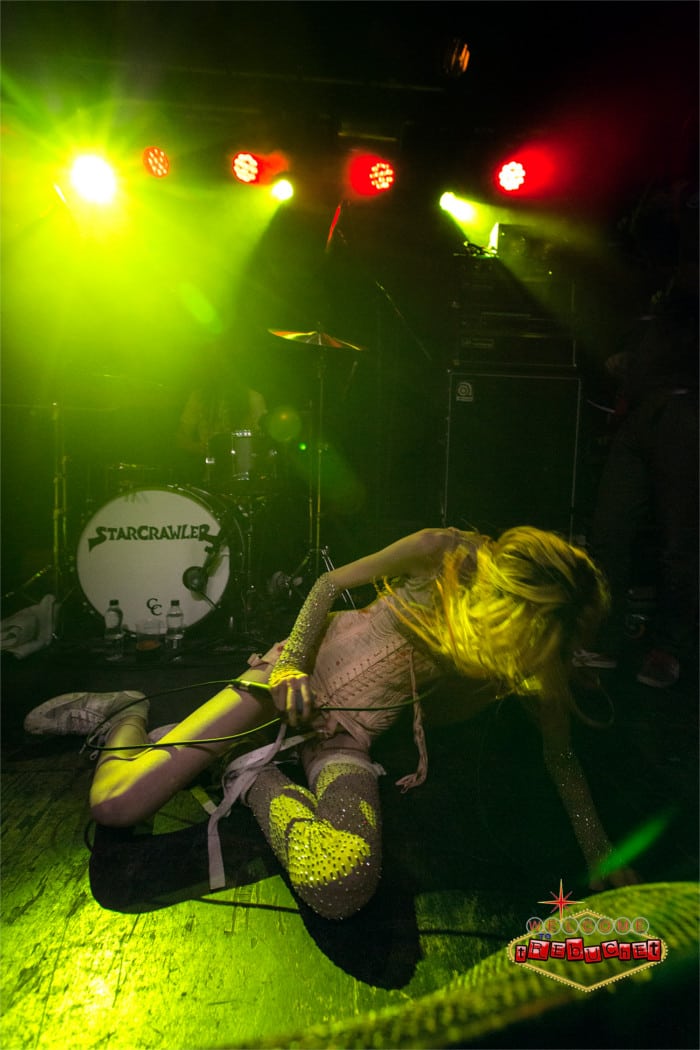 Dressed in a low corset over a virtually transparent top, silver stockings and handless gloves, sporting dark roots to her tousled bleached layers and enhancing her sunken features with pink under eye make-up, this was an American nightmare – Carrie meets Nancy Spungeon. Her contortions and convulsions, emphasising her spider-like frame, enhance the Victorian freak show vibe. You really wouldn't really be surprised if she had eased her way out of a glass jar or unfolded herself from a medium sized suitcase. At times she gives a cocky stomp, somewhere between Janis Joplin and Mick Jagger. At other times jerky bodily spasms punctuate her biting vocals as she stumbles across the stage feigning collapse by drug overdose or hanging by microphone lead.
Arrow wasn't the only one grabbing attention by the bruised throat. Guitarist Henri Cash donning a black Western embroidered shirt and natty belt buckle worthy of his namesake, stood ahead of an amp draped in the stars and stripes and squared up to the excited young crowd with an assurance belying his tender years. He's a super stylish little plucker. Bassist Tim Franco and hippy drummer Austin Smith kept a quiet, steady driving presence as Cash flipped around the stage like a pull string spinning top whilst Ms de Wilde flickered between Bowie, Iggy and some kind of interstellar super-sexual alien being sending out telepathic mind rays telling you to give her head whilst she moves on to the next number.
Make no mistake, Starcrawler are on the up. Little over a year ago they were playing Hackney hipster dive pubs, now they return to Highbury triumphant and on the brink of total global eruption. A mesmerising performance on Jools Holland under their belt, a packed room at The Garage and a summer of festival appearances with bands who started recording long before they were conceived.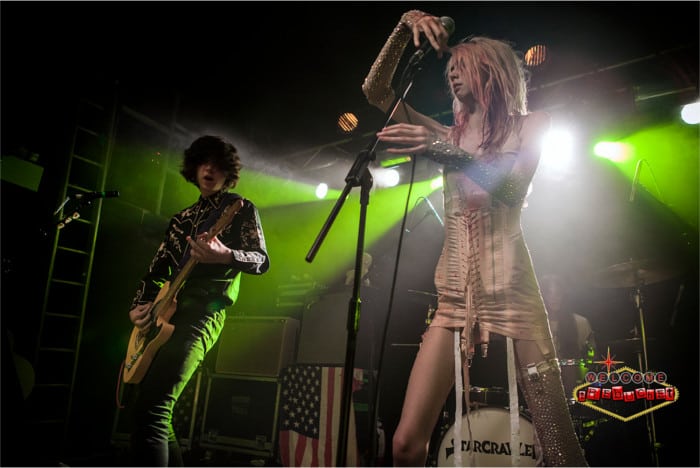 The set, like the current album, is wonderfully diverse. I imagined myself sitting in the Cowpony Bar in Tucson, getting steadily drunk on Mescal whilst listening to Tears. The chorus of I Love LA begins with a melody beautifully reminiscent of a hybrid of Come As You Are and In Bloom by Nirvana but speedily collapses into buzzy riffs over a Ramones styled rhythm section. While the Black Sabbath influence has been well documented, the spirit of the New York Dolls was just as evident, spiralling around my head with T-Rex, Johnny Kid and The Pirates and the Stray Cats, in some sort of Mescaline induced intoxication.
So the question remains – despite the striking musical comparisons, are they a bunch of true originals channelling the essence of the sort of raw rock 'n' roll that the world needs right now? Or are they well connected attention-seeking chancers, exploiting the vulnerabilities of their teenage fans and epitomising the commodification of strung out self-harm?
Starcrawler played at The Garage, London, on 20th June 2018.

Photographer, published poet, former party animal, body builder, grave robber
to the stars and renowned chainsaw juggler, Carl can often be spotted on his
Harley Davidson pretending to be in Terminator 2. He is also frequently seen in
the press pits of old London town, camera in hand, avoiding being hit by bottles
of wee and crippling his opposition with secret Kung Fu moves.