[dropcap style="font-size:100px; color:#992211;"]I[/dropcap]t seems redundant to labour the point that Mali is a crossroads of Muslim and Christian cultures in sub-Saharan Africa.
Salif Keita 's polyrhythmic compositions, the French inflection of his Malinke lyrics, the muezzin-call cadences of his vocal melodies and the jangling on-the-bridge guitar chords that typify his music are that cultural crossing-point writ large.
Set against the wanton destruction of the archives of Timbuktu's library, an album of songs by a venerable Malian musician becomes almost insignificant. But culture is an accretion of layers and if Talé has a part in that layering process, all the better to snub the misguided vandalism of idiots who somehow believe they are protecting the sensibilities of a religion which, in its pure form, has ever valued erudition and study.
Accepted now as a cultural father-figure in his native country, Keita 's relationship with Mali has not always run smooth. Ostracised as a child on account of being albino, the visible difference between Keita and his peers has ever informed his artistic output, most notably on the 2009 album La Difference.
The traditional rhythms of the Malian musician class (griot) were embellished on that album by Arabic string arrangements. That juxtaposition of styles and cultural roles was as much the 'difference' referred to in the title as was the more obvious sense of displacement Keita has felt from his fellow Malians on account of his skin colour.
Talé sets Salif Keita even further adrift from any rooted sense of place, any established Malian or West African tradition. What remains is his deep, perhaps instinctive, grasp of complex polyrhythms, and the vast range of emotional expression that his voice delivers.
Whether by happy accident or inspired ambition, delivering the production duties on the album into the hands of Philippe Cohen Solal exerts a defining force on the album well beyond the usual role of producer. Charged with the task of making a Salif Keita album that would appeal to Western ears, Solal draws heavily on the same techniques he has applied to tango rhythms and instrumentation as part of Gotan Project.
Traditional elements are retained – guembri, qraqeb, calabash and balafon figure prominently on a list of exotic instruments more usually associated with the deep recesses of digital audiobanks. Western string arrangements also figure, as do a host of processed bass effects and keyboard glistens that signpost Solal's long-term NinjaTune provenance. Nevertheless, the dominant impression of the production is that the key process has been one of elimination, simplification, rather than building complexity.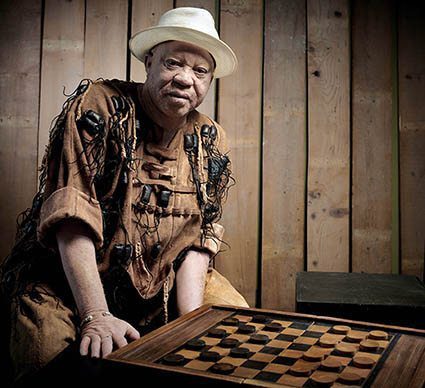 The melodies are strong, the rhythms faultless. Solal 's most obvious role on the album is analogous to that of the mixing engineer, bringing to prominence the specific parts of the composition that demand attention at any one time, but more importantly, dampening down those which don't. Crossover records by World Music artists (the term is problematic, but will suffice) often tend toward the glossy; they are frequently stymied by inappropriate keyboard voices or over-arrangement. If that tendency were true of Talé at any point in its existence, Solal has eliminated it.
[quote]immeasurable pain and boundless hope[/quote]
Much of the record is sung in Malinke, meaning that apart from a few shattered phrases of French or Spanish, the lyrical significance of the songs will be lost on a majority of listeners. What that enables though is the expressive power of Keita's voice, which at once conveys immeasurable pain and boundless hope. Every culture has its tradition of vocalised suffering, be it Son, Flamenco or Blues, but it is the stoicism of the latter that seems most relevant here.
Nevertheless, if Keita 's voice has the inflections of proto-blues (reception theory plays a large part in listening to this album – there are times when it brings blues to mind, and times when it reminds of Talking Heads or Mori Kante – which skews the inspiration/influence continuum in unsettling ways), the aforementioned Cuban style of Son is also overtly present. On 'Tassi', Cubans Pity Cabrera on piano and Frank Rubio on bass make the connection ineluctable – Salif Keita is a natural-born sonero. The song is a slinky Latin number, with restrained keyboard and clave work demonstrating how deeply ingrained African rhythms are in Cuban music.
The collaborations on the album will draw the most attention, with the Roots Manuva – featuring 'C'est bon, c'est bon' at the forefront of that tendency. An oldschool dub, the vocals do seem a little as if they were tacked on to the track as an afterthought, with three distinct vocal parts featuring Keita, Rodney Smith, and female BVs on the chorus. Dub, by it's nature, is modular, and if it's not quite an alchemy of complementary vocal styles duetting in harmony, it is at least an uplifting, feelgood skank.
On 'Cherie s'en va', Esperanza Spalding morphs into full Erykah Badu mode in a call-response narrative between a plaintive father and Spalding's role as grown daughter leaving home. The haunting contrast in vocal treatments is the star of the track, set against a restrained cello/effects soundbed that recalls Little Dragon 's 'Scribbled Paper'.
'Natty' features Keita 's real daughter, who adds her vocals to a straight four-four house beat with some enjoyably 'Other' traditional string instruments adding flavour to a love song between father, daughter, and extended family. The tendency to mawkishness that is almost inevitable when children sing lines such as 'je t'aime papa, je t'aime maman', is balanced by that Salif Keita voice, which truly sounds as if it has lived a thousand hard years yet still remains unbowed by the experience.
Elsewhere, 'Apres-Demain' is a tour de force of polyrhythms with as much going on as a gridlock in the Rio carnival. One rhythm comes via snare/high-hat, the other via the bassline. Just to show how co-ordinated the two are, how well they fit together, the tempo drops mid-way through the song, then picks back up again. With the rhythms established, the focus moves to brass and voice melody overdubs. It's a compelling piece of music for the dancefloor, and a triumph of NinjaTune – style sequencing with afrobeat sensibilities.
On 'Simby', Bobby McFerrin and Keita create a soporific trance rhythm through acapella and beat-boxing, with a circular high-register vocal adding a heavenly touch to the layered composition.
Elsewhere, Keita has vocal duties to himself, and on repeated listens, it is these tracks that stay in the mind. If anything dates about this record, it will be the production quirks and effects. Keita 's voice is outside of time, although steeped in place(s). If you wish to call someone, he once stated, call them with music. In present-day Mali, that's got to be worth a try.
Universal Records, February 11th.
[button link="http://www.salifkeita.net/" newwindow="yes"] Salif Keita Homepage[/button]

Sean Keenan used to write. Now he edits, and gets very annoyed about the word 'ethereal'. Likely to bite anyone using the form 'I'm loving….'. Don't start him on the misuse of three-dot ellipses.
Divides his time between mid-Spain and South-West France, like one of those bucktoothed, fur-clad minor-aristocracy ogresses you see in Hello magazine, only without the naff chandeliers.
Twitter: @seaninspain