[dropcap style="font-size:100px; color:#992211;"]R[/dropcap]onin: masters of melody, tonal swordsmen beyond compare.
A near masterpiece, Fenice is an album that appeals to everyone but caters to none. With Fenice, Ronin have released a fantastic block of odd-rock that will find fans amongst the quality listener of discerning music. It's bracing and brilliant and reviles the deaf, hearing was meant for albums such as this.
If you remove the vocals, and by default the vocalist, does this actually allow the music the speak with greater depth? In most groups the singer contains the audience's focus, the marketing of music has made the singer become a marketing tool whose visual profile often exceeds their talent, and usually that of their musical comrades.  Ronin, as group without a singer, present fantastic music that seems much fuller without a singer (although Emma Tricca's voice on the album works), the melodies and rhythm contain meaning enough for all.'
[quote]allows you to conjure
whatever images and
depth to the melodic
analogies you like[/quote]
As Bruno's melody lines contain enough evocative sparkle, no one misses the singer. Which in turn allows you to conjure whatever images and depth to the melodic analogies you like. At its best instrumental music is like comparing reading a book to watching television. Both can be fantastic, but to some extent people are bred to be one sort of person or the other.
Fenice contains a broad array of cinematic motifs (Westerns, Italian pop, Rota and Morricone) matched with a punkish element (Minutemen, Meat Puppets, Mermen) but is an original Mediterranean experience that has a molotov cocktail's worth of burning intent. It's fascinating, deep, dark and thrills at every turn and should top best-of lists for 2012. Buy it now.
After watching a masterful one-off performance by the band at London's Vortex Jazz Club (23/1/12) Trebuchet's Kailas Elmer caught up with Ronin's Bruno Dorella to discuss this phenomenal affair.
Trebuchet: Is there a particular thing you want to say with Ronin?
Bruno Dorella: I guess most of the readers won't be familiar with us, so: we're an italian band, we've been around for about 10 years, released 4 albums and some soundtracks for movies and documentaries.
Trebuchet: Is there a particular thing you want to say with Fenice?
Bruno Dorella: Fenice means Phoenix, the mighty bird who rises from its ashes.
Before recording this album, I was about to stop the project, for different reasons. The other members of the band came to the city where I live, on the beach. We had lunch and we talked. After that, we were a stronger band. We started recording this album with an unknown energy, and somehow I feel like people are getting this power.
Trebuchet: Ronin can be read to mean a samurai without a master, what does it mean to you?
Bruno Dorella: It's a little bit what we are. A Ronin is a Samurai who fails his task, which is the protection of his Master. He either betrays or he's simply defeated. Anyway, after that he's a Ronin. An unwelcome man with no value, who has to travel and live as a mercenary, and is often closer to a thug. But he's still a warrior, a proud warrior. Often a loser.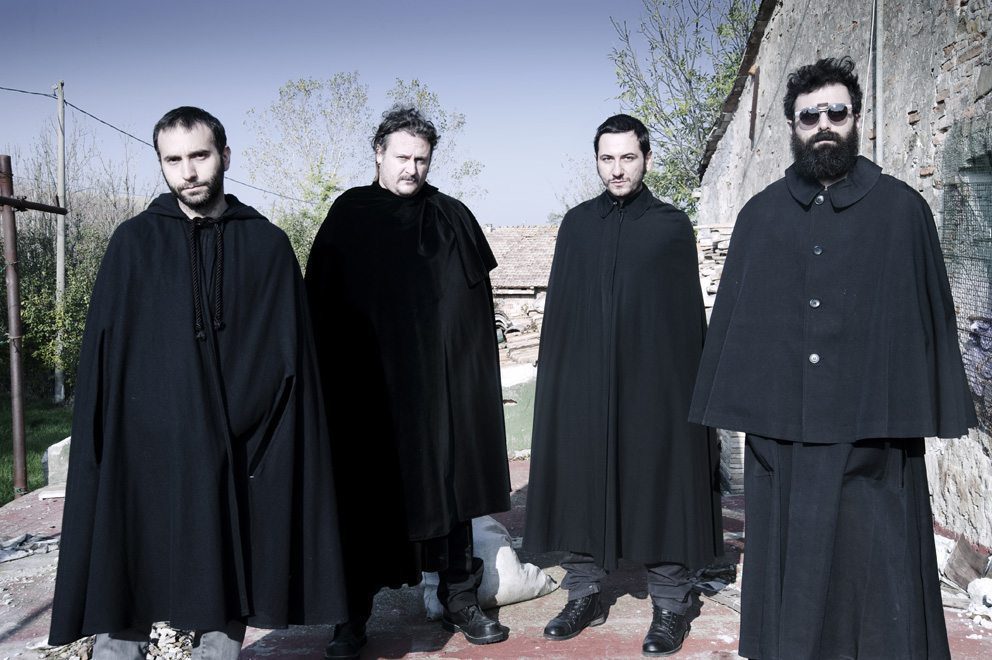 Trebuchet: What is the role of cinema to you as a person and how much does it influence you?
Bruno Dorella: It used to be pretty big for me as a person, but I have to say that in the last years I lost touch with new movies, because I'm constantly on tour. But it definitely influences my life and my personality, and soundtracks obviously have a big influence on Ronin.
Trebuchet: What are your expectations for the record?
Bruno Dorella: Expectations are usually a source of sorrow. I've had my heart broken enough times with expectations for my music, or for a record. I just want to make good records and play music, to keep on touring as much as possible, and to try to get better in what I do.
Trebuchet: What is your connection to folk music, were you fans before your experience of Balkan music at the festival?
Bruno Dorella: I always liked all kinds of music, but when I saw that Balkan band playing under a gazebo, when every other band had to cancel their show because of the storm, I felt something special that wasn't just connected with the music, but with the attitude. Back then, I was mostly into punk and hardcore, and I felt a similar attitude, but the music was better!
Trebuchet: Is there a continuity between your work as a punk musician and Ronin?

Bruno Dorella: As I said, it's in the attitude, and in some little details, like choosing an anarchist chant as a cover song on our album "Lemming", or choosing this sentence as a concept for our previous album "L'Ultimo Re": "With the guts of the last priest, we shall hang the last king (Con le budella dell'ultimo prete, impiccheremo l'ultimo re)".
Trebuchet: What is it about Folk that is 'punk' to you, and vice versa?
Bruno Dorella: Playing on the street is a super punk thing, for example. And if you play an acoustic guitar, you can sing everywhere, you can help workers on strike, spreading their reasons, like Bob Dylan did. With the simplicity of words and chords you can reach people's hearts and minds easier. It's honest and direct. Of course, when I mean "punk" I'm not talking about Sex Pistols, but about Crass and the anarcho-punk-squats scene.
Trebuchet: Do you see the differences between traditional and contemporary music or are you more focussed on the similarities?
Bruno Dorella: I like both very much, and it's interesting to see what's similar and what's different, or simply to forget what's traditional and what's contemporary and just enjoy music.
Trebuchet: Do you think you're creating something new or do you see what  Ronin as something in a musical lineage?
Bruno Dorella:  We don't pretend to create something new, we use the tradition and we mix it with contemporary in order to develop our own language.
Trebuchet: Traditional music has particular appeal; many people love the sense of history as well as the familiarity of melodies that have been ingrained (knowingly or unknowingly) in popular music. When people go back to the source what do you think they find?
Bruno Dorella: Honestly, when I do it I'm overwhelmed with the power of the historical value of what I'm listening to.
Trebuchet: Some people think of traditional music as being 'dead' or at least unchanging. As a progressive artist (someone who takes existing forms and takes them forward) how do you approach pushing your music into new areas?
Bruno Dorella: I'm familiar with early music as much as with the most extreme contemporary electronic music. I'm just a music freak, and I have no problem with mixing baroque with noise, dubstep with swing, rockabilly with cumbia, doom with avant garde… It's all music and in my head everything has the possibility to mix with everything else. This makes a lot of people uncomfortable, but it's totally natural to me.
A lot of people would actually like to listen to the same thing over and over, and that's how music becomes a cliché, and dies (even if cliché has its own fascination).
Trebuchet: There is a core of musical integrity to your music that is respectful of past, do you sometimes think 'oh oh I went too far, I've pushed it into something else' or do you feel that you haven't gone far enough?
Bruno Dorella: I've certainly done it, most of the times without even realising it.
Trebuchet:  Your cover of 'It Was a Very Good Year' was particularly successful. Do you often incorporate other hits into your repertoire? When reworking a tune do you find a hidden element and bring it to the fore or do you see your interpretations more holistically?
Bruno Dorella: I don't really know how it works, or least I don't have enough distance from what I do to be able to analyse it.
I just know that at some point I need to do it. I needed to do that version of 'It Was A Very Good Year' because my father used to play it at every family meeting, and I hated it. Then he covered his cheap keyboard with a white cloth, and never touched it again. That's when I started missing it. I can say that 90% of the cover hits I've played are related to my childhood.
Trebuchet: Fenice seems like it was a real joy to make, the performances are fantastic and the neo-classical, electro-acoustic flourishes blew me away. How's it all going to go on the road? Are you excited? Do you sometimes bring the other musicians on stage or do you keep it solid four?
Bruno Dorella: We usually keep it solid four because we practiced hard on playing these songs without horns, strings and piano, and we're very happy with the result. Just a few days ago we were joined on stage by Nicola Manzan who played all the strings. It was good, but we're very excited by our set like it is now. I'm really happy you like the different elements of ancient and contemporary music, it's been a big challenge to turn them into something that's still rock, somehow.
Trebuchet: Ronin might be described as 'Italicana', like rural Americana but localised to your Mediterranean  experience. How much would you say this is true?

Bruno Dorella: I would be really proud of such a definition.
Trebuchet: Politically, the record can be seen to have a resonance with current events; Arabian melodies over an American template, are you affected by things that appear in the news when you are writing music?
Bruno Dorella: News and politics don't influence my music directly, but they influence my life, so they influence my music, too. I'm very interested in history, and it's amazing how much we're INSIDE history, every day. And I especially like when it happens on tour.
I've been on tour with OvO (one of my other bands) in Macedonia during the civil war, and some 19 year-old army guy asked what the hell we were going to do in Skopje, keeping his rifle up to our faces. When we said that we were going to play a heavy metal concert, he made a big smile and let us go. We were in Chicago when the Twin Towers were attacked, and we were in NYC just a couple of days before. When you're travelling and you step into history, you realise you're part of it. It's harder to realise it when you're home, but everyone is part of history, every day.
Trebuchet: Many thanks for answering these questions and I look forward to seeing you guys again soon.
Bruno Dorella: Thanks
http://www.lastfm.it/music/Ronin