[dropcap style="font-size:100px; color:#992211;"]T[/dropcap]here is an orderly queue stretching down Camden High Street as a mixed bag of grey haired rockers in waistcoats and paisley shirts, younger women in denim skirts with layered brown hair and male teenagers in slouchy jeans start to gather for a sold out show at the Electric Ballroom, the last night of Californian rock band Rival Sons' UK tour.
Inside, the venue is crawling with music industry types and the photographers are having to fight for space in the press pit.  New album Head Down is riding high in the rock charts. There seems to be an unspoken agreement that this is the last opportunity to see Rival Sons play a venue of this size.  Big things are predicted for this band.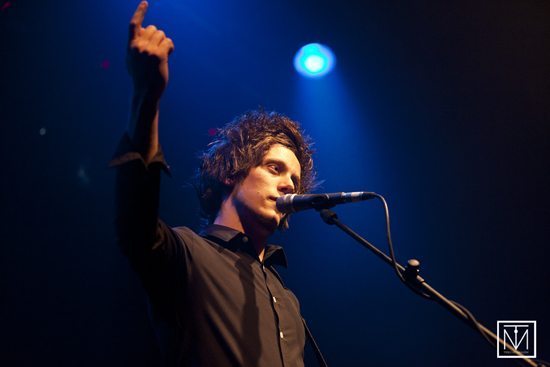 Pint Sized Hero
The opening act, Pint Size Hero, are falling over themselves to thank Rival Sons for allowing them to play.  Apparently they had just bought tickets for the tour when they got the call.  Their songs are well structured and competently executed and the singer can hold a tune well, but that fairy dust sparkle is missing.
[quote]that fairy dust sparkle is missing[/quote]
It doesn't help that the bassist is wearing a suit jacket with jeans.  Thankfully the sleeves aren't rolled up, but his head is going back and forth in that ageing rocker chicken move.  When the singer refers to his mates in the audience by name, it all gives the impression of a school band trying to impress the big boys.
The are followed by Ulysses, a psychedelic glam band rich with every rock cliché going but sadly lacking in glamour.  They are also grateful to be supporting Rival Sons and dedicate a song to them.  Shouldn't support bands want to blow the main act off the stage and steal their rider?  My attention starts to wane but I am unable to escape as the crowd move away from the bar area and start to position themselves for the headliners.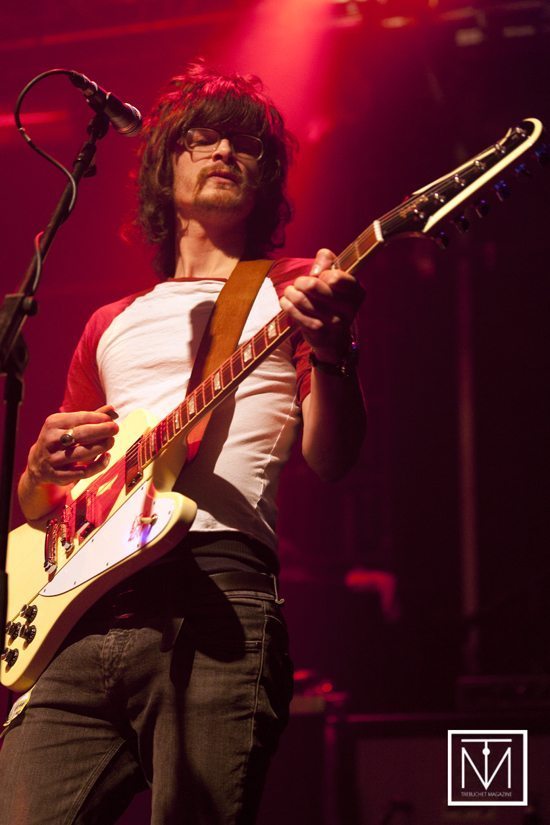 Ulysses
[quote]Shouldn't support bands want to blow the main act off the stage and steal their rider?[/quote]
The atmosphere in the Ballroom is indeed electric as Radio 2 DJ, Bob Harris walks on stage to introduce and endorse Rival Sons.  If the boys in the lower school looked up to them, their music teacher is now singing their praises.  By now it's virtually a love-in and I almost expect the band to descend to the stage from the heavens.
They open with current single, "Keep On Swinging" and follow with more tracks from the new album. The audience are appreciative although not completely unrestrained.  The party really starts when they get on to numbers from last year's "Pressure and Time".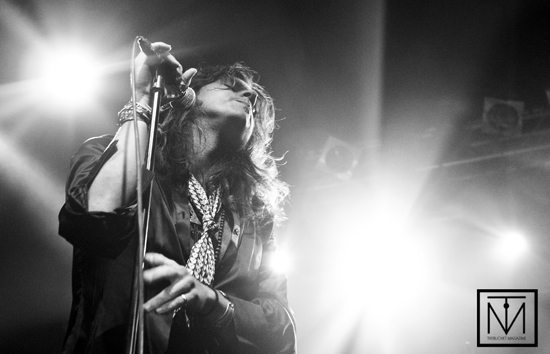 Rival Sons
It's not too difficult to understand the appeal of Rival Sons.  They do classic rock extremely well. Jay Buchanan is without doubt a charismatic lead vocalist who, despite his relatively small stature, has the presence to command the stage.  His voice is immensely powerful but he's not a shouter or a screecher; there's depth, tone and musicality to his vocals. The textbook perfect bluesy rock frontman.
The drummer, Mike Miley avoids the common mistake amongst rock drummers of over extravagant, showy playing, instead sticking to solid yet varied beats. The bass guitarist, Robin Everhart plays some funky bass lines that give the songs a groove and a danceable catchiness that many rock bands lack. Surprisingly for a band of this type, the weak link is the lead guitarist, Scott Holiday.  The riffs are fairly stock and the solos just don't cut the mustard, at times sounding like an unrehearsed jam, which is worrying for a band with stadium ambitions.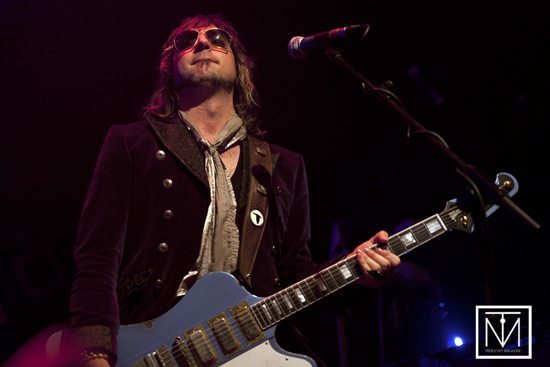 Rival Sons
The other problem with Rival Sons is that they are so obviously standing on the shoulders of Led Zeppelin and Black Crowes. You could probably get away with singing "Whole Lotta Love" over the top of some of their songs and not notice too much of a difference.  There's little here that's truly original, challenging or dangerous. Having said that, I can't imagine that anyone in the crowd was asking for a refund and fans of classic rock will love them.
After a while I retreat to the back of the venue and whilst resting a pint on the merch stall, I comment to our photographer that the band might be a tad overhyped.  A passing old rocker type overhears and gives me a withering look.  The photographer splutters on his pint.  Well, how was I to know that the old rocker type was Jimmy Page. Yeah, yeah, of Led Zeppelin fame.  If I was him, I'd be considering suing them.
[quote]professional in every sense of the word – wild in a sanitised kind of way[/quote]
I have no doubt that in a year or so, Rival Sons will be packing out larger London venues and rocking festival crowds (they have already played Download).  They are professional in every sense of the word – wild in a sanitised kind of way.  Introduced and given the stamp of approval by a respected broadcaster with an OBE; watched by one of their main influences.  They rock out, but there ain't no stains on those leopard print trousers.
Photos: Carl Byron Batson
Interview with Robin and Miley from the Rival Sons. 
Interview with Jay from the Rival Sons.
[button link="http://www.rivalsons.com/" newwindow="yes"] Rival Sons Home[/button]