[dropcap style="font-size:100px; color:#992211;"]T[/dropcap]hroughout my youth I was told, usually by my father, that my generation was doomed.
He said we were spiritually bankrupt. Economically bankrupt. But, worst of all- music had died. We were left with something. The radios still turned on. But what came out wasn't anything worth listening to. I believed my father until I turned fourteen and went to a firehouse punk show. There was music everywhere, I realized, it was just hiding. And it was still willing to give itself to anyone who took the time to find it.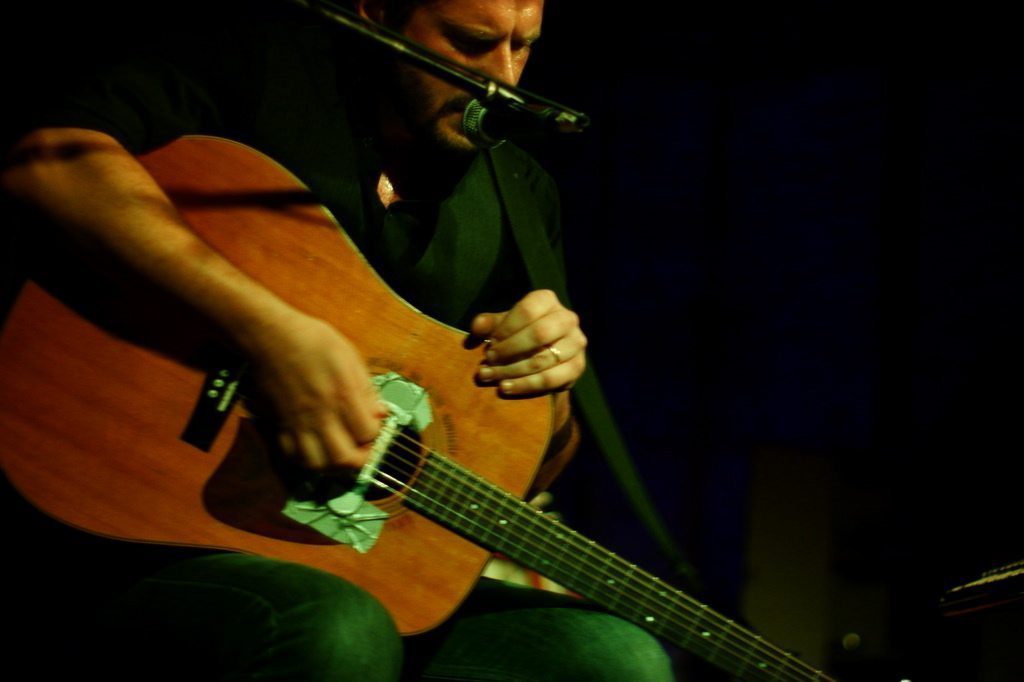 JKutchma
I'm not sure where Bruce Springsteen went in the 90's. I know that aside from my parents no one else in my life ever spoke about him. But, as we hit our 20's, my friends started to drop off into domesticity in the New Jersey suburbs. Bruce's name became a synonym of the bored and aging middle-class.
[quote]Nobody I know ever worked in a factory. None of my friends ever fixed hot rods in their parents' garage[/quote]
Which is fine, I guess, but that already happened. The last generation got to grow old and stagnant with Bruce Springsteen. Nobody I know ever worked in a factory. None of my friends ever fixed hot rods in their parents' garage and cruised around the shore towns with their high school sweethearts. It's like at the end of Jarhead when the Doors song is playing and Jake Gyllenhaal screams, "that's Vietnam music … can't we get our own music?"
I thought about this while I was standing in a parking lot in Wilmington, NC and the radio was running commercials for the new Springsteen record. There was a show that night on the edge of the ghetto at a hookah bar. A  bar that looked like a Caribbean hut. Potted palm trees at the door. Bright yellow walls. A freezer of micro-brewed beer with names that alluded to hallucinogenic drugs.
An opening band had been added last minute: Jkutchma & the Five Fifths. I looked at the flier outside of the door and frowned. I couldn't figure out how to pronounce Jkutchma so I assumed whatever they were, they weren't very good.
[quote]The bartender thought I was in the band so I drank for free[/quote]
I parked myself at the bar to read. The bartender thought I was in the band so I drank for free. Two old guys played some Bob Dylan songs. It was turning in to one of those nights. I hadn't slept in three days, I drank too much, and the Dylan songs were pushing me to text an ex-girlfriend and ask her for another chance.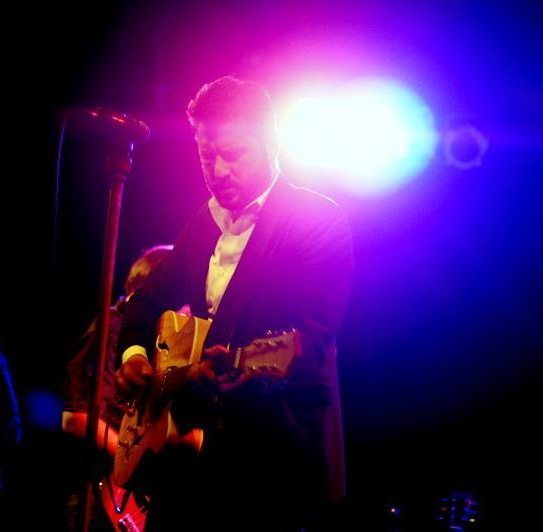 Jkutchma
Like an old western – the door blew open. Dust and smoke circled a figure standing in the doorway as if they were his perspiration. There were only three people in the bar, but we all noticed. In walked JKutchma. Like a rockabilly cowboy who'd just returned from the wild, he held an acoustic guitar in one hand and a piece of vintage luggage in the other. Spurs dragged along the floor behind his gold boots. I felt like I was watching John Dillinger march in to a bank.
He held himself like a man of another era. Like he had a shed full of tools and knew how to use them. His head dipped in a slow nod as he walked past. When he got to the bar there was already a glass of something dark and cold waiting for him. The bartender gave him a wink.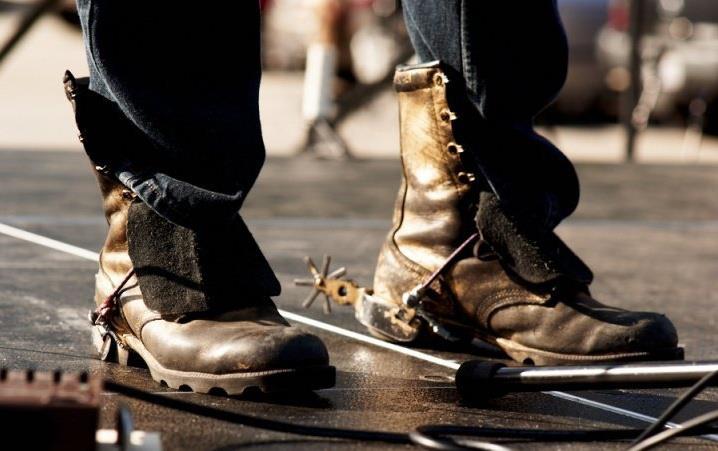 His set-up was simple. A pedal for some delay. A guitar in open tuning. And a set of spurs that complimented his boot stomping like a nasty bass drum ready to explode.
He went at the microphone like each song was the last he'd ever sing. He had lyrics that told stories, "The war took my brother and I survived. He died by a bullet, friend or foe? The U.S. Government still don't know." I felt like I was watching Bruce … if Bruce had never made it. Humble, but aggressive. The material never went stale, only deeper, and more honest. I was listening a man who was cataloguing our time, even if no one else knew he was doing it.
"Got a band to be famous and to get laid can you blame us? But without a record deal we did the punk rock thing and broke up". It was one of those moments when you remember why you started listening to music in the first place. There were three other people in the bar but Jkutchma sang like every ear on earth was turned his way.
His set was over too fast. I grabbed two beers, punched around on my iPhone until I found the recorder and followed JKutchma out of the bar to his tour van. He had another show that night but agreed to do an interview.
So, that was, like, the last thing I expected.
JKutchma: Normally whenever people think of singer/songwriter, which I guess is what I have to call myself, though I would probably prefer troubadour, I say it's a lit bit more like the guys who came before me. It's a lot of Dylan derivative stuff that never quite embraces the stuff that made Dylan great.
Most of the bands I see are trying to fit in to a genre. You clearly aren't. Who are your influences?
JKutchma: I love … my biggies … my Mt. Rushmore– John Lennon, Ian MacKaye, Chuck D, Joe Strummer and Bruce Springsteen.
Of course. I'm from the Jersey shore (sad face) …
JKutchma: (Laughs) The job I just started … I mean, this is great, but it doesn't exactly pay the bills. So, I have to do something in-between … I substitute teach. I go in to class, the first one of the year, yesterday, and this black girl asks,
"where are you from?".
I said, "why do you ask?".
She says, "I just want to know".
"Where do you think I'm from?"
"New Jersey."
"New Jersey?" I laughed. "Why?"
"Cuzz I watch that show and your hair's all slicked back. You're kind of buff and you're white".
That's the only place you could be from.
JKutchma: (Laughs) Yea you've got hair and you're white and have some muscle tone so you must be from the Jersey shore. Fuck.
What do you wear to substitute teach? Not spurs I guess?
JKutchma: I wish. I was instructed by Durham public schools to just wear dress shoes. I was walking around doing my hallway monitoring stuff and this girl walks by wearing a "Those Darlins" shirt and I thought it was really cool. A little 14 year old wearing a "Those Darlins" shirt. It was autographed.
When did you decide to incorporate the spurs as an instrument?
JKutchma: In Texas. But, I ran through my first set already. I was in my home town of Johnstown, PA a couple of weeks ago and my dad, he still works at the steel mill, said we'll make you a new pair.
Your band name is JKutchma & the Five Fifths. Does that mean you usually have a band with you?
JKutchma: Well, my last band started playing less and less. They got families and occupations … things that they wanted to work on. But, I think with most bands, there's always some idiot that wants to carry on. And … I'm that idiot. I kept on playing solo shows with songs I was writing. They didn't really fit in the paradigm of a punk band. They were more gospel and bluesy, and I started doing solo shows.
Pretty soon I stopped playing my old band's songs and was playing all originals. I went to record them about a year ago. Solo. It sucked. It wasn't good. The producer said it just needed some swing- let's put a band together. So, we put together the Five Fifths. And they are tremendous musicians.
Are you putting out an album any time soon?
JKutchma: If not the end of this year then early next year.
Are you drinkers?
JKutchma: Average drinkers. Some people look at The Five Fifths as fifths of whiskey. But it's really just myself and four other people. So, people ask "where's the other fifth?". I say, "it's me, JKutchma. And I'm also a member of my band". Tonight I did a solo show. If the band were here you would recognize some of the songs, but all of those people bring a different arrangement. Not just by adding music. They change the dynamic of the song. It's boring to just find people and say, "here are my songs. Play them!". I don't know. I don't know what it would be like to be Willy Nelson.
Some of the themes you sing about: your dad, growing up punk … when you wrote these songs, was it during a specific time?
JKutchma: Not really. Half and half. My parents have been tremendously supportive of me. But, I've heard the role of a songwriter described this way: "you take a picture and you keep blowing it up until you see very minute details. And then, you add a caption to the picture". So, my parents have been supportive, generally. If I got a job ten years ago as an engineer they would've been very happy. As opposed to me saying, "I want to be a musician". They said, "we love you, but why are you doing this?".
Sometimes you have to exaggerate. Sometimes you have a hard hard cry when you might have only needed a small one.
You live in North Carolina. How is punk rock received in "the most patriotic state in the country"? (North Carolina has this declaration on every "welcome" sign)?
JKutchma: I've been here for fifteen years. Right now North Carolina isn't a very punk rock state, but, it's getting better. People have thrown my band in a punk-rock category. I'm not sure that's always where we fit. But, that's the crowd that always really embraces us, and I'm grateful for their embrace. Our roots are Fugazi and the Constantines … we admire them a great deal. We've been compared to the Replacements and Titus Andronicus. Bruce Springsteen and the Gaslight Anthem. We're happy to be a part of that company.
It's strange about North Carolina, though. Avail is from Richmond, VA. Hot Water Music is from Gainesville. All of these great metal bands come from Savannah. You would think that North Carolina, between all of this, would have a more prominent punk scene. But, it's still very hardcore, or still very indie rock. A lot of times when we travel to other places we have a bigger crowd then we do in our hometown.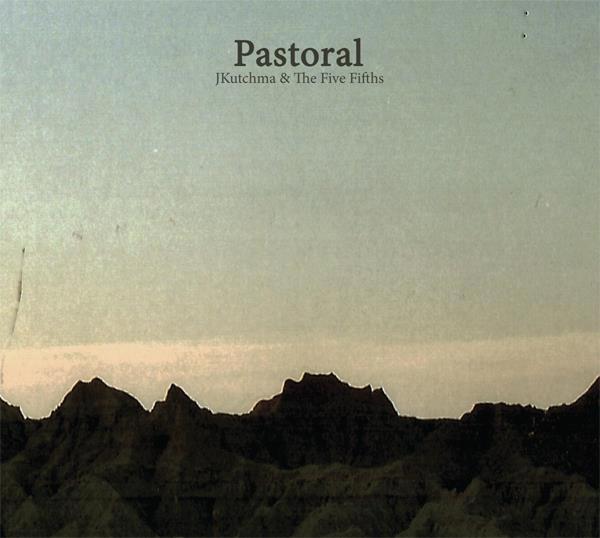 Are you married?
JKutchma: Yes.
How is it being married and touring?
JKutchma: We play in another band together. About five years ago she decided to do documentary film making and pursue it. Hard. And I decided to do this. And pursue it. Hard. It's nice because she understands the artistic process. She knows what I have to go through. She knows what it's like to travel from town to town. That it's not all fun and games. People think, "you're touring. You're partying". And there are bands that do that. But, for me, at least 4-5 nights a week, it's nice to get a cup of coffee afterwards and bullshit. Just like this. I like to have fun. But, I don't want anything to take away from the art.
*JKutchma & the Five Fifths album Pastoral can be purchased at http://www.Jkutchma.com
Scott Laudati spoke to JKutchma in Wilmington, North Carolina

Scott Laudati lives in New York with his Boxer, Satine. His collection of poems "Hawaiian Shirts in the Electric Chair" has been published by Kuboa Press. Visit www.ScottLaudati.com for less professionalism and angrier essays.