[dropcap style="font-size:100px; color:#992211;"]A[/dropcap] dirty looking package arrived via courier last week, and not the usual latex delivery.
It was left abandoned on the doorstep like it had been thrown there in knowing disgust (maybe it was the latex delivery). As I pulled slowly up the driveway I could see the neighbourhood stray dog snarling at it from a distance. It was as if something evil was lurking inside.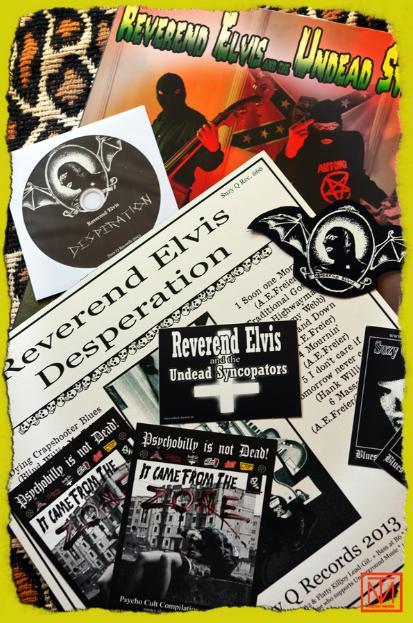 Safely behind closed doors and away from prying eyes, I took out my razor and carefully opened it up to reveal the sordid content. As soon as I spotted Suzy Q on the murky brown inlay I knew something truly filthy and depraved would be lurking within.
Praise the lord; this truly was like a delivery of vinyl Viagra. I laid out the items carefully on the kitchen table: albums, stickers, flyers and a sinister jacket patch from the Reverend Elvis himself. With Hank Ray's Sinister Funtime having now been played to death along with Kid Congo Power's Haunted Head, my rock 'n' roll boner had withered and died, something new was urgently needed and this was just the type of kick to get a full tilt hard-on.
Now if you are unfamiliar with Reverend Elvis go and blow your fucking brains out.
Now if you are unfamiliar with Reverend Elvis go and blow your fucking brains out. Not really.
Buy the album first.
Quoted as having interests in fighting, fucking and drinking, Reverend Elvis is just the kind of guy you would want to be on board the Hank Ray 'drinking with the dead' bus tour of Berlin. If you dig the likes of Hasil Adkins and The Legendary Stardust Cowboy or are gently aroused by creepy country or even the more obscure roots of The Cramps then you will flip your wig over the Reverend.
Think Death/Psycho/Gospel/Blues/Country Billy and then some. Everything Psychobilly should be, but isn't. Reverend Elvis is slightly twisted, slightly evil, sometimes dark and sometimes joyous and the album 'Desperation' claims to hit all the above criteria including how to cut sweet girls to pieces. Now what more could you possibly want?
'Desperation' kicks off nicely with a simple but effective rendition of 'Dying Crapshooter Blues' taken straight from the songbook of Georgia's finest bluesman and favourite of Bob Dylan: Blind Willie McTell.  The pace steps up a good couple of gears however with D. Shadow providing some infectious bass slapping on the raw and raucous body snatching ditty 'They Know What You Do'.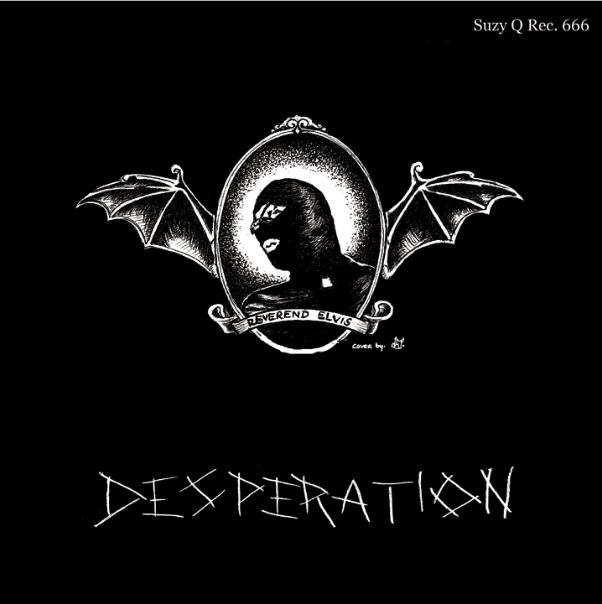 The Reverend adds a slight 'Rubber Room' feel to Hank Thompson's cowboy classic 'I Cast A Lonesome Shadow' with his unique and unmistakable vocal style and then goes on to give an eerie version of Wayne Shanklin's 'Jezebel', made famous of late by that Edith Piaf with a guitar: Anna Calvi.
Reverend Elvis Reverend Elvis
Talking of eerie, the next track 'Knoxville Girl' is advertised as a traditional murder ballad. It is quite correct in its bragging and this merry little number dates all the way back to the 17th Century. In short the song tells a tale of Willie, who meets a girl in Knoxville, Tennessee. He starts to visit her each week and one night they go for a walk. Without warning, and for no apparent reason, Willie picks up a stick and knocks her to the ground (we all have a friend like that, right Pod?).
She begs him for her life, but he basically beats her and doesn't stop until the soil is soaked with her blood. Grabbing her by the hair, he then drags her corpse around and around like a lunatic and eventually dispenses of it in the river.  As her lifeless corpse floats downstream Willie madly proclaims that she can never be his wife.
He returns home covered in blood and makes up an excuse about a massive nosebleed. He then goes to bed with a huge headache and has bad dreams all night long. Later, Willie is taken to jail and is sentenced to spend the rest of his life behind bars. In closing, he protests he really did love that Knoxville girl.
Fucked up, huh?
After a blood curdling shrieking introduction the Reverend launches into an all time Crazy Cavan classic 'Teddy Boy Boogie' with its chain totting, razor flashing, throat slashing lyrics (remember Crazy Cavan from the late 70's / early 80's? I wonder if that cat is still going?). The jaunty guitar picking on '7 Cups Of Coffee And 14 Cigarettes' underpins a foot-tapping lament of lost love and the long old wait for a Greyhound bus. This is swiftly followed up by the gravelly dirty deathly gospel crooning of 'Soon One Morning', hallelujah.
Reverend Elvis – 'Mournin"
Surprisingly now out of nowheresville, the Reverend hits us with an unexpected and haunting version of the Jimmy Webb epic 'The Highwayman' before upping the tempo once more with the catchy and slightly Adkinsesque 'Up And Down', which you can easily imagine our dearly departed Lux Interior covering. 'Mournin' is exactly what it says in the title; this is a mournful but quite beautiful and simple tune with its delicate guitar picking.
Hank Williams' (crosses self) 'I Don't Care If Tomorrow Never Comes' is reproduced faithfully and heartily and is given the respect any Hankster tune deserves; you could sure sink some shots to this one. The last track on Desperation is 'Massakkar' and is in very stark contrast to the rest of the album. Flatty Killjoy puts his twang on this number which veers more toward the commonly perceived Death Country side of town with throbbing electric bass, haunting vocal and screeching ghostly rumbling zombie surf guitar.
Desperation is simply a brilliant and unexpected bag of powerful musical juju. All hail Reverend Elvis.
---
Listen up children. Reverend Elvis' 'Desperation' is available on Suzy Q Records, SQ-LP 666 right here. So go buy it you twisted perverts. And go tell your friends.
Psst, watch out for a no holds barred interview with Reverend Elvis coming soon.
Reverend Elvis Reverend Elvis Reverend Elvis Reverend Elvis Reverend Elvis

Photographer, published poet, former party animal, body builder, grave robber
to the stars and renowned chainsaw juggler, Carl can often be spotted on his
Harley Davidson pretending to be in Terminator 2. He is also frequently seen in
the press pits of old London town, camera in hand, avoiding being hit by bottles
of wee and crippling his opposition with secret Kung Fu moves.