[dropcap style="font-size:100px; color:#992211;"]D[/dropcap]etroit Techno producer and DJ, Sander Van Der Veer (aka Red Square)'s new EP Steam serves as the debut release for Van Der Veer's own imprint, Shifted Soul.
Compared to previous Red Square releases, this is slightly darker, slightly colder in tone. Opening track, 'Steam (original mix)', wastes no time in establishing the tone for the record. It efficiently starts up its engines with crisp hi hats and a kick drum which sounds as if it has frosted over.
A delicate synth pattern eases its way into the foreground, counterpointing the persistent percussion. Soon, what sound like hoarse, alien vocals briefly sweep in from above, completing the depiction of a tense and otherworldly atmosphere. A cascade of synth jabs, hisses and percussive to-and-fros midway through eventually gives way to thin handclaps and piercing synthetic wails which sound almost pleading in tone, as if wanting to escape their bleak world.
The tension finally melts away in a quiet minute long coda as the heartbeat drum and subtle bassline continue to a conclusion. The track is 8 minutes long but it's a sign of the attention to detail and adventure of the track that it feels brisker.
Owen Sands' remix of 'Steam' follows and is the weakest thing here. It has less dynamic range than its original, sounds flatter and features a relentless but fairly uninspiring synth pattern, giving the track an overly static feel. If the original mix paints a picture of a hostile and alien landscape, this treads a very safe and certain path.
Things get more interesting with the next track, 'Variable (original mix)'. A rasping, echoing hi hat is joined by harsh, double handclaps as dialoguing synths weave their way through the bleak percussion. Halfway through this track things open up. Manic, wide-eyed synth lines ensure things get more energetic here than at any other point on the EP, as the double claps continue to punctuate the mix.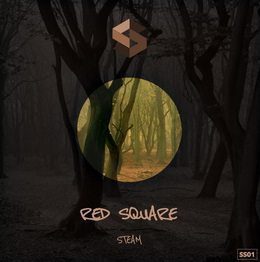 But the pick of the bunch is it's remix, 'Variable (MONO.xID's 'Rectified' Remix). It's actually the warmest thing here in terms of tone, featuring rounder sounding percussion, bled into by the various synth stabs and dapples, while that typical, insistent kick drum propels the track forwards after a brief hiatus midway through the cut. Washes of cymbals halting and restarting in the mix give the track a further sense of movement. It's a real head-nodder.
On that note, this release isn't the most danceable collection, not even compared to Red Square's previous effort (the recently released Organic EP). The tracks here would work well in the latter hours of a rave, once the anthems have been put to bed with their water bottles and head-nodding is all you can summon the physical energy for.
In terms of pure listening experience, if you like your techno dark and eerie, you will find much to like here. Though occasionally melody-driven, it is worlds apart from the maximalist European techno of the early 90s, aligning itself far more with the deep and restrained tendencies of the likes of Richie Hawtin (who has been vocal in his support of Van Der Veer).
The atmosphere is brooding and tense in the main. Listening to this collection, at certain points I thought I could see my breath. But then, it is November.
Steam EP is released on 17th December 2014.