[dropcap style="font-size:100px; color:#992211;"]P[/dropcap]résence Autochtone (now in its 26th year) is a celebration of the cultural heritage of the First Nations people of Canada and the Americas as a whole.
In recent years it has grown to include aboriginal cultures from around the world, or at least those that were almost completely decimated by European/Christian colonisation. Thankfully, the festival is very much a positive celebration through film, music, dance and the visual arts, without completely overlooking the ongoing social issues that affect so many indigenous people on a daily basis. When you're in Montreal in August it is very easy to be drawn into the positive summer vibes. Blue skies, hot weather, a citywide festival atmosphere (Presence Autochtone intersects with the city's two major music festivals: Osheaga and Heavy Montreal) a giant teepee is suspended over the city's Place des Festivals, where the public face of this festival happens, with free music and dance events, while the films show at venues around downtown Montreal.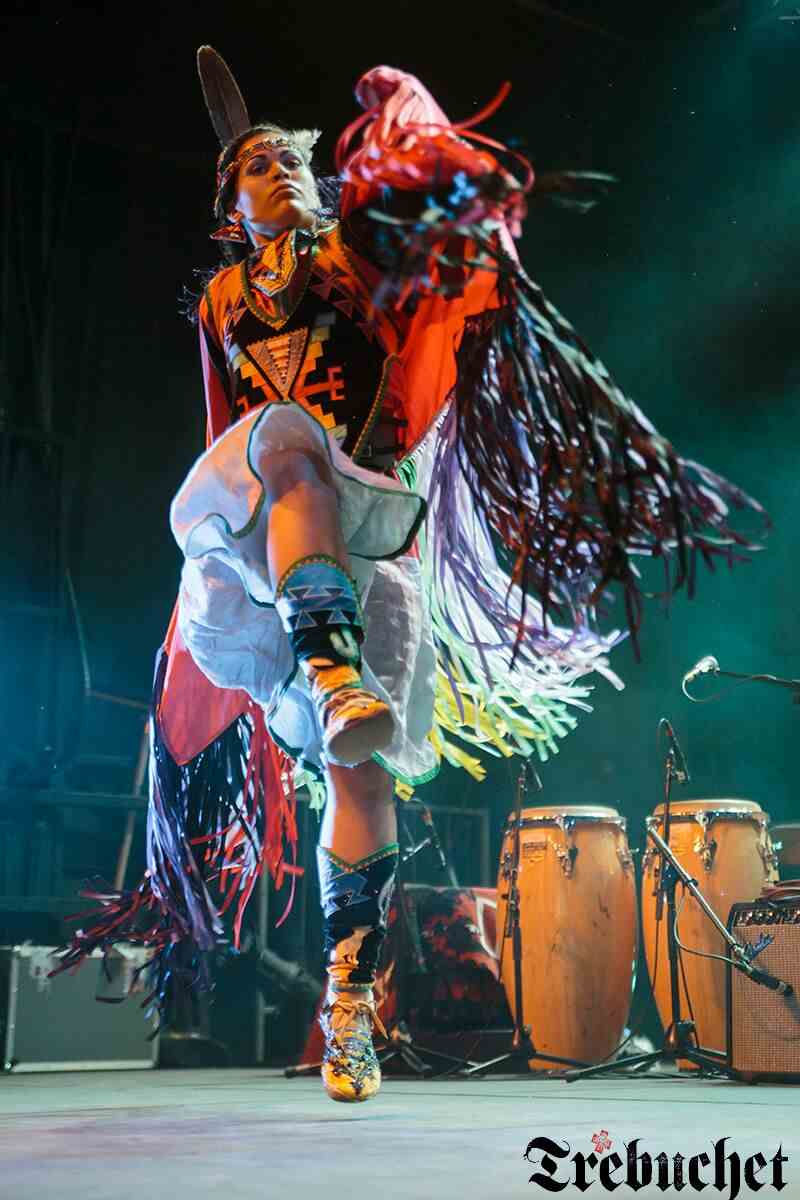 There has been increasing discussion online about cultural appropriation (although misappropriation would be more accurate), which was partially fuelled by inappropriate use of feather headdresses as fashion accessories at festivals in the US. The subject of this misappropriation was addressed in the festival's opening night film 100 Tikis, which is a collage of clips from Hollywood films and US TV, mostly from the 50s, 60s and 70s, that hijack Pacific Islanders' culture. Cringeworthy doesn't even come close to describing the level of ignorance these clips display. Of course, Pacific Islanders weren't the only victims; Asians, Africans and Afro-Americans as well as First Nations people were all subject to the same sort of on-screen insults and ridicule.
Despite the best efforts of some of the world's media and political leaders to maintain a xenophobic agenda for a vocal minority (that is worryingly growing), integration of the world's cultures is vitally important for international unity, but needs to be done with sensitivity and a proper understanding of their ethnic significance, just as one would show respect when adopting a new religion. One area where this integration has been most successful is in music, where cross-pollination has been happening for decades, with traditional music mixing with rock and jazz, which also came from different ethnic roots, to produce something unique.
With rock and jazz possibly being the greatest contribution modern America has made to contemporary culture, it is hardly surprising that it be adopted by the new generations of First People. Let's not forget that the King himself, Elvis, was of Cherokee ancestry.
One place where this integration is evident is in the work of Sioux artist Riel Benn, who lists his influences as Andy Warhol and Salvador Dali. His exhibition Classic Rock opened on 4 August at L'Espace Culturel Ashukan, as part of the festival. His works are an amalgamation of iconic rock images of artists such as David Bowie, Led Zeppelin, Pink Floyd and The Eagles, with iconography from his ethnic roots. Speaking about his work he said that he grew up listening to classic rock and the lyrics would often serve as a bridge to native social issues he was experiencing.
"The logos of the rock icons are part of pop culture and easily recognisable. The band and the song became a platform that I put the issue on. For example, with The Eagles, that fitted in with the native thing because they had the skull with the feathers, and the eagle is a sacred bird. With Led Zeppelin, when I hear the song Dancing Days it reminds me of pow wows, when you are dancing for days, and the lyrics are like they are talking about a pow wow. I want to break stereotypes. Everyone thinks we only listen to pow wow, but we listen to The Eagles and The Clash."
The exhibition continues until 20 September.
Another local artist I was fortunate to meet was Moe Clark: poet, musician, teacher and activist. At last year's festival she staged a 90-minute spectacular musical opus called Transcestral, which mixed rock and jazz with native and sufi music, as well as dance. The piece will be performed again, in a reduced form, around Canada in the coming months. In a wide-ranging conversation over lunch that covered subjects such as native and women's rights, as well as pop culture and the hot topic of cultural appropriation, two things stuck in my mind. Amongst many of the local nations homosexuals are known as two spirits and are held in esteem because they have insights into the worlds of men and women. Tattoos are done with a special ceremony and are stitched into the skin using ink on a needle and thread. I also learned that first nations are matriarchal societies and they are calling for women to be treated with the respect they deserve and restored to their rightful place in society, before it is completely destroyed. Of course, that doesn't mean that the likes of Teresa May or Hillary Clinton are the answer. They shouldn't be voted for just because they are women, if they are going to behave like men.
Films by and about indigenous people are an important part of the festival. Mostly they are documentaries, or dramas that address various social issues. One film that stood out this year was Chasing the Light by Navajo filmmaker Blackhorse Lowe. This low-budget, black-and-white comedy-drama had all the hallmarks of Truffaut and Jim Jarmusch, even down to Sqürrl-influenced soundtrack, along with splashes of the improvisation of Mumblecore and Tarantinoesque dialogue. It was delightfully weird, psychedelic and funny, and although there was a sense of tragedy about the characters it was never maudlin.
And so to the music, which is undoubtedly the festival's biggest crowd draw. Thursday night was Digging Roots, fronted by ShoShona Kish on vocals and her husband Raven Kanatakta on guitar and vocals. With incredible stage presence, and stunning guitar riffs, their blues-rock carried a vital message of universal love. The call for one love continued on Friday with Innu singer-songwriter Shauit, whose music is unmistakably reggae in its vibes and rhythms, although Rasta purists may not agree.
Saturday, following the annual parade and showcase of indigenous music and dance from across the Americas, it was time for some serious sub-bass with Électrochoc DJs Khalil M and XS7. Khalil M mixed middle-eastern grooves with some heavy electro beats. Young Mi'gmaq DJ XS7, raised the energy levels a couple of notches with his show that included a tune with the rhythm set by two men swinging axes onto a log (all very Canuck), and his own LED-illuminated dancing that was a cross between rave and pow wow. It would definitely be at home in Ibiza, or anywhere that EDM is happening.
For the most part, the festival comes to an end on Sunday, although films continue until the following Wednesday. The music starts comparatively early at 7pm, with a showcase of artists from Musique Nomade, an initiative to foster new talent from the indigenous communities. It is open to artists of all ages, and the previously mentioned Moe Clark, DJ XS7 and Shauit are all on their roster. This ye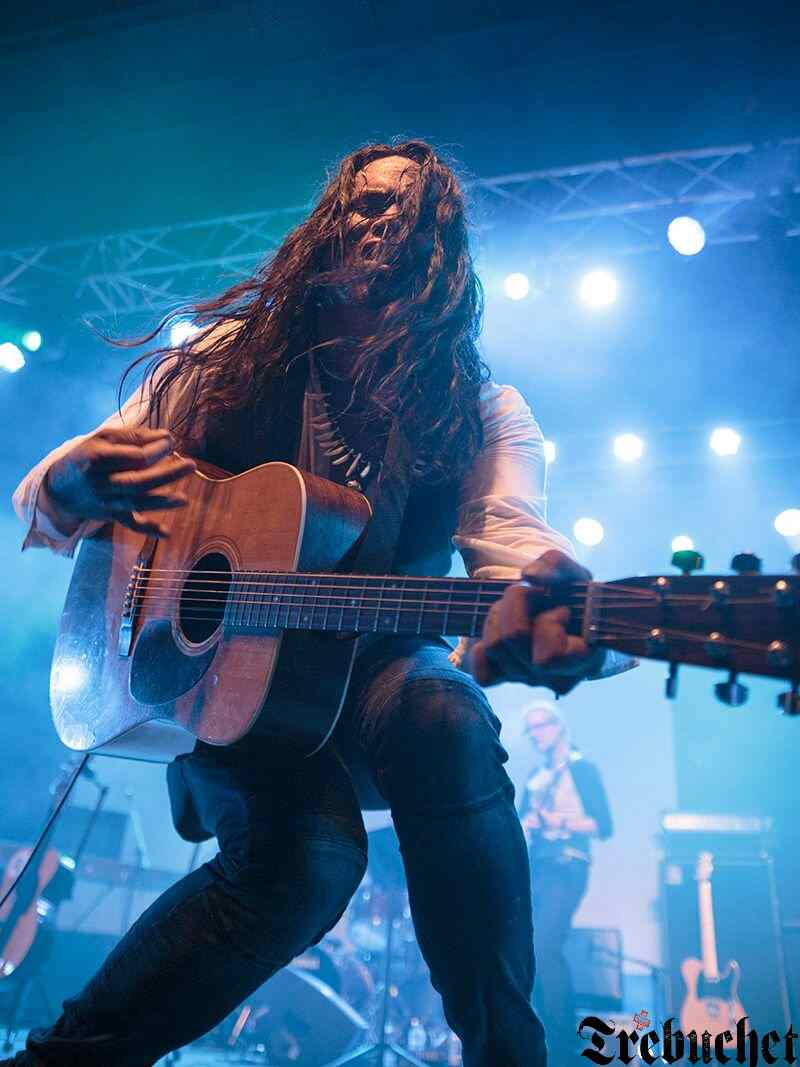 ar it was the turn of solo singer-songwriters. Young Brittany Manitowabi's songs bore the same sense of melancholic poetry as Quebec's most famous son, Leonard Cohen. Innu performer Spencer Saint-Onge was more upbeat, and Sylvester Mestokosho was even rockier, but they all showed that music still has something important to say about the state of the world.
Kawandak is an older generation of musicians who perform a fusion of jazz-blues-prog-rock that also includes some traditional music, in this case the Buffalo Hat Singers, who are the official drummers of the festival. My contention for some time has been that drums and voice are our most primal forms of communication, which is why drummers are such a vital part of a band, and the Buffalo Hat Singers certainly give the theory validity. And the guitar licks were an excellent accompaniment.
The final music act for the festival was Logan Staats. This imposing-looking, guitar-wielding Mohawk has the stage presence of a real rock star. To call his songs power ballads is a bit lazy and not really doing them justice. There are probably dozens of singer-songwriters of a similar ilk, or to whom he can be compared, but Staats has that ineffable something that sets him apart from them, and whether he was alone on stage with his guitar, or backed by Kawandak, he put on a powerhouse show.
The purpose of the festival is to give a platform for the amazing talent of the new generation of indigenous people, while preserving the roots of their culture, as well as highlighting the ongoing social problems that have come about as a result of negligence and interference from European colonisation. Thankfully the lasting impression is a positive one, but one that still leaves room to pause for reflection. As with most non-European cultures there is plenty for us to learn and integrate into our consciousness, and it is only through the exchange of positive ideas does the world stand a chance of surviving the social and environmental ravages of capitalism.
Présence Autochtone (Montreal First Peoples Festival) 3 − 10 August 2016
Words and photos by Chris Patmore

Chris Patmore is a photographer-designer-writer in order of creative satisfaction, or a designer-writer-photographer in order of current earnings. After becoming totally disillusioned with the world of film journalism he has returned to his first loves: music and photography. Sirius Flatz, manager of Molotov Jukebox, says, "Chris has what one could call a musical eye, capturing bands in their perfect moments."