[dropcap style="font-size:100px; color:#992211;"]R[/dropcap]ebellion, being slightly outside the law, expressing your individualism, being one with your machine whilst hammering home your belief in personal freedom.
Anyone born with those fires burning will have them stoked by their first sight of a motorcycle pack on the freeway, their first viewing of Easy Rider or perhaps the first time they hear Mildred ask Johnny what he's rebelling against.
Throttle open, sunglasses on, gliding along the endless ribbons of asphalt that thrust and wind through miles and miles of awe-inspiring landscapes is part of that ever-dangling carrot: the American Dream. Route 66, big cars, motorcycle gangs, free love and the occasional hallucinogenic. A romantic image of a bygone era: diners, drive-ins, life on the road and the dreams of freedom.
Whether the dream was real or unattainable, as a biker or just a dreamer, there is still that hankering to taste that life and to experience the feeling of being in a biker gang.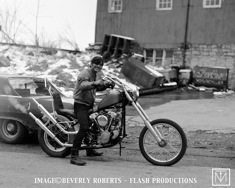 Jim "Flash 1%" Miteff was a member of the Detroit Chapter of the Outlaws Motorcycle Club during those halcyon days of the 1960s, one of the four most influential clubs in the world. Established outside Chicago in 1935, it is certainly one of the oldest. This club has been through it all, including two World Wars. Jim Miteff entered their history when the times were certainly a changin'.
Martin Luther King Jr was making his "I have a dream" speech; the Civil Rights Act was passed; JFK was assassinated; Nelson Mandela was sentenced to life in prison; the Los Angeles riots; mass draft protests, and Charlie Manson put a full stop to the decade with the Manson family murders.
When you take a look at a photograph of Jim, he certainly looks like one cool cat. Here was a guy who had a passion for motorcycles; not just riding them but restoring them, building them, exhibiting them and collecting them. Another thing Jim did: photograph them.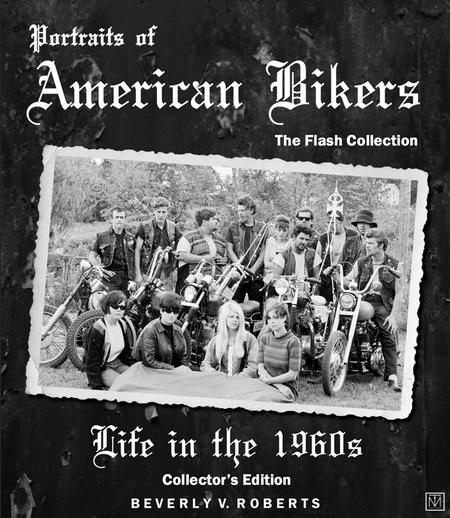 Beverly Roberts (Jim's daughter) created Flash Productions to publish her father's amazing photographs and has also expanded Flash Productions to include the works of other artists from the biker community.
For our perusal at Trebuchet Towers, Beverly sent a copy of the second volume in the Flash Collection; the image-filled Portraits Of American Bikers – Inside Looking Out. The cover shot could easily be a still from The Warriors, a glorious black and white image of young men in their prime: dirty jeans, cut off leathers, with their bikes in the background. They definitely look like they are coming out to play.
This second book follows on from the first volume, Portraits Of American Bikers –Life In The 60's in which Beverly shares her personal story about what's behind these photographs and what it was like growing up around this famous motorcycle club.
The edgy and critical photography of Robert Frank exposed the darker, uglier side of America with his 1958 book, The Americans, and a flavour of this can be seen in Miteff's work. There is another, rather special, thing about these images however. Unlike most photographers of that time (such as Henry Diltz) who were grabbing 35mm cameras and celebrating the huge strides made by colour film, Jim did not choose the photographers' new tool of choice. Instead Jim decided to do things the hard way by utilizing a complicated vintage Graflex Speed Graphic press camera, loaded with some good old black and white.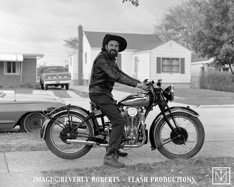 The resulting images, using a tool such as this, reveal not only fantastic detail of the characters and subject matter, but put a slight 'ala Weegee' twist to the whole thing.
Described as a self made man, Jim Miteff was perhaps one of the lucky few who actually got to take a bite of that red white and blue carrot.  When he bought the Graflex cameras at auction he had a plan. Jim had a finger in a few pies. One of those was a printing company, and he wanted crisp images for his print work. Beverly goes on to tell us, "In the case of the club, he wanted to capture his memories in the best images he could.  He did all of his own darkroom work at that time".
Miteff's technical ability is certainly beyond doubt and he surely had the 'eye' for the moment. However, there is more depth to these images than mere proficiency with the lens. This depth can surely only come from passion, love and the joy of being part of a brotherhood. The warmth and closeness that camaraderie brings clearly shines through the grain here.
These images were obviously very personal to Jim and he never tried to publish them, putting them in storage instead. Photographs like these are supposed to be shared though, and 40 years on Beverly has published them with the permission of The Outlaws Motorcycle Club.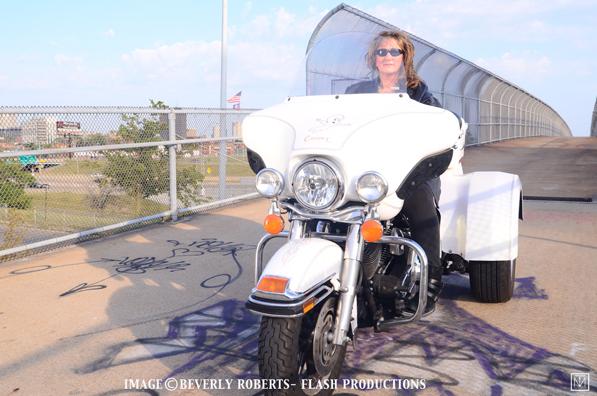 [Beverly Roberts sitting pretty now]
"My dad and I shared many of the same interests, including photography.  While my family fought over the money he left (he was a wealthy man, self made) I wanted the memories. I love making more memories now, with some of the very same people in the photos from his collection.  I never planned this to go so far, it was only supposed to be a quick book project to pay tribute to him.  It quickly took on a life of its own and I found myself in a role I never expected-the keeper of the history of the entire Outlaw Nation.
Much of my time is spent photographing the lifestyle today, much like my father did.  I shoot some of it to be shared with the world and some of it to leave to them only.  My relationship to this club is a deeply personal one.  All of my work is done without the intent to change what they truly are.
I strive to find words to go along with the photos.  This is a lifestyle that is better described through photographs and other means of art, in my opinion.  Words don't seem to leave enough room for the necessary interpretation that must be left to the individual.
Although, when I get questions from people who live outside of this world I can see where it is not enough to simply show them the photographs as I can do with other bikers. I have to find words to guide them in the right direction, otherwise these photos can easily be misunderstood. I have found that even the current generation of bikers, in this very club, have a hard time understanding the style and trends of that time.  I will most likely spend the rest of my life trying to connect these two worlds.  It is my destiny perhaps?"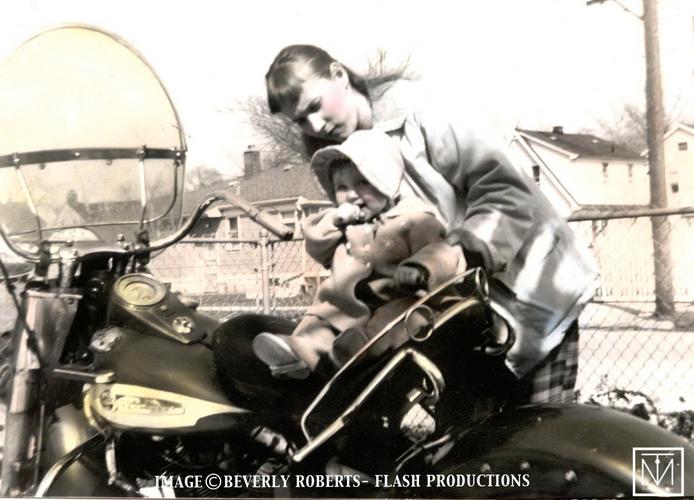 [Beverly Roberts sitting pretty then]
Carl Byron Batson: What emotions did you experience looking back on your father's photographs and images of him as a young man?
Beverly Roberts: My emotions were very mixed as I began work on my first book project.  On one hand I had to deal with the loss of my father and on the other hand I was realizing something really great. It was very hard on me but it was also good therapy.  I got a lot of support from some of the club members and my husband during that time.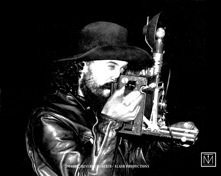 What are your earliest memories of your father's photographic work? Did he develop and print the images himself?
Family and friends were always favorite subjects for my dad's photographs.  His love of photography goes back to his youth, as I remember him saying.  By the time he was shooting these photos, that would later become "The Flash Collection", I was six years old and learning about photography myself. I helped my father develop many of the images in this collection in the small makeshift darkroom he had in our home. He did all of his own processing in those days.
Why do you think your father chose the camera he did?  Was it a personal choice or something that was to hand?
Dad chose the Graflex for a couple of reasons.  He owned a small printing company and used it for his work. The trend had gone to the 35mm camera by those days but he needed high quality images for his print work so he bought a couple of old press cameras at auction.  I think he enjoyed the challenge of learning to use this vintage camera too.  I have both of his cameras as well as his prints and negatives.
Did your father have any of his own favourite photographers?
No favorites that I know of.  He was self-taught and liked to experiment with his own ideas.  He did use a 35mm camera for snap shots, reserving the 4×5 format cameras for the more special things he wanted to capture.
Tell us a little about your own photographic endeavours. What equipment is Beverly Roberts using and what is her favoured subject matter?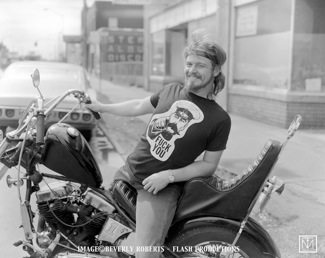 Like my father, I was pretty much self-taught and kept photography as a hobby until later in life, returning to school to get a degree in Photography Technology.  I have owned many cameras throughout the years, currently I shoot with a Nikon D800.  I photograph much of the same things my father did.  I enjoy photographing my family and friends, people who mean something to me.
Since beginning my work on the Portraits of American Bikers book series in 2007 I have continued the tradition my dad started by adding my work in photographs of the Outlaws Motorcycle Club members to the "Flash Collection" archives.  I have had the honor of meeting up with several of the same members from my childhood who appear in my father's images and photographing them as they appear today.  I am working on an exhibit of Then & Now photographs that I hope to have ready to show in 2014.
You mention preserving the culture and protecting the civil rights of bikers and motorcycle club members in the USA. Can you tell us about what this involves in a little more detail?
I am involved with the Michigan Confederation of Clubs (MCOC) as their official photographer. I work with them on a volunteer basis to photograph important events for their historical archives as well as photography projects for fund-raisers they do.  The Confederation has been helping to protect the rights of bike riders here in Michigan for over 17 years.  I'm proud to work with such a dedicated group.
In the introduction to Portraits of American Bikers: Inside Looking Out, Bill Hayes refers to the motorcycle club culture having a seductive appeal. What is the seductive appeal of this culture?
[quote]It's about people keeping
their word, helping one
another when in need and
always showing a certain
amount of respect for
individualism, without
judgment[/quote]
Freedom.  Much like the old cowboy days.  Just riding on the open road leaving the "comforts" of modern life behind and doing it with like-minded people.
One of my favourite photographs included in this book is, 'Jake of The Vagabonds MC'. The guy is sat outside a diner on what appears to be a BSA Royal Star, an array of motorcycles in the background. One can imagine a rowdy bunch inside and this guy cuts a lone rebel figure, James Deanesque, very evocative of the time. Can you pull out one particular favourite of yours in this edition?
I love the whole collection.  Together they make up the memory of my dad for me.  Like a puzzle with many pieces, all are needed to make that big picture.  As a photographer, I would say my favorites are "The Plunger" and "The Trike".  Those images, along with "The Boot" really show what the 60s were about.  It was wild and crazy back then.
Mention biker gangs in conversation and people tend to have an image of lawless Hells Angel types rampaging and causing mayhem. Objectively, what do you think the public perception is of 'biker gangs' and how do you see that differing, if it does, from the reality?
I get that.  In part, I think it is because the media along with some branches of law enforcement have done a good job of creating this image by exaggerating what some bikers have done over the years, and in part because the club members are not willing to explain themselves to the public; they value privacy too much.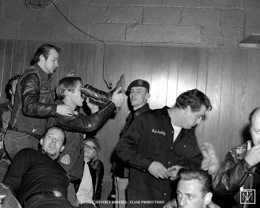 I see many conflicts between what the image is and what reality is but I will never speak for them on this.  This is why my father never made his photographs of the club public. They were private moments he spent with his Club Brothers.  It is only with the blessing of my father and the club that I share this collection with the public today.  This is a part of American culture; it is our history and not much of it exists.  I wanted to share it for that reason.
There is a lot of Nazi reference in these images, from a backdrop of Swastikas to groups of guys flipping the Hitlergruß, (Sieg Heil). This may be a little disturbing for many people viewing these pictures and further cement their views of what biker gangs stand for. Can this sort of imagery be justified? What light can you shed on this for us?
It is disturbing to see.  Many of the club members today find the photographs shocking. The trends have changed greatly.  But is a true document of what was in fashion during that time in the 1960s here in the United States.  Old war/army surplus and memorabilia was for sale everywhere then.  The bikers didn't create that, they just embraced the trend and used it for shock effect in their quest to rebel. Many others were buying and collecting the German war stuff too.  The Sieg Heil was used for the same reason, shock effect.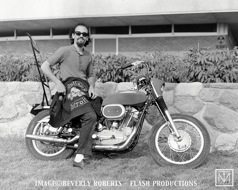 A revised hard cover edition of the first book, Portraits of American Bikers: Life In The 60's is due for release. What little extras can we expect to see in there?
The new edition will include more photographs, some of them published for the first time.  Stories and commentary about the lifestyle, the Club and the history behind many of the images. Several contributions are from the Club members themselves adding their own insight into this very private world of one-percenters [members of 'Outlaw' bike clubs not sanctioned by the American Motorcyclists Association]. This edition has been five years in the making.
I recently watched a series called 'Great Motorcycle Rides' which is presented by Henry Cole. He suggested that you could travel around the world and always find people to look after you if you are a 'biker'. Do you think that is a fair statement and what do you think bonds motorcyclist together in that tight brotherhood that can be seen in your father's photographs?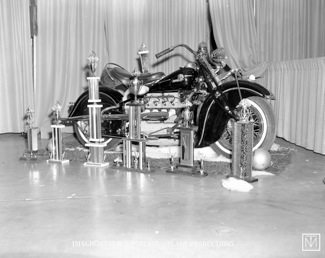 Because that is what this lifestyle is all about.  It is very old fashioned at the root.  It's about people keeping their word, helping one another when in need and always showing a certain amount of respect for individualism, without judgment. These are some of the things I learned growing up in this lifestyle.
I'm a fair weather rider these days. The Hog only comes out in the sun. However, if I only got a few days riding it is worth all the polishing and servicing due to that very special and unique feeling that you get. Unlike driving a car, I know that every other bike rider I pass on the road will give a little nod or thumbs up. What do think makes riding such a special feeling?
It's a sense of pride.  I think riding motorcycles is even more important today.  I've known that special feeling from a very young age.  Both of my parents rode motorcycles, something unusual for women in those days.  My sister and I rode with our parents all the time. These days I ride my Harley whenever I can because it is the best way I know of to relax and connect with nature and other bikers.  People who ride know this and we just kind of nod that in acknowledgement to one another in passing.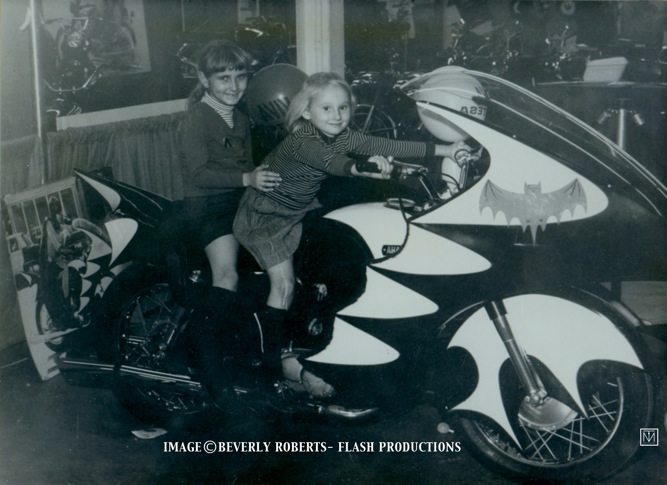 Future projects Beverly? You have mentioned the possibility of a film. What form will this take and how far forward is this project at the moment?
I have one more book to finish for the "Portraits" series.  Film work is my next focus.  I'm looking at a couple of directions.  I hope to have a decision made and a project in place sometime in 2014.
Beverly Roberts
Flash Productions, LLC
flashproductionsllc.com
bikerartusa.com
international-dollhouse-miniatures.com

Photographer, published poet, former party animal, body builder, grave robber
to the stars and renowned chainsaw juggler, Carl can often be spotted on his
Harley Davidson pretending to be in Terminator 2. He is also frequently seen in
the press pits of old London town, camera in hand, avoiding being hit by bottles
of wee and crippling his opposition with secret Kung Fu moves.