[dropcap style="font-size:100px; color:#992211;"]T[/dropcap]he ninth London Tattoo Convention rode into town on 27-29th September 2013, blazing a colourful and stylish trail into Wapping's Tobacco Dock.
The gentle buzz of tattoo guns in action greeted those entering the venue, a sound familiar to most.   With only a smattering of local tattooists at work, international artists from Spain to the States were heavily represented.  Unfazed by the gawping onlookers, they intently tattooed away in their stalls as the recipients of their artwork gritted their teeth and b(e)ared it.
[quote]Art that you can
wake up with every morning
and take to the grave[/quote]
Tattooing is no longer the unhygienic preserve of sailors, freak-show performers, prisoners and prostitutes.  Of course you will see some terrible tattoos on any high street – the dark green, badly-tended ink after years of sun damage; blurry fairies painfully positioned on shoulders and ankles; the regretted home-made crosses and names of lost loves. But far away from the much copied off-the-street flash designs, underneath the suits and dresses of the less usual suspects, you will find the most exquisite and expensive custom pieces. Designs that literally get under your skin and become part of who you are. Art that you can wake up with every morning and take to the grave.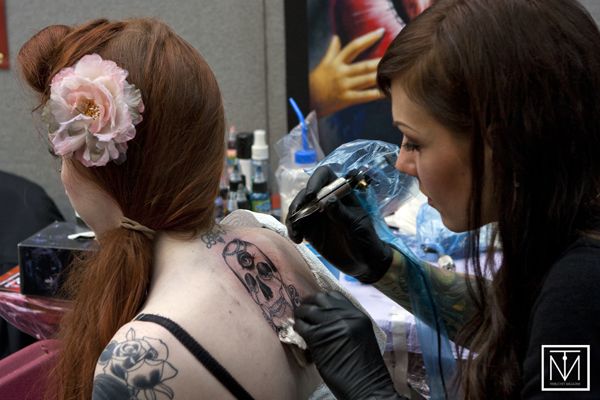 At the convention, bad tattoos were notable by their absence, and the crisp, bright autumn weather allowed for much flaunting of body art.  In addition to the expected vintage-attired crowd displaying the ever popular old school designs of skulls and swallows, there was a selection of tribes and a range of ages – from the dreadlocked kids with facial piercings and tribal tattoos sucking on roll-ups to the portly old-timers nursing the pints clutched in their darkly scrawled hands leading up to faded sleeves.
Underwear-clad promo girls with brightly coloured art snaking around their curvy torsos posed for an endless stream of cameras while a couple of Hell's Angels strutted around refusing to be photographed.
Such conventions are to some extent a trade fair, and there was plenty for the professional tattooists. Colourful displays of ink bottles, flash books and somewhat disturbingly, a German stall with tattoo guns decorated with swastikas.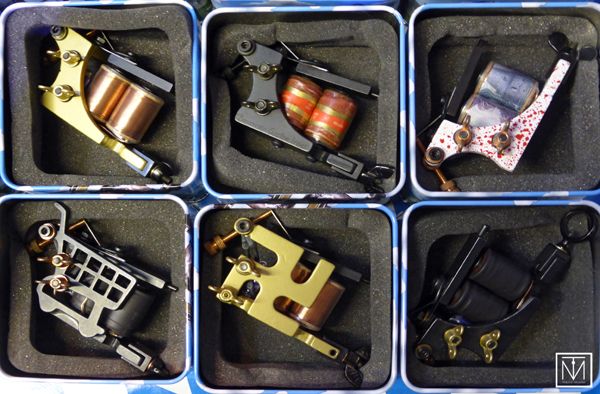 On a less professional level, anyone with consumer urges to buy baby clothes with the slogan, "My mum's tattoos are better than yours" or sugar skull bowling bags, was catered for by the standard festival/Camden market type stalls.
For those with their newly tattooed flesh wrapped in clingfilm, a session on the beers was inadvisable.  But for everyone else, there were several bars, one with a stage.  The tattooed bands playing there included garage psychobilly old-timers, the wonderful Empress of Fur as well as the younger feline-fronted Pussycat and the Dirty Johnsons. Vince Ray and the Boneshakers, whose singer/guitarist's artwork has influenced many a tattoo, also played daily sets.
Strippers seem to be pretty much obligatory at any event with a burlesque or alternative theme nowadays, so there were regular performances by fetish models, causing a bottleneck of the crowd as balding men craned their jobstopper-emblazoned necks to snatch a glimpse.
Punters seeing a breather from the hectic scenes inside the venue relaxed and compared ink in the outside seating area against the backdrop of the docks.  With a nod to the old circus roots of tattoo culture, entertainment was provided by a fire juggler rolling a flaming stick along the back of his neck and down to his heavily geometrically patterned chest.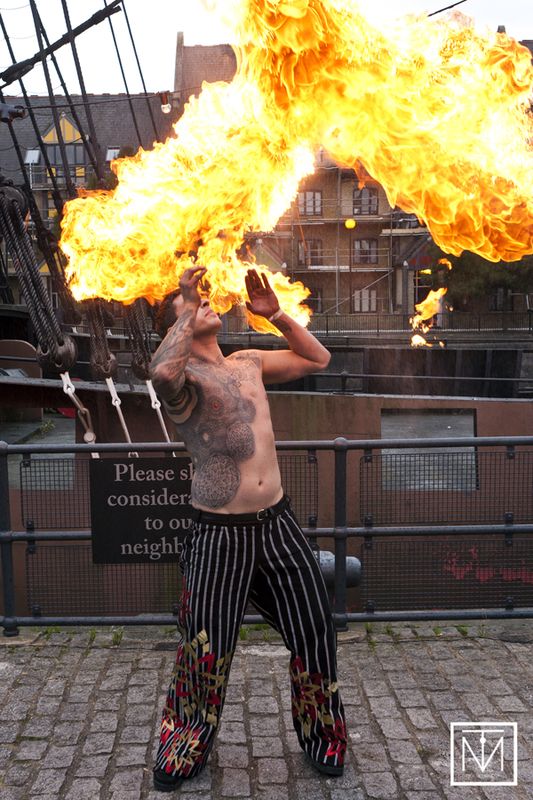 You didn't have to be covered in tattoos to enjoy the London Tattoo Convention.  From the plain-skinned first-timers curious to dip a toe in the ink to those who embrace tattoos as an integral part of their life, there is much here to catch the imagination and stimulate the passion.
---
All photos: Carl Byron Batson. Not to be reproduced without prior permission.
Drop back in to Trebuchet on Sunday for more photos of the London Tattoo Convention.