[dropcap style="font-size:100px; color:#992211;"]F[/dropcap]ounded by artist Zara Banks, PoetryFilm works to explore semiotics within the art form.
With a new online Archive (thanks to Arts Council England) PoetryFilm allows the integration of old film projects with new artist innovation. The Archive contains an enormous 1000 short films which use image, text and sound techniques in very experimental ways.
PoetryFilm has produced over 80 events showing a selection of these short experimental films. The most recent event, Paradox, follows an impressive list of past events at locations such as Tate Britain, Southbank Centre and Cannes Film Festival.
Paradox features a variety of films expressing experimental ideals of love and intimacy. The 13 short films (ranging from 36 seconds to 11 minutes) are tailed by live readings by poets from Eyewear Publishing. By collaging films created in different contexts with live artist poetry readings, the audience become sympathetic to these personalized and intimate performances.
Many of the short films use common sensory techniques to dissolution the audience. Sound (usually dramatic music or voiceover of a poetry reading) is used to disorient through climactic crescendos and dramatic absences.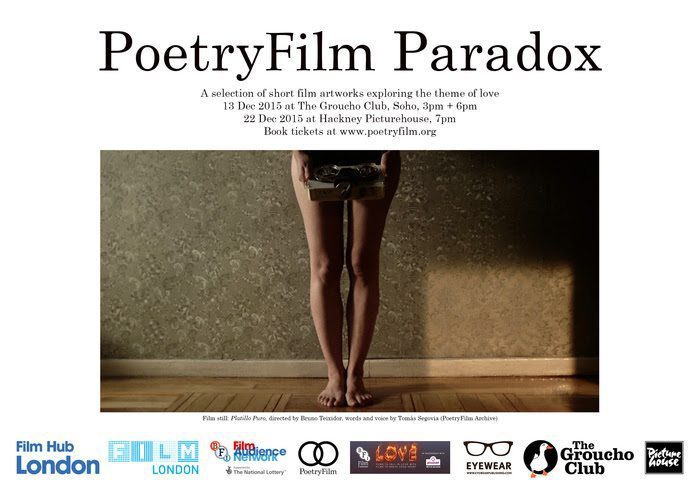 The points of sound absence emphasize raw and simple emotion, whilst he points of sound overload invade and perforate the audience's nervous system. Colour is also highly representational: shades of sepia and monotone oppose bright hues. These contrasts work well to mimic the erratic highs and lows of love.
Love has its own language. It is a serious of experiences and emotions which most of us know but cannot describe. Infatuation, lust, obsession, rejection, devastation, frustration, heart break, hate. Emotions which transcend through time and place and often repeat themselves.
Paradox materializes this confusing passage in an individual's development. For example, the desexualisation of the human body. A naked man and woman touching becomes symbolic rather than erotic. Meaningful communication is achieved through the vulnerability of the stripped body.
Poetry film provides a great opportunity for developing artists to express personal semiotic expression and artistic exploration. Artworks within the archive are considered for all future activities, which means new themes can always be explored and challenged through the unification of works by different artists.
More PoetryFilm news and information here