[dropcap style="font-size:100px; color:#992211;"]B[/dropcap]erlin and Detroit, the two great techno metropoles, joined together even before the 1993 Tresor label compilation Tresor II – Berlin & Detroit – A Techno Alliance.
The personal, creative and infrastructural links between the two scenes are well known and it was probably inevitable that sooner or later someone would create something like Betroit, a conscious attempt to fuse these two canonical strains of techno. What wasn't at all inevitable was that the result would be good.
It would have been all too easy to attempt this kind of fusion cynically or unimaginatively, but Berliner Pierre Deutschmann manouevres around these traps with great skill. Another trap he avoids is the lazy, literalist Detroit fetishism of some of the more anal British producers desperate to imagine themselves playing a role in the dawn of the genre. There's no doubt that this is a Berlin take on the influence of Detroit (and the continuing cross-fertilisation with Berlin).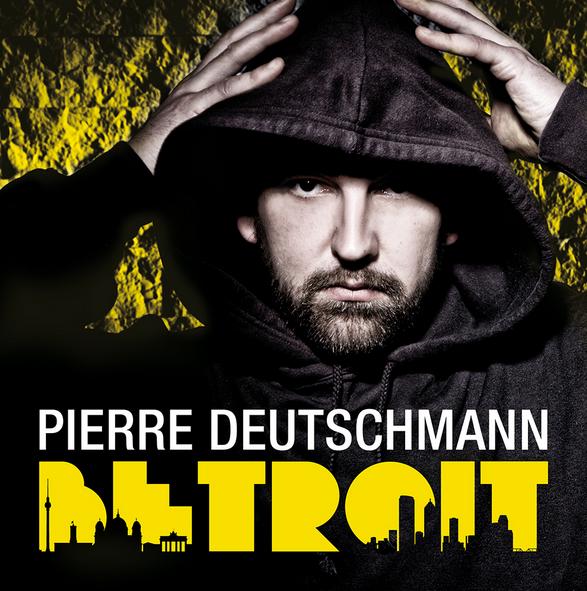 This an extensive, well-produced 16 track club techno album that's successful and energising. There's a lot to absorb here and both the artwork and the ordering of the tracks let it down a little, yet it's well worth investing time in. Symbolically, the intro track is 'Detroit' and the outro track is 'Berlin'. The opening is a series of soundbites from the founding fathers or old masters of the genre. Here we're romantically reminded that "there wasn't money, there wasn't fame, it was just music."
Deutschmann reveals his agenda on 'Cruf', built around a tense, nagging sequence that builds a sense of expectation. 'ParameterLock' is a slower edgier track with a touch of the Chain Reaction sound and a filtered motif that maintains the tension nicely even when the pace picks up.
'NonVerbalDrama' is the first serious club track with filtered handclaps and sonar bleeps that give it a welcome trace of mid 1990s Robert Armani productions. Much closer to the utopian atmospheres of Detroit techno is 'Area1507', although an atonal element maintains a degree of tension and refuses the temptation of cheap sentiment.
The momentum of the album really picks up with 'LookingBackwards', a forward thinking, blending warm Detroitian basslines with a bleepy sequence. What Deutschmann achieves here is something rare and welcome – genuinely catchy yet serious and well-produced techno. This is followed by the much bassier club track 'Nerdvana', maintaining a high level of energy.
In contrast to these tracks is the more subdued yet still dynamic 'Hunch&Guess', which features liquid, morphing bass sounds that modulate interestingly. It's still a club track but its melancholic, pensive overtones lend it a different quality: half upper, half downer. As with many of the tracks, it's really interesting to hear how the sounds are subtly developed over the course of the track.
'Emphasis' is the single from the album, an interesting choice as it also has a melancholic core that's offset by serried, shimmering chords that move through the mix dynamically. 'OneTrueZero' slows down the pace but compensates with resolute low end action and more subtle atmospherics.
If some of the tracks that follow are less epic or distinctive than what has gone before, this is not to say that they're weak, only that they pale a little in comparison with the first two thirds of the album. However, just as the energy seems to be fading, the penultimate track 'AndWhatNot' kicks in. Tonally, this is a little akin to some of Richard H. Kirk's 1990s work, funkier and bleepier than the rest of the album.
We're left with brief soundscape 'Berlin', which is suitably edgy and changes the mood again. This is a well-produced and ambitious album on which a strong concept has delivered some impressively imaginative tracks that don't just repeat the old formulae but use them as starting points for some distinctive new forms.
Label. BluFin
Artists. Pierre Deutschmann
Title. Betroit
Format. CD and Digital
Cat.Number. BF LP03
Distribution. Beatport & Kontor (Digital)
Available from October 5th
[button link="http://blu-fin.com/" newwindow="yes"] Blu-Fin[/button]