[dropcap style="font-size:100px; color:#992211;"]M[/dropcap]an Raze are a three-piece Rock band from London with members from some of the world's most successful, iconic Rock/Punk bands:
Phil Collen of Def Leppard
Paul Cook of Sex Pistols
Simon Laffy of Girl
Natural and improvised creation fed by decades of experience.
The band's current EP is titled and based around the lead single: 'I Surrender'.
Phil Collen, calling Trebuchet's Meltem Yumulgan long distance from the California coast, fills the story out.
---
Trebuchet: Hi Phil. I know that you are from Hackney, London. I am actually in Mile End at the moment, so greetings from your homeland – the heart of East London!
Phil Collen: Haha! Actually, the first gig I ever did was in Mile End at a hospital home where some young nurses used to stay. I had my first gig there when I was about seventeen.
How cool! Let's talk about the EP that's just come out. My first question is; is it going to lead to an album?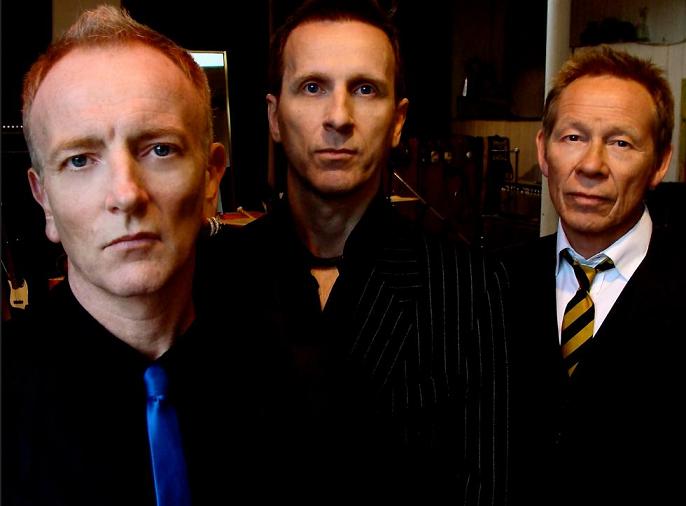 It will do at some point. We're actually going to be writing some new songs in January when I am coming over to London.
We started the song 'I Surrender' eight years ago and we got the chords for it last year. We got the original drum track and re-recorded the whole thing and made it a track. We are really thinking about an album, we've got loads of material but we will see.
With Man Raze, we recorded our album in less than two weeks, so we're good at that, but it's kind of weird making an album these days – not many people buy them!
Do you follow a different process with this band?
Not the writing part but the recording part is very different. I think, with Def Leppard, we kind of tend to overdo things and sometimes you get kind of stuck because we just think too much about it. With Manraze, it's a different process. So, the recording part is very different.
What would you say influences you creating for Man Raze?
I actually think 'I Surrender' sounds like a Def Leppard song, but it's kind of weird because it came from Simon, it didn't even come from me initially. I think the great thing about Man Raze is that you don't have to stick in a certain framework. We go reggae in one minute, and we sound like a punk band the next minute, or a 70's funk band. That's the great thing about it.
In 'I Surrender', personally, I can almost hear a reference to Pink Floyd's 'The Great Gig In The Sky'.
Oh, thank you! That's Debbie Blackwell-Cook, she actually sings in 'All I Wanna Do', she's just amazing. We're actually going to be doing a Blues album together called Delta Deep. Yeah, I really like the Pink Floyd song but the funny thing is, it was sung by a white woman whereas Debbie is actually a real black Blues singer.
I've worked with Debbie before. We've done some recordings and some performances and stuff. I thought it would be perfect for her to be taking part in a song and have a vocal solo.
Is it hard to manage to find the time to work with Paul and Simon?
With 'I Surrender', the drums were recorded eight years ago and we just re-wrote and re-recorded the stuff over. Simon did his bass in London and the rest of it was done in the States. These things are a lot different now than how it used to be. You don't always have to be in the same room anymore. Actually, with Def Leppard, we've been doing it like that for years!
What kind of reactions do you get?[quote]I don't want to complain
about record companies
and that, but that's the
truth of it. They don't
really work very hard[/quote]

It depends on the song. With 'I Surrender', they've said it's the best song we've done so far. I think it sounds a bit commercial but that wasn't done on purpose, that's kind of the way it turned out. We're an unknown band, not many people have heard of Man Raze. It seems like a brand new band.
I've done a bunch of interviews last week and the guy thought it was the first thing we did. I said we've got two albums out as well! That wasn't done on purpose; it's kind of the way it turned out.
Do you want to turn it into a big project?
Yeah, that's the plan. We want to get it out to as many people as we can. We work really hard at it. And it's a lot harder, because we don't have a record company etc. When we did (we have put two records out before), the people doing it weren't working as hard as we were, so it's kind of frustrating at that point. I don't want to complain about record companies and that, but that's the truth of it. They don't really work very hard. They just get the album out and do nothing.
But yeah, absolutely, we would love to tour and everything – that would be great!
And what reactions do you get from the other guys in Def Leppard regarding Manraze?
The thing is we have huge gaps in Def Leppard. We tour, but then there is a massive gap between that and the studio. So, there's a lot of time to do other things. I can't just sit there. I'm an artist so I need to write and record and do this stuff all the time. To me, it's absolutely essential.
[quote]In Def Leppard, I'm a
guitar player and here
I'm a singer. I'm playing
a completely different
instrument[/quote]
Any tour news?
We've done that before and it's very hard to do, because it costs a lot of money to get out there and do that. That's the thing, there's no point doing it just for the sake of it. I think you need to be promoting an album or single.
Headlining Wembley Arena with Def Leppard versus playing smaller clubs with Man Raze. How does it feel?
The difference is not only about the size of the places but mainly because we are a three-piece band. In Def Leppard, I'm a guitar player and here I'm a singer. I'm playing a completely different instrument. That's what's mainly different to me and the fact that we are three-piece. It's so different being in a band with five people where it's a lot more structured.
With this band, you can improvise, you can jam and the fact that I'm the singer, to me, is the biggest difference.
For your fans that hear Man Raze… the polished Hard Rock sound of Def Leppard, a punk drummer Paul Cook from the iconic Sex Pistols and the bassist Simon Laffy from Girl. Does the fanbase ever clash?
Of course, but even with Def Leppard, people won't like a particular album and they like another one. So you always get that. Not many people have heard Man Raze. Everyone who hears of it thinks it's great and that's the reaction we get. They were really surprised with the album.
Will you be putting an album together before you can start touring again?
No, we can tour straight away! With Def Leppard, we do tour without putting an album out. If something comes up, we will. We're just waiting for an opportunity to arise. We just wait for that, but in the meantime we just write songs.
What are your near future plans?
We'll be going in the studio with Man Raze in January and with Def Leppard in February. So, there's a lot of music to be made, and I'm really looking forward to that. It's always fun. I've got lots of ideas.
Where is that going to be?
We mainly do it in Joe [Elliot]'s house in Dublin. He has a great studio there. I'm really looking forward to that. With Man Raze, we actually recorded our first album at Joe's studio. Wherever it works! We also record a lot of stuff at home. So, wherever you get the opportunity, it's always really good.
And finally, I'd like to finish with a question by Emre Serim as a huge Def Leppard fan. Do you sometimes refer to Steve Clark when you do things for Def Leppard?
Yeah, all the time actually! Constantly!
[button link="http://www.manraze.com" newwindow="yes"] Man Raze[/button]

Meltem is a London-based 'wanderer above the mist', whose biggest passion – a flame that never burns out – is Rock 'n' Roll. She contributes to the magical (for some!) world of Rock 'n' Roll by being a rock singer, a rock musician, and a rock songwriter. She has worked with great rock musicians from all over Europe. Her history as a rock musician consists of multiple rock covers, originals (rock), rock tribute bands and professional recording sessions. Where she dwelleth rock resides.