[dropcap style="font-size:100px; color:#992211;"]I[/dropcap]n the second part of Tim Hall's marathon interview, Panic Room's Anne-Marie Helder and Jon Edwards talk about playing as a live band.
---
What can we expect to hear played live on the forthcoming tour?

Anne-Marie Helder: Well, we were brave and debuted a lot of tracks from SKIN at our launch shows during the summer –  we played a select few shows in the UK, and also some over in Italy, which was a fantastic time!
We worked hard on getting about nine of the eleven tracks on the album gig-ready, and went ahead and played them this summer! But this Autumn we are taking the SKIN Tour out on the road with a full tour that will reach a lot more people, and we feel it's only fair to be able to play every track from the new album for them, live!
So, we'll be playing either all or most of SKIN for the fans this November (depending on the gig), and we'll also be playing a selection of 'fan favourite' songs from both of the first two albums. It's not always easy to pick tracks to keep everyone happy, especially now the back-catalogue is growing all the time. But there are certain songs everyone wants to hear, so they're easy to choose; ultimately it's all about creating the best show possible for each crowd, at each venue, and we take that responsibility very seriously. Not ourselves, but the responsibility and the music! (laughs)
We're very lucky to have such loyal and awesome fans, and it's important to me to know that they're all having a great time when we play live. It's always a balancing act when you're drawing up a set list; I think people would be surprised to know how many hours we literally spend agonizing over it, and how each song can impact the rest of a set.
It's really got to be right; if it's not, you can lose energy somewhere along the line.
But when it's right?… That's when it's something out of this world, for all of us there.
Any plans to play live with the string section?
Jon Edwards: It's something that's logistically difficult to do – but we'd love to at some point. It would need to be the right venue and would need a lot of preparation… but, watch this space!
Anne-Marie Helder: Ohhh, we so want to! – Of course! It'd be amazing. And we did discuss that, while we were recording and releasing the album. But as Jon says, it's a bit of a logistical nightmare, not just in terms of finding the right venue with the right stage-size etc, but somewhere with the right acoustics, and then getting it all balanced up right with the band…. I'm really hopeful we will do it at some point, even if it's a one-off!
[quote]I'm really hopeful we will do it at some point[/quote]
We don't have the funds and capabilities of some of the biggest bands in the world who can put live strings on their stage every night. And we probably wouldn't want to; you don't want to become a cliché of yourself. But to actually experience that sound enveloping us live, with our chosen players right there on stage jamming and smiling with us, loving every second… That's something I need in my life, sometime soon! I want that for Panic Room.
But it's a matter of where, when, and how. You can bet we'll make it happen if it's at all possible though. We've still got all the string scores written out, so there's no excuse for the string quartet!
You toured much more extensively last year than you'd ever done before, with a lot of small club dates all over the country in the second half of the year. Was it a success in winning over new fans?
Jon Edwards: Playing live is a great way to win over new fans – on the extensive tour we did last year we played Arts Centres and rock clubs, and it really helped the band reach a new audience. We did notice that there were a lot of new faces, of all age-groups, at most of the gigs. It was exhausting, but was a great way for everybody to bond musically and get everyone ready for the recording sessions for SKIN.
Anne-Marie Helder: It was a huge tour, but one that we really wanted to do. We'd talked for a while about doing a larger number of shows, and it just felt like the right time. So, we went a bit nuts on the bookings! (laughs)
It was important that we reached as many areas of the UK as possible, including many towns and cities we'd not done before. You've got to be brave, and take the plunge; take a few risks. There's no better way to connect with your fans that being out there playing live face-to-face in the same space, and there are some great venues in the UK to play in.
We've explored a LOT of them now, and have a clear sense of where we'd always be happy to go back to, and where might be better to miss! But wherever we've played, the unfaltering response is always an amazing, enthusiastic and up-for-it crowd, and we're just happy to see that these crowds are growing all the time!
At every show we have people who've never seen us before; sometimes they've heard us on the radio, sometimes they're a fan's friend, or they've just seen the gig advertised and heard the buzz, and want to check us out. I'm really proud that everyone who comes to see us once seems to go away wanting more… that tells me that we're doing our job right.
A few female-fronted rock bands have quite a strongly sexualised image with risqué stage costumes, and I've occasionally heard accusations that their frontwomen are just eye-candy to attract male audiences. It doesn't seem as if Panic Room have gone down that route. Was that ever a deliberate decision?
Jon Edwards: No it wasn't a deliberate decision – it's not something we even had a discussion about. It's not who we are as people, or who Anne-Marie is as a woman. Personally, I think it's the kiss of death to your integrity if you go down that route – you can't play that game and then expect to be taken seriously as an artist.
I think anyone who's seen (and heard!) Anne-Marie performing live with Panic Room will know the magnetism and power of her stage-presence. There's nothing false or fake about her – she's a beautiful, talented singer and musician and she really doesn't need to pretend to be anything she isn't to attract audiences – her voice and the music do that.
I don't really think of us as belonging to genre of 'female-fronted' rock bands – it's a non-genre as far as I'm concerned and I'm not really sure why anyone interested in music would need to make a gender distinction regarding the singer of a band they liked.
Anne-Marie Helder: To quote Spinal Tap – "what's wrong with being sexy?" (laughs)
Seriously though, Jon's right in that we've never set out to have any particular image aside from what we are naturally, and it just so happens that I'm naturally a creature of many ideas when it comes to my stage attire!
I've always been more of a quirky and unique dresser than someone who really fits in – which hasn't always been a good thing, haha! Trust me. There've been some real humdingers over the years! But I've always dressed to express how I feel, or to fit my mood on the day or the vibe of the place I'm in, rather than to impress or titillate anyone else.
I guess we all want to look good… there's no denying that. But even if I felt supermodel-fit I still probably wouldn't wear certain things. It's just a matter of personal style.
I don't actually care what anyone else chooses to wear on stage, male or female – it's none of my business!  Some people work the sexy angle great, some people look awesome dressed right down. I think there's maybe an expectation from certain rock fans for their musical women to look at least a little bit dolled up on stage, rather than go down the t-shirt route! But, I'll wear whatever I want to wear.
[quote]I have many, many scarves![/quote]
Clothes for me are sometimes just a practicality – they keep us warm! And if I'm working in the studio or at home on some music, why should I dress a certain way? It's all about the work, and, aside from choosing a scarf to suit my mood that day (I have many, many scarves!) I don't really care about anything else.
But when it comes to being out in the world, and especially on stage, of course I do care…. It's human nature. But since I was a kid, the main thing that matters to me has been feeling comfortable in my own skin and wearing what I want to wear, to express my inner self. I was always a bit of a hippy like that.
When I was about eight, I went on a family holiday with a little suitcase which had nothing but red and black clothes in it! Some might say nothing's changed! (laughs)
[quote]massive furry moon-boots with tiny hotpants [/quote]
I do see clothes as something to have fun with and to express yourself with, so regardless of the fashions at the time, I must admit I've worn some pretty outrageous get-ups in the past! From massive furry moon-boots with tiny hotpants (on stage in Covent Garden), to silver catsuits to an all-yellow combo. So I wouldn't say I have many boundaries when it comes to clothing…. but I guess I've always been a bit retro, always drawn to a 60's-70's feel, and so that tends to come out more than anything else in what I like to wear.
I guess though what I'm trying to say is, I'm more on the Lady Gaga side of the fence than Cheryl Cole!!! I think if you're truly creative, it will inevitably come across in your dress sense too. I sported some massive feathers on my head this year at Cambridge Rock Festival… I've not decided what's next on my accessories list!
Another for Anne-Marie: Where did you get that distinctive red guitar you use on stage?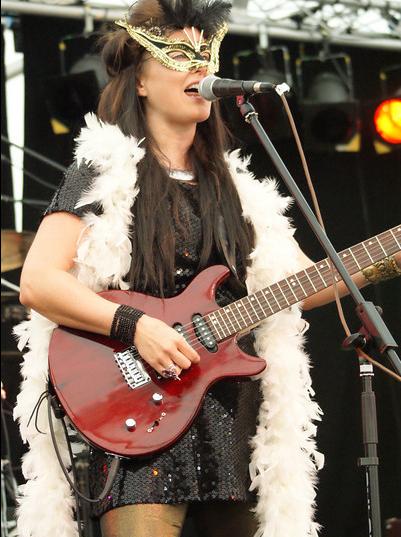 Anne-Marie Helder: A-ha! I often get asked this. It's a make called 'Carlo Robelli', and is from America. I actually got it from a guitar shop in Hollywood, California! I was over there a few years ago with Dave Kilminster, visiting him when he was touring with Keith Emerson, and we went window-shopping in Hollywood – which as anyone who's been there can tell you is Not as glamorous as it sounds!
[quote]It was so gorgeous, it was love at first sight[/quote]
We were really looking for any interesting guitars for Dave! But then we wandered into this next shop, which had a whole range of guitars from the exclusive to the basic…. And I just happened to see this beautiful deep red guitar hanging on the wall. It was so gorgeous, it was love at first sight. Dave got it down and they wanted me to play it to try it out, but I was too nervous to play with those guys in the room! So I made him test-drive it for me, haha!
But it sounded so good. Everyone was surprised, because it was one of the cheapest guitars in the shop! But as everyone says, sometimes you just 'get a good one', and this really was a lucky find.
The thing is, it could've played like an ironing board but I probably still would've got it, because I was won over by its lovely burgundy looks! (And as everyone knows, I'm partial to a bit of red)
Anyway as luck would have it this one both looked great And sounded great. Although that could've just been its test-driver, to be honest! But it was also a ridiculous price; and so it came home on the plane with me.
Paul Davies
I use it for all Panic Room gigs, and thanks to some extra TLC that Paul (Davies) has given it, it seems very happy! If only I could play it better now!
---
Panic Room's tour starts at The Borderline in London on November 10th. Stay tuned for the third and final part of the interview in which the band explain how and why they signed a record deal after being independent, and tell us something about the reality of working musicians outside the commercial mainstream.
Photos: Tim Hall
Panic Room 'SKIN' Tour
Nov 10th LONDON Borderline
Nov 16th PONTARDAWE The Arts Centre
Nov 17th LEICESTER The Y Theatre
Nov 18th WINCHESTER The Railway
Nov 23rd MANCHESTER Sound Control
Nov 25th BRISTOL The Tunnels
Nov 30th GLOUCESTER Guildhall
Dec 1st DARLINGTON The Hub
Dec 2nd BILSTON Robin 2
[button link="http://panicroom.org.uk/tours.html" newwindow="yes"] Tickets[/button]