[dropcap style="font-size:100px; color:#992211;"]F[/dropcap]or every one that makes it, a hundred must surely fade away.
Indeed, over time we've witnessed the birth and growth of the likes of Blur, Arctic Monkeys and more recently the mighty Wolf Alice but we have also seen a thousand stumble and fall. What did ever happen to Proud City Fathers? As Mr Rogers once said, "Everybody can't be on top". Not always a reflection on the talent, it's a roll of the dice I guess, the brutal nature of the artistic/musical beast machine.
The real joy of the live music scene is not always watching the main act do their super polished thing; often times the real joy is witnessing the voracious hunger of the support bands or indeed the support-support bands.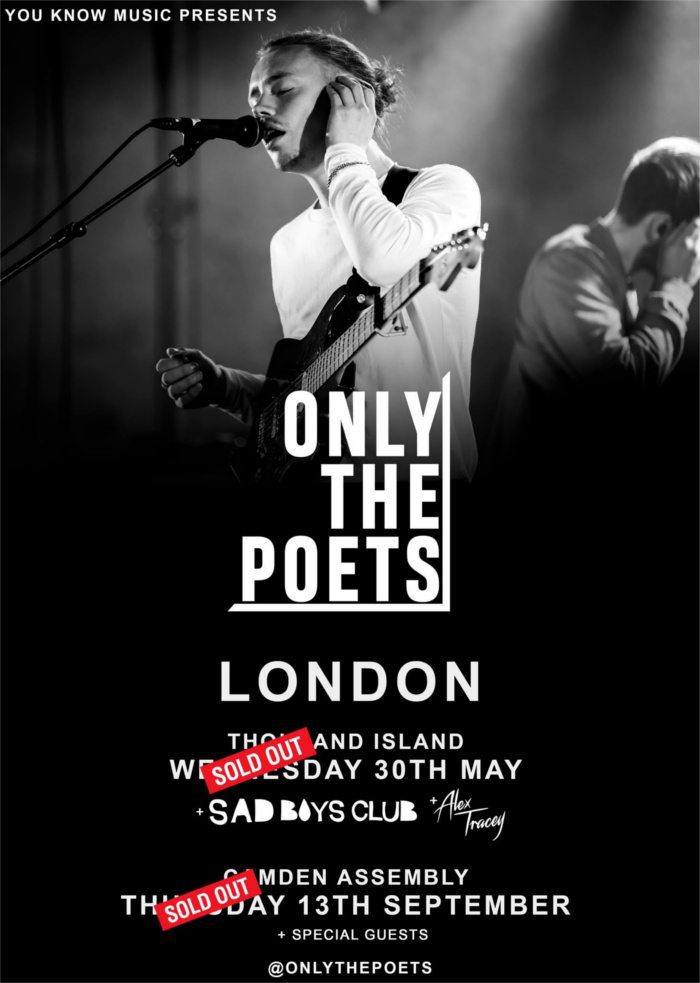 Seeing the snarling, raw new talent emerging from the very germ of an idea and growing before your eyes, song by song, gig by gig is a very pleasing thing indeed.
So supporting Coasts were Only Shadows, but supporting-supporting Coasts were Only The Poets. An 'Only' too much, you cry. Perhaps you are right. But of all the 'Only's, Only The Poets seemed thirstier and they drank deeply from the rivers of adulation that flowed for them at The Forum, Kentish Town.
As expected, Coasts thrilled the crowd with an electric headline performance, there was no disappointment whatsoever. Chris Caines mesmerised as the souls of Presley, Morrison and Interior seemed to take turns enveloping his leather-jacketed frame. Yet we remained intrigued by OTP, they surely had that pop – we dropped front man Tom a line to tell him so and to see what's living under the hair. Here's what he fired back at us…
Hey man,

Thanks for the kind words!

'The tour with Coasts was so much fun. We can't thank them enough for having us out on the road with them. It gave us the chance to play to crowds all over the country and the response we got was really flattering. We've been writing these songs for a couple of years so it was refreshing to finally get out and play them all over the UK and in cities we've never played in before. Off the back of the tour we've sold out our own headline September tour in the same cities which is crazy! We cannot wait to hit the road again. The touring lifestyle is something we'd love to get used to. We're gonna release a couple new tunes this summer and continue to tour them around the UK! We're buzzing for September man its [sic] gonna be wicked!'

Tom – Lead Vocals/Rhythm Guitar 
Coasts, Only Shadows and Only The Poets played at O2 Forum in Kentish Town on April 26th 2018.

Photographer, published poet, former party animal, body builder, grave robber
to the stars and renowned chainsaw juggler, Carl can often be spotted on his
Harley Davidson pretending to be in Terminator 2. He is also frequently seen in
the press pits of old London town, camera in hand, avoiding being hit by bottles
of wee and crippling his opposition with secret Kung Fu moves.