[dropcap style="font-size:100px; color:#992211;"]N[/dropcap]apalm Death are one of those iconic underground bands.
Their blend of extreme metal and hardcore punk was never in any danger of crossing over into the commercial mainstream, but their longevity combined with their refusal to compromise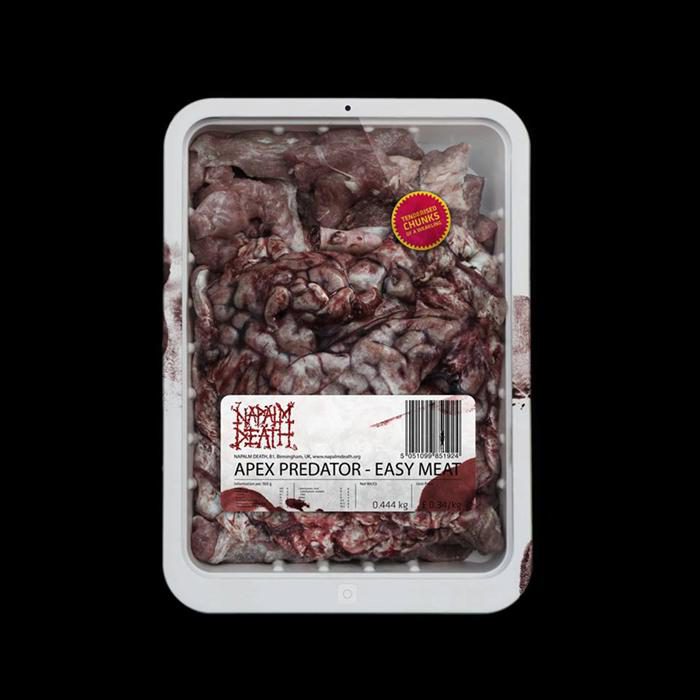 has made them household names even to those who find their actual music an unlistenable wall of noise. Their appearance on BBC2's Arena at the beginning of their career in 1989 isn't something that's easily forgotten.
Their latest album Apex Predator – Easy Meat proves that they still have something to say a quarter of a century later. It's a dark, angry record about a dark world that contains plenty to be angry about.
It starts off in deeply experimental territory. The opening title track with it's eerie soundcapes of clanking percussion and robotic chanted vocals come over like some kind of Dalek marching band. With the second number "Smash a Single Digit" the guitars and machine-gun drumming come and batter down down the door.
Individual songs blur into one another in a wall of ferocious guitar and angry screaming vocals, aided by a production that tears out of the speakers and nails you to the opposite wall.[quote]the visceral fury of punk
with the dexterity and
precision of metal[/quote]
It's not quite all unrelenting high-speed barrage. "Dear Slum Landlord" slows down the pace, with Mark Greenway almost singing clean vocals,"Hierarchies" even features Gregorian chant-style vocal harmonies, and the monstrous closing "Adversarial/Copulating Snakes", at five minutes, is something of an epic by their standards.
This is a record that manages to combine the visceral fury of punk with the dexterity and precision of metal, all played with such an intensity that it's hard to take in the whole album in one go. Easy listening it ain't.
Napalm Death show absolutely no signs of mellowing in their old age, and they've made a record that's utterly uncompromising, at times it almost making even Slayer's Reign in Blood sound pedestrian.
Out 26 January 2014
[button link="http://napalmdeath.org/scum/" newwindow="yes"] Napalm Death[/button]