[dropcap style="font-size:100px; color:#992211;"]F[/dropcap]or four nights in March, Britannia House (a former carpet factory off Brick Lane) became a memorial site to the work of Bernard Parmegiani, who died last year.
Long-revered (and in some quarters feared) as an electronic pioneer and producer of powerful works, it's hard not to make a memorable event from his work. The main tests for this ambitious retrospective were how successfully the works would function in this temporary space and how well the invited guest artists would compete with Parmegiani's works.
The setting symbolised interesting differences between Paris and London. While in Paris Parmegiani's work is usually presented in state of the art, state-subsidised spaces, here it manifests in multi-storey car parks and former carpet factories, both in formerly abject but rapidly-gentrifying areas.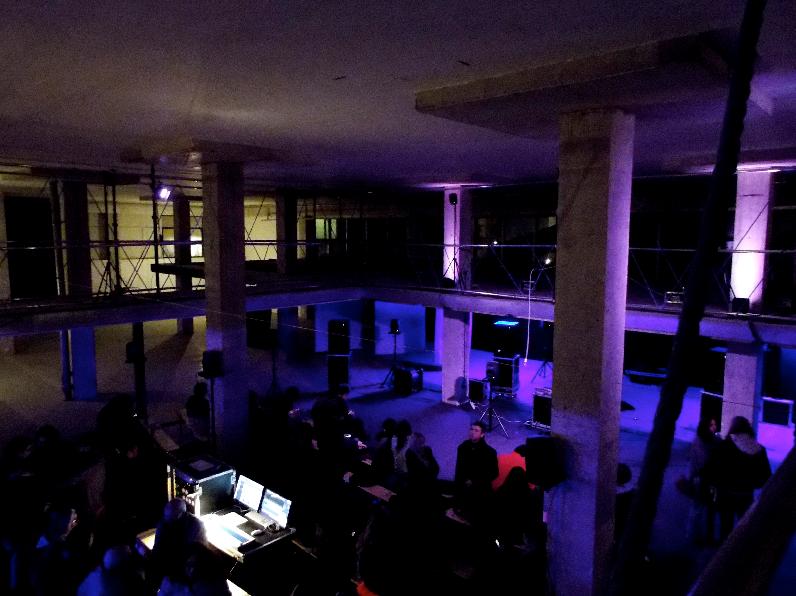 I've not heard Parmegiani's work in Paris, but I imagine that the unconventional locations used by London Contemporary Music Festival do add something to the experience, removing it from formal, institutional contexts. [quote]The lack of visual stimulation
allowed listeners to shut their
eyes and look inwards[/quote]Symbolically, the diffusion of Parmegiani's sounds in this space formed a part of its re-animation, its bringing back to life, and they now form a part of the history of the space, possibly more significant than anything that came before or will come after.
The danger is that the march of homogenised, corporate blandness that accompanies the re-generation of such buildings will leave even fewer spaces to host such challenging work.
For now though, the building has a starring role. Like the Peckham multi-storey LCMF take over every summer, Britannia House becomes a festival-like space and a key part of the experience. The chill in the air and the low lighting intensified the atmosphere created by the works and their diffusion via the 32 speaker system that surrounded the audience seating area.
The diffused works left nowhere to look except at the banks of speakers or the building itself. The lack of visual stimulation allowed listeners to shut their eyes and look inwards, focussing on and feeling intensely the power of the sounds.
It was also possible to wander around the space, viewing proceedings from above or from across the former factory floor. One issue to be resolved is the noise of the toilet doors and the fact that quite a few audience members seemed unable or unwilling to walk around softly during quiet passages. Some of the social dynamics of the second night were interesting – drunken student girls gossiped inanely and argued over other people's seats, while the gents' began to resemble the facilities on a stranded train full of football fans.
Following the first night of screenings, Friday saw the event start in earnest. The 1964 piece Violostries blended Aisha Orazbayeva's live violin with electronics to dramatic effect. The performance was bracing and spirited. [quote]The uncanny chords and
atonal electronics on
La roue ferris gave a strong insight
into the extent of his influence
on Aphex Twin, Autechre and other
producers that have followed
in his wake[/quote]This was followed by the colossal 1984 work La Création du monde, arguably the highlight of the whole event. Heard on this speaker system while sitting on hard benches in the chilly space, the waves of visceral electronics gradually became ultra-intense, leaving some audience members totally lost in the sounds, oblivious to their surroundings for long periods. A brief technical glitch between sections and some premature applause only slightly compromised this monumental experience.
Saturday was a more varied and less intense evening. It began with 1971′ s La roue ferris and 1972's Pour en finir avec le pouvoir d'Orphée, both full of fascinating detail if less intense and shorter than La Création. The uncanny chords and atonal electronics on La roue ferris gave a strong insight into the extent of his influence on Aphex Twin, Autechre and other producers that have followed in his wake. A screening of Parmegiani's contemporaneous short film L'écran transparent was an interesting curio, featuring evidence of Parmegiani's other vocation as a mime.
The guests were local artist Vessel, who played a well-intentioned and unobtrusive set and the big name of the night, Rashad Becker. Previously best known for his acclaimed vinyl mastering skills, Becker now presents his own music. His performance seemed as much of a showcase of his skills as a structured set. The sections based around dub bass were impressive and a final noise section achieved some coherence, but there were too many passages based on the fetishistic manipulation of crude and not particularly interesting sounds.
Despite his critical beatification and the awe with which some of the audience received it, it seems as if Becker has the skills but it's unclear to what end they're being used; a clear narrative or style doesn't emerge and as a whole it seems unfocussed and occasionally verging on self-indulgent.
After the diminished intensity and focus of Saturday, Sunday reperesented a return to form, with Daniel Teruggi's Parmegiani diffusions almost matching the intensity of Friday. Dedans dehors (1977) thrillingly explored the concept of metamorphosis as a sonic and philosophical state. Espèces d'éspace (2002) returned to the cosmic themes of La Création but was colder and more precise.
In the quieter passages the sound system really showed it's worth as fine sonic details shot around the space. The final piece, Rouge mort osciallated between surprisingly (relatively) melodic passages and more severe frequencies. Fascinating if less intense than its predecessors, it seemed to pass all too soon.
Florian Hecker is much longer-established, but although his work can be more austere and severe, he also shares some of Becker's self-indulgent tendencies. Widely respected, there's no doubting Hecker's technical finesse and forceful sonic ambition. Yet compared not only to Parmegiani but to many of his contemporaries, his work can seem anaemic and bloodless, even in its more extreme moments.
At its most focussed its formally impressive but not beguiling, and its sometimes near-sterile rigour seems aesthetically barren in comparison to Parmegiani's content and concept-rich soundscapes.
This is not to say that the pairing of contemporary performers with Parmegiani's work was a bad idea or that it wasn't a worthwhile experiment. Yet the fact remained that these particular performers, respected as they are, simply could not compete with Parmegiani's work and suffered by comparison. Hearing his works in this unique setting was more than sufficient to justify the event and while interesting to an extent, the guest performances felt like a dimunition of the intensity of each evening.
Perhaps this is one reason why no guest was asked to follow La Création on the Friday night – the drop in intensity and scale of vision would simply have been too great.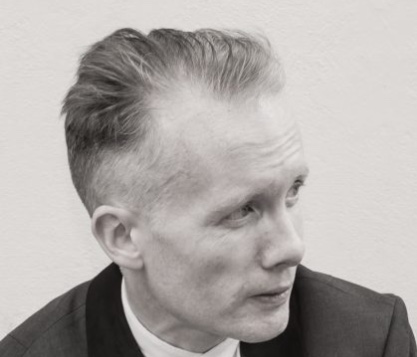 From Speak and Spell to Laibach.