[dropcap style="font-size:100px;color:#992211;"]T[/dropcap]heatre Royal Plymouth have announced that Messenger, the UK's largest cast bronze sculpture, will be installed in front of the theatre on Royal Parade in Plymouth in spring 2019. The monumental sculpture catches a young actor in mid-performance, embodying the energy and creativity at the heart of the Theatre Royal and cultural life in Plymouth.
Weighing in at nine-and-a-half tonnes with a height of seven metres (23ft) and nine metres (30ft) wide, Messenger is the largest lost-wax cast bronze sculpture to be cast in the UK and by far the largest bronze sculpture by volume at 25.6 metres cubed.  Commissioned by the Theatre Royal Plymouth as part of a 7.5 million pound regeneration project which saw the theatre reopened in 2014, Messenger has been created by the acclaimed contemporary artist and sculptor Joseph Hillier.
Hillier's inspiration for the sculpture came from a split-second pose struck by an actor during rehearsals for Othello, Theatre Royal Plymouth's award-winning and explosive co-production with Frantic Assembly in 2014.  The sculpture has been created using 3D scans taken from an actor poised before bursting forward into the choreographed chaos of the play. Although gargantuan in scale, the pose of the sculpture is small, crouched and loaded with the potential to spring forward at any moment. A monument to creativity, Theatre Royal Plymouth's sculpture will reflect the rapid pace of cultural and economic development in the city and its creative future ambitions.
Joseph Hillier said: "The title Messenger refers to the pivotal role the performer takes to breathe life into the words of a writer and the intent of a director. The sculpture celebrates the potential of creativity as a dynamic catalyst for change. This work offers a young powerful woman, a potent force, about to transform the world by her actions. The actor carries the voice of her playwright or director—she carries a message.  It's a metaphor for what great theatre does."
 Messenger is currently in the process of being cast at the Castle Fine Arts Foundry in the tiny Welsh village of Llanrhaeadr-Ym-Mochnant, using the ancient technique of lost-wax casting, and is due for completion in spring 2019. Made from over 200 bronze panels, each section of the sculpture must be cast individually before being welded together by over 30 master craftsmen at the foundry.
While monumental in scale, Hillier is keen that the digital design of the sculpture, made using 360-degree Computer Aided Design (CAD), will be clearly visible when unveiled, showing a true marriage of technology and tradition, old and new.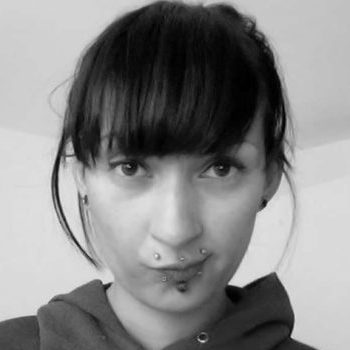 Naila Scargill is the publisher and editor of horror journal Exquisite Terror. Holding a broad editorial background, she has worked with an eclectic variety of content, ranging from film and the counterculture, to political news and finance.