[dropcap style="font-size:100px; color:#992211;"]M[/dropcap]aser began painting graffiti on the streets of Ireland in 1995, and has since become one of Ireland's leading artists working with the urban landscape.
With freeform graffiti experience and a formal art education in Visual Communication, Maser has taken his artworks across the world, painting walls in the UK, Europe and the United States. Maser has now taken on the challenge of condensing his vibrant installation style into a series of gallery artworks, swapping a spray can for acrylic/latex paint and the urban landscape for wood and canvas.
Showing at Lazarides Gallery in Fitzrovia, Orbiting on the Periphery is based on the philosopher Thales of Miletus' theory that physical well-being is essential to psychological health. This body of work shows Maser's transition from the real life world to the internal static space, bringing with him elements of the three dimensional to capture a symmetry of mind and body.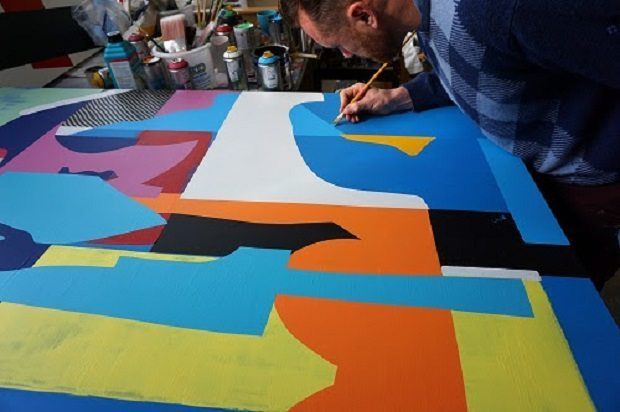 His style is based across abstract expressionism, post modernism and pop art. With loud primary colours, clean lines and simple techniques, Orbiting on the Periphery captures movement of the body in a disjointed yet thoughtful manner.
Maser's use of sharp colour and form ensures his work is not passively observed, immersing us into his art as experience. You get lost in the work trying to find meaning in what could almost be body parts and shapes, all the while feeling like you are taking part in a Rorschach inkblot test.
Viewing the artworks in Orbiting on the Periphery feels, appropriately, like looking with peripheral vision, that movement we see outside our primary sight which is not fully processed by our brain. Maser achieves this through his geometric abstraction. The elements are there, in full colour, but don't quite make sense. A clear play between the physical and the psychological.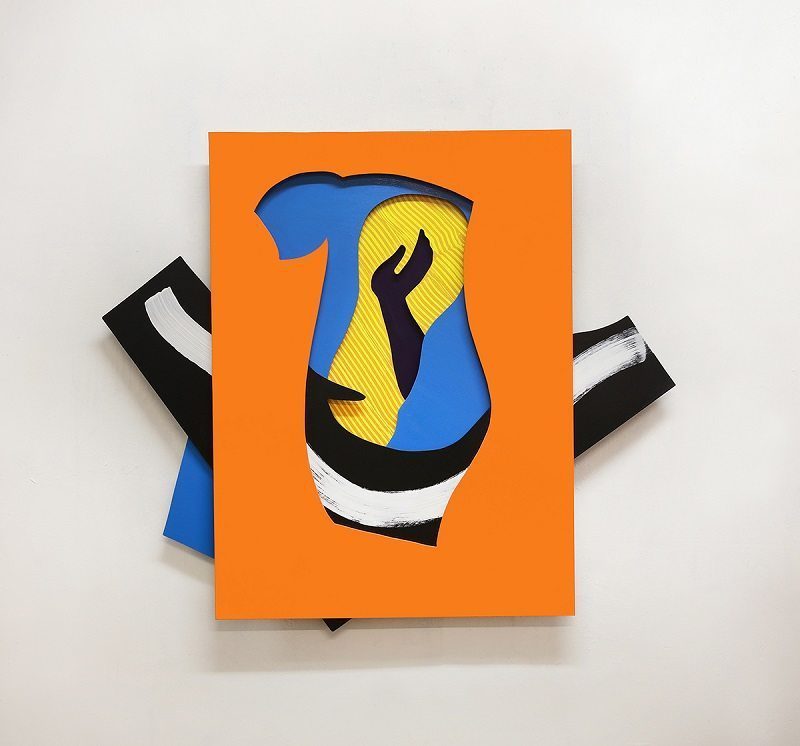 Entering the gallery you are met with bright, imaginative canvas works less than a metre tall. As you travel through the gallery you delve deeper into the human mind, ending at a massive two metre canvas covering the entire back wall and consuming its audience. Lazarides' former gin-palace Fitzrovia gallery successfully immerses you in the full power of Maser's expressive, teasingly near-figurative compositions.
8th April – 5th May 2016
Lazarides • 11 Rathbone Place, London W1T 1HR • www.lazinc.com