[dropcap style="font-size:100px; color:#992211;"]C[/dropcap]ontinuing the theme of Monetising Music, we consider the financial burdens that fall upon the modern musician and ask whether contemporary revenue streams provide sufficient opportunity to balance out these deficits.
While opportunities to earn only dwindle, the cost of being a professional musician seems to endlessly expand: managers, agents, producers, lawyers, road crew, travel, accommodation, studios, rehearsals and equipment purchases are just some of the never-ending debits on the musician's balance sheet.
Add to this the years (decades!) of time and effort spent practicing, writing, recording, rehearsing, organising, promoting and performing your material, and you start to get a sense of how much cost is involved in becoming and remaining a professional.
The sources of income discussed in Monetising Music – part one appear to indicate a declining ability to make a living for the majority of working musicians, who in turn are required to somehow supplement their earnings by other means of employment.
There are still a few traditional means of eking out a living in the modern city environment that young musicians may continue to explore. The first of these is live performance:
In London and other large cities, new bands often find themselves trapped by the steady decline in 'showcase' venues over the past two or three decades. Because of the enormous demand, booking managers now operate a 'pay to play' system, forcing bands to guarantee bringing a minimum audience or face paying a fee for the right to perform (i.e. bring 50 people or pay £100 to play here).
Alternatively, one of the more successful proponents of the modern live scene is covers bands – offering a faithful reproduction of material by classic artists ranging anywhere from The Beatles and Bowie to Pink Floyd and Led Zeppelin. This diverse market continues to generate a high demand and offers lucrative rewards to musicians willing to provide this brand of music.
Also, the live musician can go out and 'busk' a living by playing in public places such as markets, stations, shopping precincts and the like, where passers-by may drop a few coins into their hat or guitar case, which then accumulates into a reasonable reward for the lucky few.
Session fees, once a marquee revenue stream for the pro musician, sadly are now mostly traded off as favours in return for a similar performance.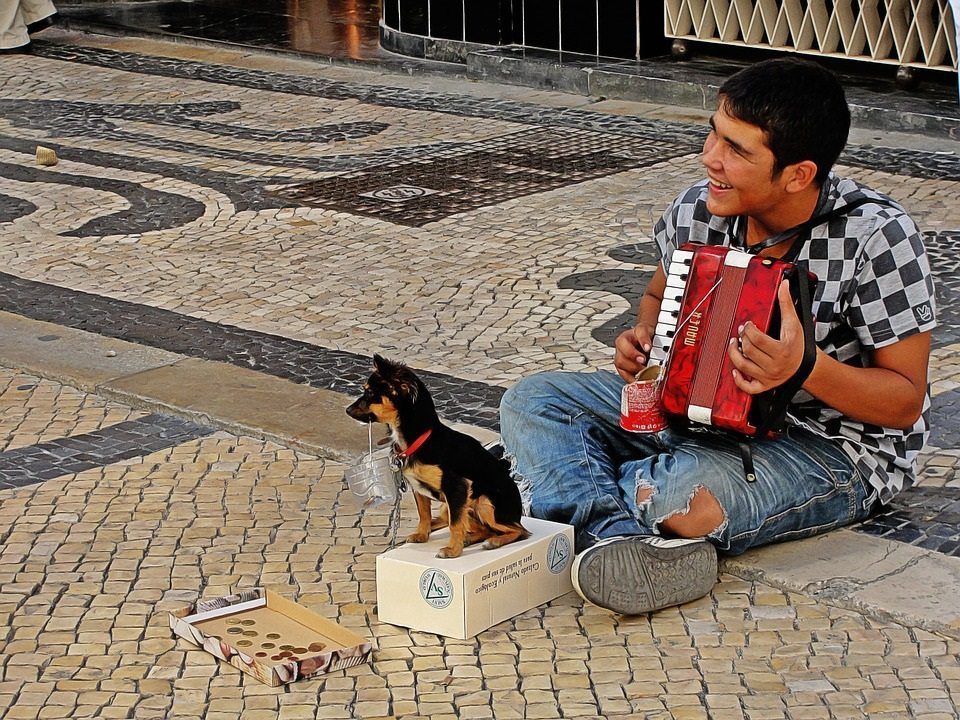 On the technological front, there is a growing number of crowdfunding websites, allowing bands and artistes to invite their fans and supporters to invest in future recording, in return for certain options or shares in that material – Marillion are one of the more recognisable names that have successfully managed to fund new recordings by this means.
Unsigned artists also have the opportunity to self-release material via iTunes, Amazon Music, etc. However, the eternal problem remains: will anyone ever know the music exists, regardless of how good the quality is?
The onus falls back upon the musician to bear the cost of self-promotion, utilising the global social media channels such as SoundCloud and YouTube to post content, while at the same time creating Instagram, SnapChat, Twitter, Facebook, etc. accounts for brand identification and recognition.
In summary, years of illegal downloading seems to have bred a generation of music lovers who are unable or unwilling to support young and emerging artists in ways that previously provided their lifeblood. The artist of the modern era needs to find a modern solution to the problem of monetising their art.
Read Make Better Music: Monetizing Music (Part One) here

Simon entered his professional music career at the age of 20, signing three major recording contracts and working as a composer, performer, producer and live artist. He has written and performed on 35 albums, composed film soundtracks and themes for television, and played live performances in the UK, Europe, USA and Asia.