It would appear that my esteemed colleague, Col. Jon Burrows Jnr. has ruffled a few feathers with his review of The Meteors' newest, and extremely disappointing, album.
The ambiguity and satirical nature of the review was wrongly seen in some quarters as a slight on the entire psychobilly scene, a viewpoint encouraged by the record company's public relations, perhaps desperate to divert attention from the atrocious album itself.
To quote Col. Jon's review, "there are bands on the circuit as it is today that are more than capable of blowing The Meteors off stage and taking their self proclaimed crown" and many of them are bright young things barely out of college – side-burned Northerners Steve & the Raise, sometime Camden market buskers The Moonshine Stalkers and the achingly trendy Love Me Tenders.  Meanwhile St Albans trio The Zipheads, with their blend of reggae infused rockabilly, have turned heads whilst supporting more established bands and the Crampsy Dick Venom & the Terrortones have spread their brand of fetishy filth all over the country.
Flying the flag for female vocalists, garage influenced Pussycat & the Dirty Johnsons have a hugely popular video on youtube ('Trouble With the Devil) and have stormed venues with the charismatic and distinctive Puss running along bars and launching her tiny self into the crowd. Viva Le Pink are about to release a rather promising and polished EP.  On the continent, Adios Pantalones are barely out of short trousers (in fact they are frequently bereft of their long trousers, as their name suggests) but have been impressing audiences all over Europe for some years.
On any small scene, there is a limited amount of bands and therefore many gigs are going to feature the same bands time and time again. However the variety of new bands around and the number of psychobilly gigs has certainly increased since I started attending Psychobilly Klub gigs in London several years ago.
Another feature of such a scene is the crossover between those listening and those performing, with most bands watching and supporting each other (indeed I have been to some gigs where the majority of the audience were in other bands) and some also doubling up as promoters, sometimes putting on gigs at a financial loss due to their enthusiasm for the music.
There are highs and lows.  In the UK, the highlight tends to be the popular and much anticipated twice yearly festival, Bedlam Breakout, held in Northampton.  In addition, many British psychobillys save up their pennies and travel to Europe for festivals such as Pineda in Spain and Satanic Stomp in Germany.  Attendance at psychobilly gigs in the UK can be variable.  Sadly missed venue The Gaff in North London's Holloway Road (which has sadly now become a Costa Coffee, sob!) hosted sold out shows by Demented Are Go and Guana Batz, but most gigs, even those featuring big names such as the Bedlam festival, are rarely sold out and some can be very poorly attended, although that doesn't seem to dampen the spirits of those who do make the effort to turn out.
Some of the Klubfoot reunions at The Garage in Highbury are a case in point, with a Frenzy gig in May 2011 being virtually empty and a subsequent Klubfoot gig at the same venue being cancelled due to poor ticket sales.
[box] I was a teenage goth so I know all about looking a bit silly[/box]
To the outsider, no doubt the brightly coloured flat tops, tattoo sleeves and leopard print creepers look a bit silly but that could be said of any subculture (and I was a teenage goth so I know all about looking a bit silly).  Anyway I've always believed that if you haven't had at least three stupid hairstyles by the age of 21, then you really have wasted your youth.
So hopefully that clears things up.  Col. Jon sends his love to y'all.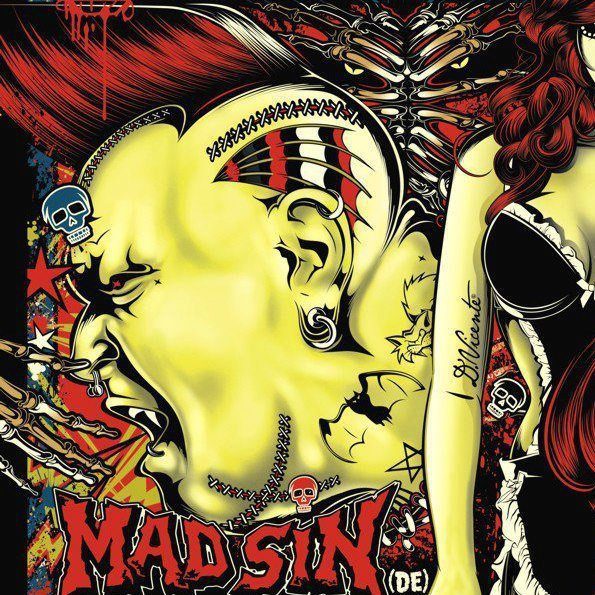 Of course one of the upshots of the psychobilly scene is that you're never the oldest or most obese person at a gig.  So let's talk about larger than life German psychobilly band, Mad Sin.  They have a new CD coming out, 25 Years – Still Mad, a live album recorded in their native Berlin in 2010.
[box] one of the upshots of the psychobilly scene is that you're never the oldest or most obese person at a gig[/box]
Singer, Koefte deVille is a huge presence in all senses of the word, prompting a friend of mine to remark at one Mad Sin gig, "Psychobillys don't get fatter as they get older, they just make more room for tattoos."
Their previous album, Burn and Rise is one of my all-time favourite psychobilly records and, to my mind, the best thing that they have ever done.  It's fast, furious, scary, mentally deranged, everything that rock 'n' roll should be.  In the circumstances, I was even willing to overlook the frequent use of the word "bitch".  More frequent than a gangster rapper.
I've never completely got the point of live albums.  Surely watching a band live is about the atmosphere, the throwing oneself about with alcoholic abandon and watching the (hopefully) entertaining and enthused stage performance.  I don't go to gigs to hear perfect replications of the songs on the album; if I wanted to do that I could just listen to the album at home.  Conversely, if I want to listen to a song at home, then generally I would prefer to hear the studio version rather than the more chaotic live version.  For my money, most bands don't do themselves justice on live recordings.



25 Years – Still Mad does capture the gig madness more effectively than most live albums and at times you can almost smell the dry ice and taste the sweat.  Mad Sin lean to the harder, metaller side of psychobilly, with guitars screeching and crunching.  Koefte's puffing and panting between songs is audible and the vocals are enthusiastic, passionate and raw.  The slap bass is a particular strength, played at breakneck speed throughout.  In addition to the furious wrecking pit numbers, there is the popular melodic and inspirational ballad, 'Nine Lives' demonstrating a softer side.  There are several covers, including 'Brand New Cadillac' which features Tiger Lilly Marleen, the ball-breaking vocalist from fellow German band (the rather wonderful Bonsai Kitten).
After a while I yearned for the clarity of the studio album. Apparently the CD comes with a DVD (with an interview, video clips and rare footage as well as the gig) but this wasn't sent to us, which was unfortunate as watching a live performance, albeit on television, would have been preferable to listening alone.
Personally I'd rather see them live or listen to Burn and Rise, but this is an ideal Halloween present for any hardcore fan with a Mad Sin patch sewn onto their sleeveless denim jacket.  And it's a darn sight better than The Meteors' new album.
Released on 8th October 2012 on People Like You Records.
[button] http://www.madsin.de/[/button]