[dropcap style="font-size:100px; color:#992211;"]L[/dropcap]una Rossa is an acoustic project by Anne-Marie Helder and Jon Edwards, best known as the principal writers of the highly acclaimed Swansea-based rock band Panic Room.
The album Sleeping Pills and Lullabies has made a strong impression on just about everyone who's heard it. Jon Edwards talks to Trebuchet Magazine about how the record came to be, and some of the thinking and influences behind it:
---
Let's start with the name. Why "Luna Rossa"? And is there a story behind the album title Sleeping Pills and Lullabies?
Luna Rossa was a name that Anne-Marie came up with… we'd been thinking of names for the project for some time, but nothing seemed to really work for both of us. Anne-Marie woke up one morning with the name in her head and it just seemed to fit really well with the music that we'd written.
[quote]it was also a challenge
to write songs with
a much more limited
palette of acoustic sounds
that still had a power
and an emotional punch,
and a strength that didn't
come from electricity and
volume[/quote]
Anybody familiar with Anne-Marie will know about her love for anything red, and the moon as an enigmatic and mysterious feminine presence also seemed like an appropriate reference for the mood and vibe of the music… so Red Moon it became. As an Italian speaker Anne-Marie chose the Italian translation 'Luna Rossa' for the name of our duo… and it does sound more evocative and romantic than the English: 'Red Moon'.
The Sleeping Pills & Lullabies title was an idea of mine. It was the idea of two different ways of falling asleep… one evocative of childhood, innocence and peacefulness; the other darker and more ambiguous. It seemed to sum up the duality present in the songs on the album. They're mostly about relationships and the highs and lows that inevitably come with the territory. 'The Dark Room', for instance, is about a relationship that's got lost… a couple looking back at the hopeful people they used to be from a more jaded present.
'Mad About You' is about the way we idealise the objects of our desire at the start of a relationship before finding that we're just two people in love, and that's enough.
Also Sleeping Pills & Lullabies seemed like a more catchy title than 'Songs of Hope and Despair'!
So what prompted the idea of making an album as a duo, outside of Panic Room?
Both Anne-Marie and I have always had a love for acoustic music from 70's artists like Pentangle, Nick Drake, Crosby Stills Nash &Young… to contemporary singer/songwriters like Laura Marling, Agnes Obel, Jose Gonzalez and Mark Kozelek (Sun Kil Moon) and that element has often seeped through into our writing with Panic Room on such songs as 'Moon on the Water', 'Velvet & Stars', 'Muse' or 'Freefalling'. So we got to thinking that it would be great to devote ourselves to making a whole album of the acoustic side of our songwriting, separate to Panic Room, and that's how Luna Rossa came about.
Making an album without the band had advantages as well as challenges – it freed us up from having to write specifically for the band format and having to think about including electric instruments and drums. But it was also a challenge to write songs with a much more limited palette of acoustic sounds that still had a power and an emotional punch, and a strength that didn't come from electricity and volume.
So we thought that for this project it was important to focus on the voice as the key element of the sound and to make the music simple and sparse. We only included what each song needed to enhance and support the vocal, but also tried to keep the music varied and interesting for ourselves as performers and for the listeners too.
Anne-Marie's voice is much more exposed on this album than on Panic Room's recordings and we made the choice to accentuate that by recording the vocals very close-mic'd with very little reverb to give a very intimate feel to the songs, so that it sounds like the singer is in the same room as the listener. We also wanted a lot of space around the instruments so that you really only hear the sound of the instruments more than any obvious studio enhancement and I think we've achieved that, to make an album that's very personal and is as intimate in its sound as it is lyrically.
At the risk of asking you to dance about architecture, how would you describe Luna Rossa to someone who was completely unfamiliar with any of your other music? And how would you describe it to someone who was?
Like the quote Tim! It's always a difficult question and the one that I think a lot of songwriters and musicians dread. How to describe an auditory experience in writing? The easy answer is to say 'listen to it', but if pushed to describe it, I'd say that Luna Rossa is simply acoustic music that's very direct and real – there's very little programming apart from some rhythm loops, so all the instruments are real and played.
We tried to write songs that are simple and direct expressions of emotions that we've both felt, and make the music fit the emotions expressed in the lyrics to the best of our ability. I think we've achieved a really good match throughout the songs on the album. Melody and harmony are very important elements in the music but I hope we've been able to use and combine them in new ways.
We wanted to make music that felt fresh, but at the same time had a sense of familiarity to it… like the feeling you sometimes get when you visit a foreign country that you've never been to before, but you recognise certain elements of the landscape as familiar, because they remind you of your homeland or of other places you've visited.
For people familiar with Panic Room, the unifying elements between that music and Luna Rossa are Anne-Marie's voice, of course, but also the fact that the two of us are the songwriters for both… and that inevitably lends a common sensibility to both projects. But I think Luna Rossa has it's own voice too… it's not Panic Room Lite!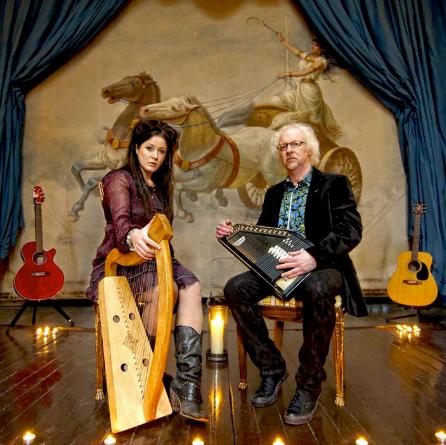 You've always had some very diverse musical influences between you; did anything in particular influence this record?
As I mentioned earlier, we're both into acoustic music and to some degree everything we listen to influences us. We've always thought that if you're going to write songs, then you need to either not listen to anybody else's music or listen to as much and as varied music as you can. We're definitely in the latter category. You pick up on the way other artists phrase things or construct songs or perform. You absorb it all and things seep through into your own writing along the way.
Sometimes it can be as simple as seeing someone perform and that can make you aware of other possibilities in your own writing or performance. Anne-Marie and I went to see Susanna (Susanna Wallumrod of 'Susanna & The Magical Orchestra') perform in Warwick Arts Centre last year – one voice, one grand piano, one electric guitar and percussion – and it was a really special experience to see these three musicians performing in a small theatre space to around a hundred people.
It made us realise the possibilities of a limited palette of sounds to still produce beautiful, touching music that was very moving.
I don't think there were particular artists or albums that inspired Sleeping Pills & Lullabies musically, but we'd both been to see some amazing concerts of acoustic or stripped-back music while we were making the album… like Susanna as mentioned above, Sarah Jarosz (a young mandolin & banjo playing singer/songwriter who plays modern bluegrass versions of Decemberists and Radiohead songs, as well as her own compositions), Joan As Policewoman, Bat For Lashes, etc.
Seeing these very individual artists making music their own way and not conforming to any genre or idea of how music should be made does give you the confidence to strike out on your own individual path as well and make the music that you feel is being channelled through you without trying to force it down a particular path.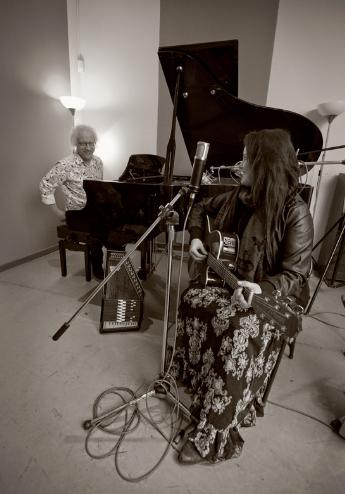 How did you go about writing, arranging and recording the songs? Did it differ in any way from how you've worked before?
We set ourselves some ground rules to start off (although we later broke them) but it does help to start things off if you give yourself some parameters to work within. So we decided early on that the album would be entirely acoustic and that we'd try to play all the instruments ourselves. But we also knew that we wanted to have a string quartet on quite a few of the songs and then, when we had the chance to work with Andy Coughlan (double-bass) on some of the songs, it just felt right to do it.
It's actually pretty easy to give up the idea of doing everything yourself when you hear what these other wonderful musicians can bring to the songs and you just want to do what'll make the music sound best.
Our engineer, Tim Hamill, came up with some really nice rhythm loops for a few of the songs and apart from some great Dobro licks, also played a few subtle electric guitar textures that just fitted right in, so the 'no electric instruments' rule got broken too! But they were definitely the right decisions to make.
Working with the string quartet was a new experience for us – Sleeping Pills & Lullabies was our first time writing for strings and I think our experience of how well it worked for the Luna Rossa album certainly gave us the confidence to write string arrangements for the next Panic Room album ['Sleeping Pills…' was recorded before SKIN]. It was such a buzz to hear the string arrangements that we'd written on a midi keyboard and computer being brought to glorious life by such talented musicians.
But as we mentioned earlier, the key element on Sleeping Pills & Lullabies is the voice and the one rule that we didn't break was to keep that as the main focus and not have anything on any of the songs that distracted or took anything away from that. So all the instruments and guest musicians were there because they complemented what the voice and the lyric are doing.
Did you write all the songs specifically for the album, or did some of the music emerge from writing sessions for Panic Room?
The songs were all written specifically for the Luna Rossa album, so there wasn't any cross-over with the writing for Panic Room.
I think Sleeping Pills has seen the most varied ways of writing for any album we've done so far. Some of the music was written by Anne-Marie, some by me and some by both of us writing together. It was the same with the lyrics too, with both of us writing separately and together. It was really to good to mix things up and that helps us both develop as writers.
Similarly, we also played instruments that we're not normally associated with and some instruments that neither of us had played previously. So I got to play some acoustic guitar on a couple of tracks and Anne-Marie did some lovely piano work on the album too. We both learned to play some Celtic harp parts for some of the songs and Anne-Marie's flute makes an an appearance on the only instrumental on the album: 'Leaving For The Last Time'.
"Book of Love" – You've played some quite eclectic covers over the years in live sets with Panic Room. What was it about this particular song that made you want to record it?
It's a song that I've loved since I first heard it on The Magnetic Fields album 69 Love Songs – the lyrics are so quirky, but at the same time very romantic, and then Peter Gabriel's very lush orchestral version on Scratch My Back really brought out the beauty of the song. I didn't want to write a string arrangement as Gabriel had already done that so well.
When we decided to cover it, the challenge was to try to capture the simplicity of the original, but to also have something of the beauty of the Gabriel version too, but combined in a way that was unique to us. I didn't play Anne-Marie the Gabriel version until after we'd recorded ours as I didn't want her vocal to be influenced by Gabriel's interpretation. She did a really lovely vocal performance that's all her own. We're really pleased with the way it came out.
We did record another four songs during the Sleeping Pills & Lullabies sessions, including another cover version, but these will be released at a later date.
I can see this record having quite a bit of crossover potential beyond Panic Room's existing rock audience. How do you intend to promote it, and what sort of audience do you hope to reach with it? Is the connection with Panic Room something you want to emphasise, or something you want to play down?
[quote]We're not a 'that'll do'
musical partnership… we want
to make music that's special
to us and connects with
and moves the people
who listen to it[/quote]
Yes, I think Luna Rossa, while appealing to a lot of Panic Room's audience, will also have a broader appeal to people who are maybe bigger fans of more acoustic/singer-songwriter music. We'll be promoting it through a lot of the same channels where we promote Panic Room, but also to more acoustic/mainstream places too.
We always try to engage the people who buy and like our music to help spread the word and we're doing that with Luna Rossa too – encouraging people to share their love for the music online and to their friends – often the best recommendation is a personal recommendation from someone who loves the music.
We're happy to acknowledge the Panic Room connection as I think that will benefit both projects. As with Panic Room, we're not that precious about labels – so people can call the music anything they like as long as they're listening to it!
What do you hope to achieve with this album? It it intended as a one-off side project, or the start of something longer-term that may take on a life of its own?
When we started the project we weren't sure how well it would be received or how we would feel about continuing with it… but it was such a great experience, musically and as friends, to create this thing together. We both feel that Luna Rossa is something that we'll return to and make more music with as an ongoing project… so look out for LR2!
As for what we hoped to achieve? What we always set out to do with any album is to make the best collection of songs and music that we can. We're not a 'that'll do' musical partnership… we want to make music that's special to us and connects with and moves the people who listen to it. Hopefully we've achieved that.
I'm sure a lot of people are going to be asking this once they hear the album – Any plans to play the material live?
We'd love to gig with Luna Rossa. It's a matter of the right venues and musicians at the right time… but yes, it will happen at some point.
Photos by Jason Parnell-Brookes
[button link="http://www.lunarossa.co/index.html" newwindow="yes"] Luna Rossa[/button]