[dropcap style="font-size:100px; color:#992211;"]P[/dropcap]re-empting the London art fair season, Art Stage Singapore offers an inkling of what's in the works and what to expect in the coming months.
Lorenzo Rudolph is the organizer and kingpin of Asia's biggest art fair, Nicola Anthony pumps him for info.
---
Nicola Anthony: We are excited to hear that you have introduced country platforms. What can we expect to see here? Is this an expansion of the Indonesian Platform concept?
Lorenzo Rudolph: Platforms is an overview of the trends of each art scene from the countries or regions. Since its inception, Art Stage Singapore has been a huge supporter of Asian galleries, providing a platform for Asian galleries to connect with international galleries. The mission of the fair is to present the best of Asian contemporary art.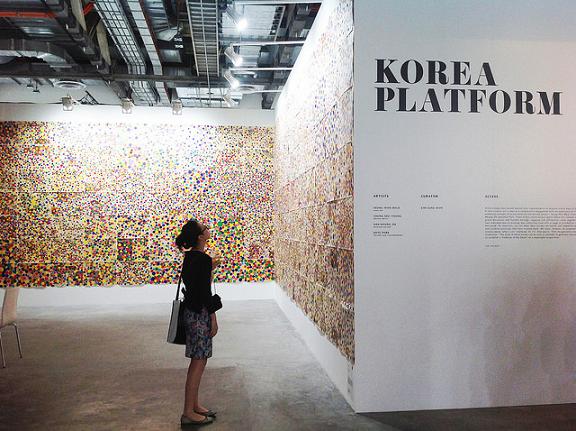 Nicola Anthony: How have these artists or galleries been selected? There is always the contention that the paid-for nature of booth space can only ever represent the artists who are already well-known and prominently represented. It would be excellent to see these platforms holistically represent the art scene in these regions (for example including emerging or self-represented artists)? Are there ways that you try to tackle this?
Lorenzo Rudolph: You're right – it is important for all fairs to produce a show but at Art Stage, it is important for us to put together a quality show. [quote]Southeast Asian galleries that
typically would not have
the budget to participate in
an Asian art fair now have
the unique opportunity to
be showcased[/quote]We have a high rate of returning galleries – both established brands and emerging galleries – with 75% of them based in Asia Pacific, and this traditionally fulfils the market need.
However this year, we introduce a new dynamic to the fair, working with experts who are well-versed in their respective country's art market to select artists and projects for the Platforms. With the introduction of Platforms, a number of Southeast Asian galleries that typically would not have the budget to participate in an Asian art fair now have the unique opportunity to be showcased on an international level.
Nicola Anthony: I absolutely think that 'holistically' still implies that you showcase the artistic gems and talents and therefore keep a quality art fair, so I agree that it is important to be discerning about quality – it is through this rigour that artists, galleries and regions learn and improve.
However, I am also aware that (especially in regions where emerging artists have less voice) the artists showcased by galleries can be heavily impacted by commercial motivations rather than seeking truly unique and groundbreaking work. There is a difference between quality of execution and quality of originality.
You have introduced an exhibitor committee to aid this discerning selection process, consisting of some of the most inspiring gallerists from the Asia Pacific region. Could you tell us more about who is on the committee and how they have shaped Art Stage 2014?
Lorenzo Rudolph: The Exhibitor Committee acts in an advisory capacity to assist in the conceptual and strategic development of the fair, allowing Art Stage to better support Asian galleries and working with them in a seamless manner. We are determined to bring in the best relevant works to Art Stage.
The committee consists of esteemed gallerists from across Asia Pacific and includes Matthias Arndt of ARNDT, Tomio Koyama of Tomio Koyama Gallery, Pearl Lam of Pearl Lam, Jasdeep Sandhu of Gajah Gallery, Frédéric de Senarclens of Art Plural Gallery, Sundaram Tagore of Sundaram Tagore Gallery, Cesar Villalon Jr of The Drawing Room and Yavuz of Yavuz Fine Art.
Nicola Anthony: Last year we were wowed by feature sculptures made of loose ash (Zhang Huan), and glass houses full of red beams of colour (Arne Quinze). Can we expect more installations this year?
Lorenzo Rudolph: I think there are better reasons to be wowed this year, as there will be extraordinary works from the region showcased at the fair, such as the specially commissioned entrance arc 'The Continuous Gate' by Joko Dwi Avianto, FX Harsono's 'The Raining Bed', Jane Lee's 10m-long '50 Faces' as well as 'Intermission on Stage', an installation and performance piece by Soe Naing.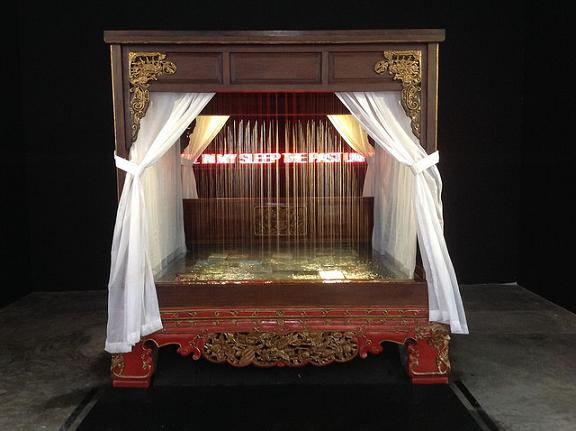 FX Harsono, 'The Raining Bed'
We believe and hope that visitors will feel more connected to all these spectacular Southeast Asian works. Placing these wonderful works at strategic points in the fair encourages visitors to explore further.[quote]people are now paying
more attention to the
region and more institutions
are now working with and
supporting Southeast Asian artists[/quote]
Nicola Anthony:  What, in an ideal world would you love to see at your art fair?
Lorenzo Rudolph: In my ideal world, I would love to have all the best quality artists get a chance to showcase their works on an international level at Art Stage. At the same time, Art Stage Singapore will be a driving factor and stimulator for the growing interest and fervour for contemporary art.
Nicola Anthony: How do you think the Singapore art scene has changed in recent years? How does it fit into the larger scenes of the southeast Asian, Asian art world, and global art world?
Lorenzo Rudolph: Singapore has gone through amazing changes in the last few years. I see an increasingly mature infrastructure in place, with areas such as the Gillman Barracks, which hosts various international galleries, and the Centre for Contemporary Art.
In addition, the National Art Gallery opening in 2015 will have the largest Southeast Asian art collection in the world. It is exciting to see that besides Art Stage Singapore, the entire city will be filled with numerous art events and gallery openings throughout the week, proving the potentiality of Singapore as an art destination in Asia.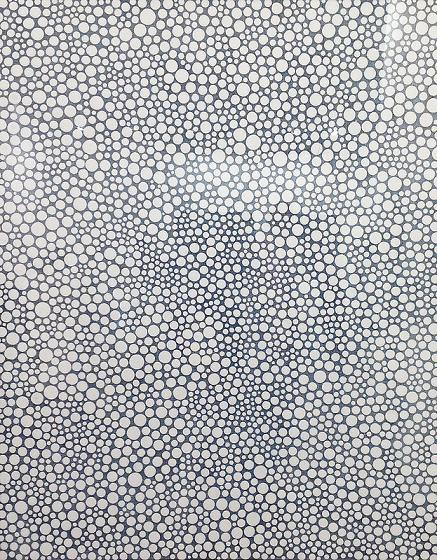 Yayoi Kusama, Oil on Canvas
As mentioned earlier, people are now paying more attention to the region and more institutions are now working with and supporting Southeast Asian artists, and more will come to engage with the international art scene.
Nicola Anthony: Have the proportions of galleries and visitors coming from the above locales changed over the years that art stage has been running? Are the exhibitors or visitors changing?
Lorenzo Rudolph: 'We Are Asia' has been our identity from the start. This year, 75% of the exhibiting galleries are from Asia Pacific, and we feel that we have continuously fulfilled our goal as an Asian art fair. It is definitely wonderful to see the presence of Asian galleries at Art Stage Singapore getting stronger, with some now on par with international brands. Art Stage Singapore is one of the leading art fairs in Asia where young galleries are able to participate and showcase the works of their represented artists to a global audience.
The number of visitors to Art Stage Singapore has been growing, be it visitors from Singapore, the region or all around the world. We are proud to be considered one of the most important art events around.
Nicola Anthony: Do you have any tips to visitors for tackling 'fair fatigue'? It always seems that art deserves mental space and consideration just as much as it deserves white space around it on a wall, and even us avid art viewers need to pace ourselves so we don't get burn out – mentally and physically as it's a big fair! I am always interested in how the psychology of space can affect this and help visitors explore the show – what are your thoughts?
Lorenzo Rudolph: I agree, and that is why as fair organisers we need be to selective and only showcase quality art. We organise talks and tours throughout the course of the fair to help people develop a deeper understanding of art. It is more important to spend some time to contemplate over each favoured work than to rush through the fair, which is why we encourage visitors to plan their visit beforehand and slowly savour the art over the four days of the fair to make the most out of it.

Nicola Anthony is a British artist known for her public art around the world. Her text sculptures are made of metal, words, memories and narratives. She has worked internationally with NGOs, art institutions, public spaces and cultural research bodies to create art which tells the stories that are often left unspoken.