[dropcap style="font-size:100px; color:#992211;"]M[/dropcap]
atthew Young, frontman with King Parrot takes a moment out of his hectic schedule to talk about the band and its future.
How's the tour going so far?
Yeah, it's going good man, we're over a week in so far and we'll be here for like another month or so in Europe. But yeah, the shows so far have been really awesome. The attendance has been beyond what I thought it was going to be, most shows have been totally packed, the bands are great – each one brings something different to the table which is really cool.
Any crazy things happened so far this tour?
Well whenever you're on tour with a bunch of bands like this there's always going to be some crazy shit going on. But nothing really, some of the smells have been crazy. People sit there and say "Awh you get go on tour, you're fucking living the dream" and I'm just like, well if smelling other dudes' arseholes is living the dream, then I guess I'm living the dream!
But yeah, I ballroom danced in Norwich the other night mid-set. I did a couple twirls and yeah, it was nice. Yeah, it was good.
With this being one of many tours in Europe you've done, where do you enjoy coming to the most?
If I don't say England would you be mad? No, for the band the UK is the most receptive. Mainland Europe can sometimes be slightly harder to win over. No offence to them, they just don't move as much. When you're a band who thrives off the energy and likes to do a lot of interacting with the crowd, sometimes when you don't get it back it can be hard to do the show. We're under no illusion that it takes a lot of hard work to win an audience, but that's why we continue to tour the US, back in Australia and why we'll keep coming back here as well.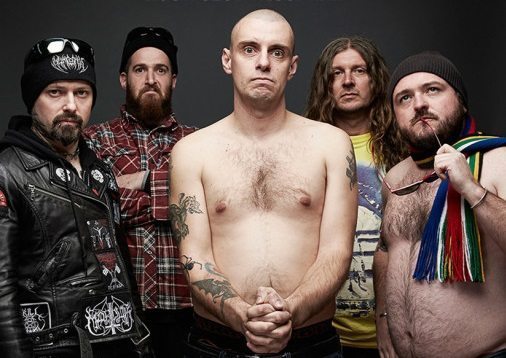 What's your favourite thing about the UK then?
I would say…. It's definitely not the weather! I would say it's definitely the people. Yeah I really like the people here. I have a lot of friends here – everyone is super hospitable and helpful. I really just can't speak highly enough of the fans here for helping the band and supporting us. So that for me would be would be the best thing. The countryside is nice too.
What are you working on at the moment? Can we expect a new album?
Well we've been together for a while longer now, when we did the last record our drummer Todd had only been with us for like six months, so we felt a little bit of pressure and had to churn it out pretty quick. I think with this one, having gotten to know each other both personally and musically, and just having that time to gel as a band and a unit, knowing our strengths and weaknesses, it can only benefit our songwriting.
In terms of the songs, we've gone in and done some demos and stuff and last month came up with 11 or 12 ideas. Some are more complete than others but yeah, the album is certainly well on the way.
Any idea when the album could be out?
Yeah we're aiming for maybe the second half of next year, hoping for somewhere around August to September. But yeah, it's coming along good, sounds a lot like King Parrot, but I'm really just looking for progression….
I mean, if we're taking steps backwards, then what's the fucking point?