[dropcap style="font-size:100px; color:#992211;"]T[/dropcap]he male gaze has shaped visual art for centuries, joined by colonial history and economic actuality to create and endorse an artistic canon largely to the tastes of white straight male patriarchs.
Negotiating an escape route from the hegemony is a challenge, verging on a crisis. Something Human curator Annie Jael Kwan talks to Collective Creativity – a group of artists currently collaborating with Bonington Gallery's Krisis series of events and exhibitions – about tearing up that picture.
---
Evan, Raisa, Rudy and Raju – as Collective Creativity, you are an 'informal non-hierarchal collective space' that has been formed 'out of necessity, to carve collaborative space outside of the institutional framework where a specific Black QTIPOC voice and experience could be nurtured'. When did you start your collaboration and how has your work developed so far?
Collective Creativity: Collective Creativity is a group of QTIPOC (Queer, Trans*, Intersex People of Colour) artists who have been working together since 2013. It was initially set up by Raju Rage and Evan Ifekoya, and later extended to Raisa Kabir and Rudy Loewe as a core group with many other participants.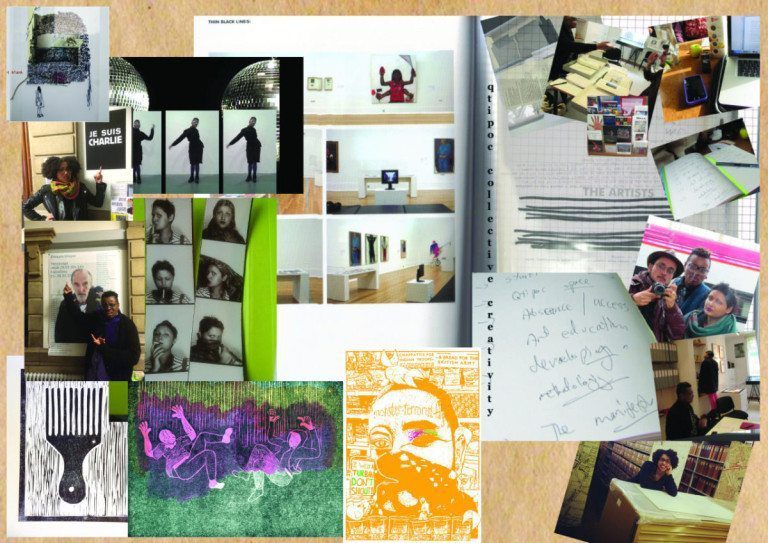 We have run roundtable sessions that nurture intergenerational dialogue; conducted extensive research into countless archives, and generated discourse in our collective voice that draws from collectivity but also our individual practices, creating a knowledge that responds to legacies and archives of Black British art in the UK through a feminist and anti-colonial lens.
We do this work by creating a middle ground between lived experience, radical practice and theory, and rendering the historical as an encounter in the present; specifically in how our current practices connect to our legacy beyond the white canon, and critically negotiating and navigating institutions and the art industry as queer and/or transgender artists of colour.
You were in Nottingham previously, and you worked in collaboration with Nottingham Contemporary. Could you please tell us more about your work in this city and how you think the audience responded to your critical provocations then?
Collective Creativity: We worked with Nottingham Contemporary in 2015 around the Glen Ligon exhibition Encounters and Collisions, facilitating a workshop with local art students of colour entitled Politics of the Art School: Black Arts Movement Then and Now. We also held a panel with key members of the 1980s Black Arts Movement such as Keith Piper, Said Adrus and Claudette Johnson, and ourselves as part of Collective Creativity, offering critical reflections on this history and the contemporary circumstances under which students and other people of colour experience contemporary art school curriculum from the perspectives of QTIPOC creative practice.
We engaged in a critical conversation both on the panel and in the workshop and created some textual, oral and visual responses that have been edited into a publication Surviving the Art School launched on Oct 28th. The panel conversation can be found here
Crisis can be thought of in terms of the personal, societal and institutional. How do you interpret the term 'crisis', and how do you think your practice related to the notion of crisis?
Raju Rage: We are truly in a moment of crisis, globally and locally, economically, politically, socially and personally. Whether we are connected to institutions or not, we are impacted by this crisis in every aspect of our lives; what we eat, how we live, how we move around inside and outside our racialised, gendered and classed bodies in the world and how we basically survive on a day-to-day basis.
My work creatively responds to this urgency of being in crisis by exploring the body, intimacy and everyday life experience to uncover and unpack the ways we are impacted in our everyday lives, how we struggle and survive and as an attempt of resistance to the crisis we genuinely face.
Image: Collective Creativity