[dropcap style="font-size:100px; color:#992211;"]I[/dropcap]'d never been to a Kid Koala gig before but I expected something of a cartoon dream sequence after reading one fan's tweet: "Just saw @kidkoala bring a fan up onstage, dance with her like Bruce Springsteen, then dragon punch her through a speaker."
Better than any autograph, right?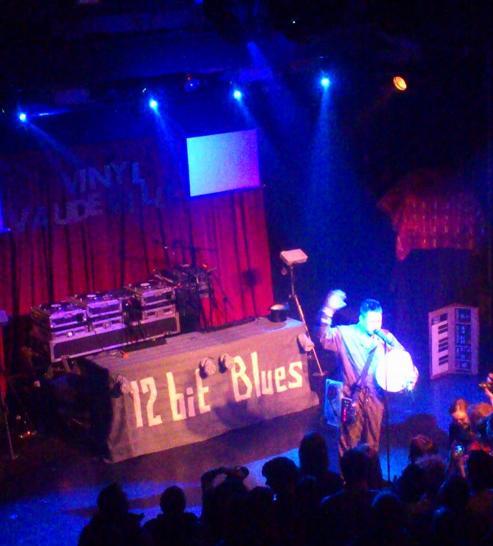 Kid Koala treats his audiences to all manner of quirky entertainment alongside his turntable trickery. On the 'Music To Draw To' tour he provided the acoustic inspiration for rooms of people to draw, write, sculpt or decorate cookies to. For the 'Space Cadet Headphone Concerts' he pulled inspiration from bedtimes with his daughter and illustrated a graphic novel. This was then projected from the ceiling for audiences sprawled on floor cushions while Kid Koala live-scored the trippy lullaby soundtrack via headphones.
But this wasn't going to be one of those introspective shows. The 'Vinyl Vaudeville Tour' is pure ADHD. It even outdoes his 'Short Attention Span Theatre' gigs, which included an unheard-of three DJs on eight turntables, slideshows and turntable bingo (lucky number sev-sev-seven).
[quote]Blues arts & crafts if you like, and you will[/quote]
It starts at home with your purchase of the 12 bit Blues album. Included in the price is a cardboard, hand-powered gramophone kit and flexi disc, every bit as DIY as the album. Put together with some deft fingers and sticky mix-tape, mind you. Manipulating a SP-1200 sampler, the Kid's jerked out the very essence of acoustic blues without any sequencing software, just a lot of manual cutting, reassembling and sticking things on top of each other. Blues arts & crafts if you like, and you will. The horns alone will blow your sheets off.
Back in the venue we're warmed up by Adira Amram and the Experience,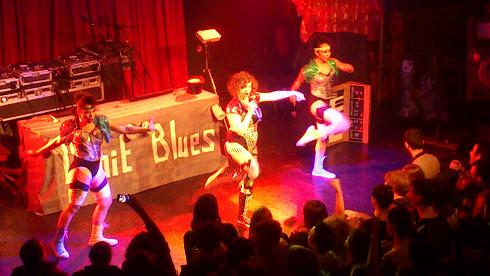 a musical comedy trio who kick off with aerobics but change into burlesque dancing girls and air hostesses when collaborating with Kid Koala. And he keeps them busy. If it's not fan dancing to 'Skanky Panky' they're guiding us across the US dressed as flirty air hostesses for '8 bit Blues'.
They also handle the Jim Henson-ish puppets AND chuck dozens of paper planes into the air AND jump into the crowd to conduct limbo contests AND break out a giant version of the DIY cardboard turntable AND slingshot freebies into the audience AND source those willing to sing-a-long. It's non-stop fun and games set to Kid Koala classics (but mostly 12 bit Blues).
Too distracting? Not according to the bouncy crowd, and you have to remember that this is all commanded by a turntable maestro behind two SP-1200s and three turntables who looks like he's having the time of his life.
Party people and purists invited, it's finger flicking good.
La Scala, 22 February