'On this particular performance Joel really let it loose, sweeping front to back through musical ages; Stripes and Bowie, whiffs of Pop cheese with Medway's intent. All the finery, gold and shadow came to play across the velvet floor. Bohemian indeed.' – Kailas Elmer

Trebuchet caught Joel Sarakula live in the early days of 2012, commentating on a series of photos where the antipodean performer is seen leaping onto tables and singing with strongly-emoted gusto.
Laying the foundations then, for a full-scale attack on the iTunes accounts of UK touchscreen-botherers, Sarakula has done the advance recce, treading on the furniture of the Old Queen's Head in a spirited pop-meets-folk showcase of well-picked influences and individual flourish.
Alas, not all of that charisma survives the barren process of recording soundwaves to storage media. Somewhere, something has gotten lost, and if the physical, emotional, mental and mechanical process of capturing a precocious live talent on an album always results in something slightly less impressive than the real, tangible experience, this is established and accepted as acceptable collateral damage and applies to every decent live performer. Fair enough.
It doesn't quite explain where all the hooks have gone though.
Jason Mraz's 2002 album Waiting for My Rocket to Come casts the shadow of influence over the album, bridging as it does the banjo-chops alt-folk Mraz to the slushballad-purveyor Mraz that brought wider mainstream acceptance to the once-eclectic folkster. The Golden Age has the same smoothing of the edges, the same replacement of one-man acoustic grit with the disinfectant of smooth pop production. It's a pity, because Sarakula does not naturally belong in the middle of the road, and to extend the metaphor, it's a place where one can get squished by heavy traffic.
The album starts as it goes on, wedging together sections of pop nostalgia on the cusp of memory and forcing the listener into a constant game of 'where have I heard that before?'. 'I Will Deliver' evokes Blur's 'Girls and Boys', Pulp's 'Common People' and the Beach Boys's 'Kokomo'. 'Only One Still Dancing' is impossible to listen to without humming The Cure's 'Close to Me', whilst the two-finger piano, mawkish vocals and crashing baroque drumbreaks of 'Shadows' bring an unwelcome vision of Brigid Jones miming drunkedly to Harry Nillson's 'Without You'.
That said, the effect can be positive too. 'Good Books' could sit well on the Beach Boys' Sunflower, and displays the sort of kitchen-sink musical ambition evidenced by Sarakula's live performance as reported above. It's hard not to be impressed by an album that takes songs that could have been given the plodding acoustic guitar singer-songwriter treatment, and instead dollies them up with carefully picked xylophone, strings, and backing vocals. 'Who's Gonna Love You Now' is the example par excellence.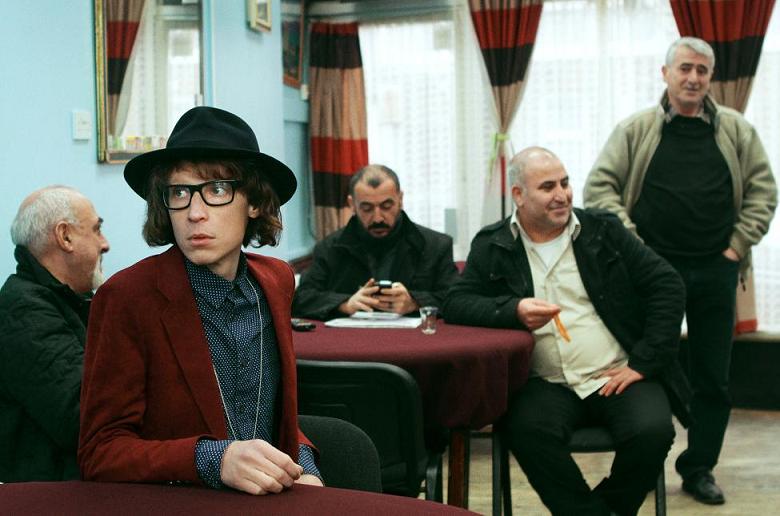 The album is saturated with the flavour of influence, perhaps marring, perhaps enhancing the overall effect, all depending on perspective. It's undoubtedly an ambitious record, with production values wavering between Brian Wilson, Burt Baccarach and Roddy Frame – and at times pulling it off. Basslines could be given a looser rein, and exert something of a leaden deadweight on songs which would otherwise soar. The absence of solid gold pop hooks seems somewhat of a hindrance too, although those can be a double-edged sword. The feelgood summertime contemplative sensitive pop snuggleduvet effect could be lost with anything too earworm-catchy.
Criticisms aside (and the only valid criticism being that it's a tad referential) Sarakula has made a solid album of distilled summer wistfulness. The nostalgic waft of times past may be enough to propel Sarakula into the playlists of the nation's barbeque evenings. Pop a wedge of lime into your bottle of Sol while you listen.
Out on June 17th.
[button link="http://www.joelsarakula.com/" newwindow="yes"] Joel Sarakula Homepage[/button]

Sean Keenan used to write. Now he edits, and gets very annoyed about the word 'ethereal'. Likely to bite anyone using the form 'I'm loving….'. Don't start him on the misuse of three-dot ellipses.
Divides his time between mid-Spain and South-West France, like one of those bucktoothed, fur-clad minor-aristocracy ogresses you see in Hello magazine, only without the naff chandeliers.
Twitter: @seaninspain