[dropcap style="font-size:100px; color:#992211;"]T[/dropcap]he meds cabinet is quite full these days and the smoke is clearing from my eyes as I try to prosper from sobriety and prescription reality.
But hey, scenesters, who gives a peter pan shadowfuck about that?
I do. In reality, the psychiatrist has been willing me to stay clear of the non-legal highs, so I cling to chain-smoking outside clubs, off my tits on caffeine, shaking, and talking to random pissheads that can't drag a sentence out. So I ask you this, have you got tired of the same old malarkey that tells you what to wear, what to smoke and what to take on your weekends off? Have you also pushed the boundaries of narcissistic reality to a point to where you have nearly lost it all? Maybe?
Maybe time to see someone. But I guess most you are too buried under the weight of what's happened in the general election and too off your boxes thinking about the current political climate and how it affects you to care about yourself, or even music, right now. To be fair, I've been too introverted of late to write for Trebuchet – it's not that I haven't been arsed, it's that staying out the psych ward has been primary objective to my life. I only mention this as context to what I am about to present: Joanne Pollock's debut album Stranger.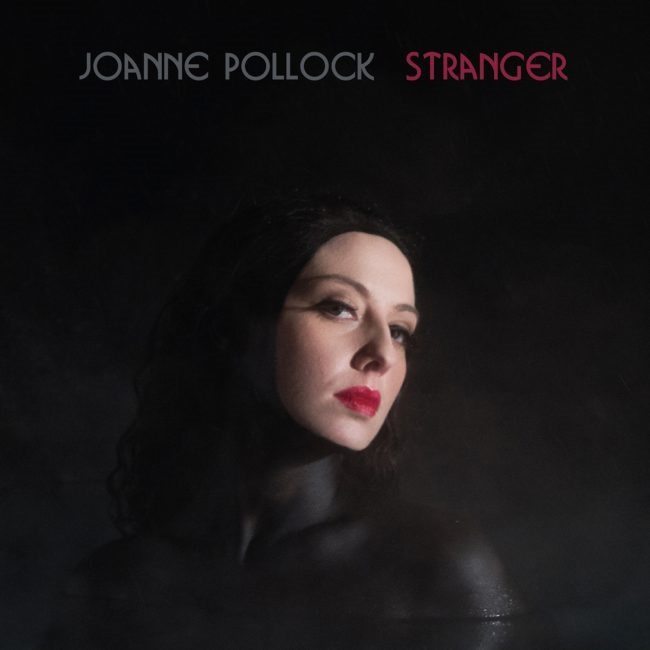 Stranger places the listener in a kindred place of dotted feelings and soulful clinging to smiles that once were there. It's not going to cheer you up, this album, so if you are looking for something to give your brain a semi-erection of serotonin flooding through your brain, this isn't it. Pollock is darker, reflective of the dark times you and I live in. Pollock speaks to you with her viral voice that injects the ears with a poison dart of timely lyrics. Let's talk about it, let's dance about, there's no way around it.
Pollock gives voice to the echoes in your head that are split on life and what's going on around you. Mental health is such a key aspect of society's logic that it cannot be ignored, and Pollock touches this. Her suicidal tone and throwing sound will push you to the edge of what you know if you listen to those voices too hard. It is a little of a personal battle that Pollock presents to the listener, her own, her selves'. This presents itself early in the album – age is a central subject to the first song on the album, named 'Carnival' – and splices the self-loathing clearly into two camps, one being the surroundings of one's self, and number two being oneself.
It's a cagey start to an album that introduces a very vulnerable side to Pollock. With its deep house overtones and polished snare, the sound that kicks off the album is very introductory and key to enticing the listener into listening to track two. Pollock catches the imagination, introducing herself as a persona that should be listened to and setting her voice in a go hard or go home stylee. There is undeniable potential once you get the first touch of the frosty iceberg that is Stranger.
Having prepped the listener with 'Carnival', Pollock takes her iceberg on a musical collision course with 'Melt Myself', but it's a course for the underground's atmosphere album of the year, nudging previous competition like London Grammar apart in under three minutes. The only problem I can see with this album is that it is so introverted it may have come out of a singular black box where thoughts are generated in the mind of Joanne Pollock, reflecting very little of what's going on right now around the world. On the other hand, it may represent the depth of thought that many people go through in dark times.
Having set sail on a bastardised iceberg with sails, Pollock brings in heavier breaks and collective ensembles of background beats, layered with a harmonic, reverberating voice in track three 'You Know I Would Do Anything'. The lyricist that is Pollock is lost in this track as the broken beats cause utter chaos in the song. It is less singing with music than trying to sing over music. Pollock may be slightly out of her depth trying to sing over such beats; if you listen to grime, breaks, deep house, or any other genres that break the back of beats, singing over the top of heavy computer fed and changed sounds is not really a winner (unless you are aiming for rhythm or just fancy joining in).
This is where voices that are suited to softer electronic pop songs get caned. Pollock's voice gets hammered in this track. Perhaps she might have opted for a stand-out instrumental track rather than try to grapple over such a heavy sound. I blame the grandeur of Venetian Snares – a heavy influencer on the album, I imagine (Joanne Pollock is one half of Poemss, with Venetian Snares).
'Never Been You' is better than the last, and casts a shadow on the previous that is almost forgotten now: a broken off fragment from what is a superb album. Pollock has toned the beats down slightly and outperforms the computer this time in the vocals department. [goes to drug cabinet]. Furthermore, the up and down flow of the beats is highly creative. Pollock lets her voice go in the best way possible on this track and allows for a free moving dance track ripe for remixes. Clocking this, there is actually a minor drop in this track (a jumping off a bridge and only breaking your legs kind of drop).
Go play, remix people, drop it hard, it's there for the taking.
Pushing on, Pollock makes mincemeat of some challenging background, almost funk-dub, beats and creates a cacophony of sound with terrific solo vocals in 'Expect Me'. The cut starts off in an almost sci-fi electro pop way and then bumps and breaks its way forwards. It has less of Pollock's mind-challenging script-set lyrics and more ear shot poison darts, classically thought out and brilliantly engineered. This track has the sort of know-how to get the masses in line and dancing in rhythm with perfect smiles on their faces.
Enter the mammoth cave dug out of the aforementioned metoaphorical  iceberg and now you find Pollock on her own singing 'Stranger', set in place with a cold chill in the air and reverb cracking the superstructure. Pollock puts her vocals and herself on the line in this one. I would say it's a Marmite track for the soon-to-be Pollock purists.
'Myself Apart' rebuilds the morale of the crushed, drawing second life into the latter half of the album. It soulfully leads the listener into a reflective homage of what had just come before.
Having blown the listener into a cold chasm of ocean atop a floating shatter of ice, Pollock brings a wholesome and heartfelt knowledge of what the listener is going through by expressing her self-reflective calm. 'Scratching' is certainly a realist's version of an un-panicky strong individual who knows her way around her own vocals and sound.
Moving on to the penultimate track of Pollock debut, 'Jealous Mind', and unfortunately the lingering sadness of what has happened before starts the track. It seems a slow crawl out. Without an injection boost, this album is to finish on a gutless expression of moving on. The sound developed in the first half of the album that Pollock artfully struggled against (and then did not struggle against) is missing. No exit thrust.
Final track, 'You're Gone', tugs at the mind like a LP being played backwards. It's weird, the lost-ness that Pollock finds in her lyrics plays into the lost-ness of the track – a lost place in a lost world. Pollock hasn't surprised the listener here, but has confirmed with the end of this album that her next one could go either way.
Stranger definitely feels like a debut album, charming the mainstream with a few tracks in the first half and going with what is personal and honest in the second half. A side A, side B dichotomy from an earlier age. The overriding feeling is that the introvert side B is what Pollock desires out of music.

NAP & Nico. is a writer, a painter, a poet, a illustrator and writer of a disabled squirrels children's storybook . An academic yet to set the world on fire, but who is holding a Zippo beneath the Zepplin carrying modern society's scene that will wonder why they hadn't heard of NAP & Nico before.