[dropcap style="font-size:100px; color:#992211;"]S[/dropcap]ly elbows to the ribs in the photo pit, the warm trickle of piss down the back of the neck, and the grim disdain of the management's 'first three songs only, NO FLASH' stentorian warnings.
The lot of the music photographer is a misunderstood one, flecked with projectile sputum and splashed with the sticky floorjuice of a thousand scrofulus clubs and arenae.
Not surprising then, that Falk-Hagen Bernshausen prefers the altogether more polite surrounds of prizefighting gyms.
Trebuchet's Kailas Elmer talks to the prolific photographer.
---
Trebuchet : How did you get started in photography?
Falk-Hagen Bernshausen : Mainly pictures from a German magazine called GEO which is like German version of National Geographic. My Dad used to collect it in late 70s and early 80s. I used to sneak in his office to look at images in this magazine even I was not able to read I got hooked on seeing pictures from a distant world.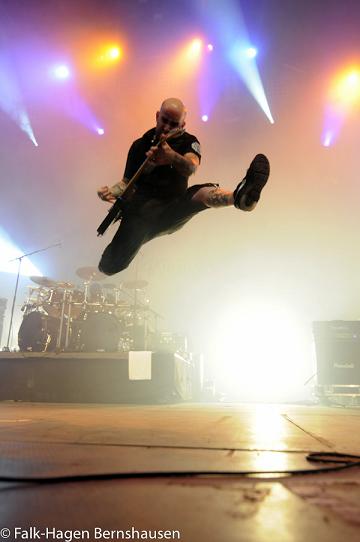 Images of tribes in Afghanistan, images out of the former USSR, Native Americans in the US, images of tattooed Russian prisoners and pilgrims in India, you name it. These visual records were there for me to view in this mag in my Dad's office. At that moment the medium of photography captured this, and offered me the chance to view it.
Back then photography was the gate to an open world, a window which allowed me to see, observe, to access  and discover how other people in different parts of the world spend the same 24 hours differently than me.
Sometimes I go back to these images to remind me why I got into all of this in the first place. I am still that curious, explorer kind-of guy, just wiser.
What made you want to take photos in the beginning?
For me it was a reason to get out and meet some new and interesting people. Being able to record what I witness or how I receive the world around me. For me, the person I am, it has been an active way to take part in world and being able to have my creative own outlet, bounce off some ideas and try new things.
In the 90s I managed to meet some great people who have inspired and supported me through this development. Things really started to pick up for me when I met Ed Mundell from Monster Magnet and his wife Karen at a gig in 2007, and then in 2008 I met the drummer Adrian Erlandsson and Anders Björler from At the Gates. I remember in the 90s, friends of mine who were older than me drove to the gigs and I showed my broken drumsticks from shows they had been to. That was in 1996, they were used by Adrian.
Same with Ed Mundell, I still got ticket from 1998 which he signed after coming outside after a show in Hamburg. If someone told me these guys would be somehow influential in launching my career in photography (and became good friends of mine) back in 1998, I would never believed that. So say never 'never'.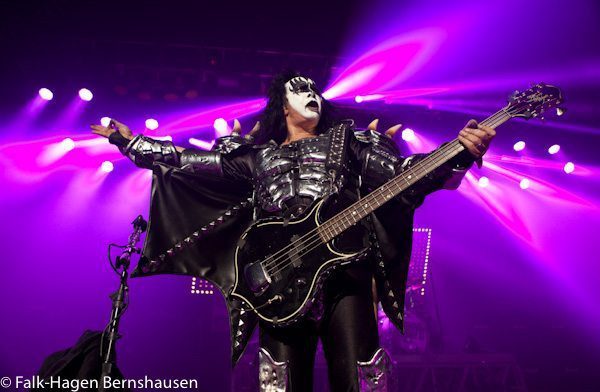 By the way, last year I met that same friend for the first time in fifteen years, here in London. I took him to my camera workshop and introduced him to some people.
Have you found other reasons to take photos since then?
Yes and No. My approach changed and interest has changed slightly. Up to 2010 I was totally 101% committed to this medium, but then I did some training in the moving image. Since 2011 I have divided my energy between mediums. I mean, I can say 'I know how use a 35 mm camera', but I also know how to use/set-up a RED Epic, Cannon C300, Arri Alexa now. Plus I had the chance work as part of a crew on TV drama productions and commercials. For me it has paid off and made me more curious about the process of image making, whether still or moving, with the same commitment. I just like to be flexible.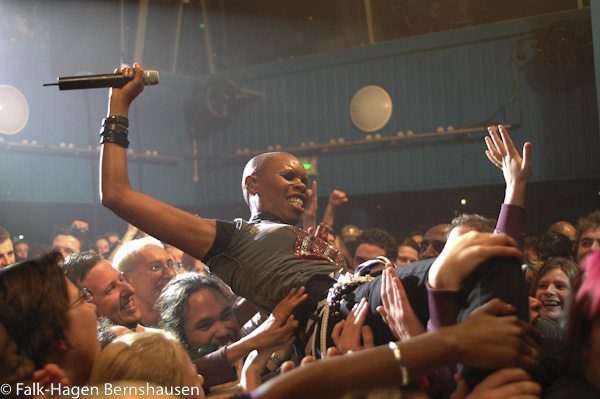 How important do you it is (or not) to be conscious of what other photographers are doing?
To expand to moving image and step out a bit more of music photography into the fighting scene has been the best thing I have ever done. It really doubled up my workload. As I said, I know how to use 35mm and medium format cameras, both film or digital.
On the other side I know my way around on film sets as 2nd assistant, focus puller or operator because I have spent time exploring cameras such as the RED Epic, Cannon C300 and Arri Alexa. I know how to set these cameras up and operate and how to assist the DOP or operator. I have become flexible and more aware what is going on regarding trends and technology. At the end of the day it's just an extension of my profession and visual interest.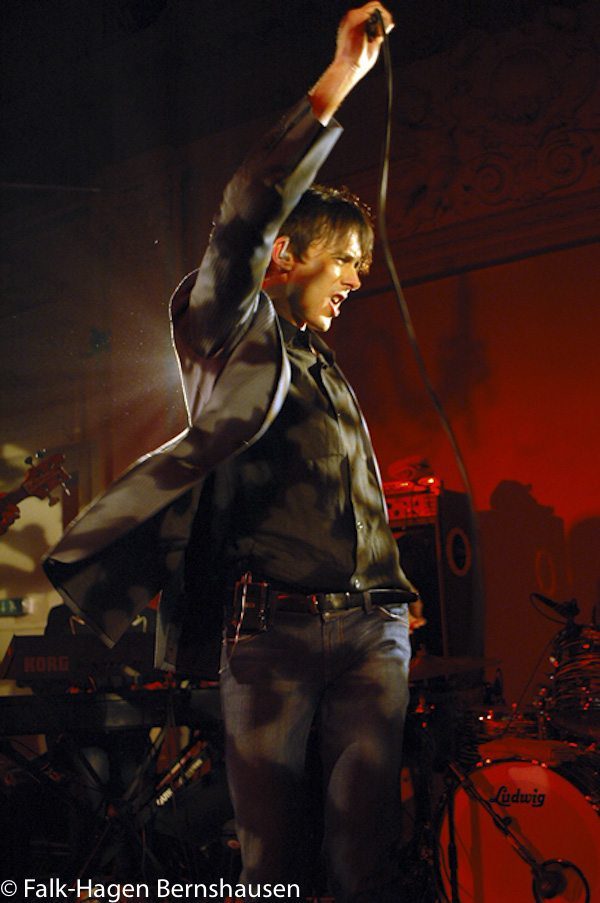 In my early days I had to clear out when the 'big' photographers came to the gigs. These days when somebody says ' I am a photographer' I am like 'And…? What else do you do?'!!
Who influenced you in the beginning?
A massive influence is the region in which I grew up. The region is called the 'Switzerland of Germany'  and is a region covering the old district of Siege (now part of the district of Siegen-Wittgenstein in North Rhine-Westphalia) and the upper part of the district of Altenkirchen, belonging to the Rhineland-Palatinate adjoining it to the west.
In terms of photography is quite famous for Bernd and Hilla Becher, a photographer couple, best known for their extensive series of photographic images, or typologies, of industrial buildings and structures. Further to that,  Herdorf, the place where August Sander was born, was quite close. All three mentioned photographers went down as pioneers of documentary photographers in the history of the medium.
I grew up in a kind of legacy of two big German photographers who came out of the same region as I am from.
Music came much later, through the images of Ross Halfin, David Redfern and Michael Putland I saw in books about the Rolling Stones and Metallica.
Who influences you now?
Steve Gullick, Ross Halfin, Estevan Oriol, Anton Corbjin, Jim Marshall, Rudy De Doncker: everything by those guys!!
August Sander's 'Face of our Time',
Robert Frank's 'The Americans',
Andrew Shaylor's 'Hells Angels MC',
Lutz Schelhorn's ' The last Warriors – Hells Angels MC Germany'
Larry Clark's 'Tulsa'
Danny Lyon's ' The Bike Riders'
Jim "Flash" Miteff's 'Portraits Of American Bikers: Inside Looking Out'
Black Sabbath, AC/DC and Black Flag as soundtrack.
How would you describe good photography?
Good photography or a good photographer is for me someone who is charge of every element while taking the picture and knows already while talking picture which photographic result/look he is after and will achieve.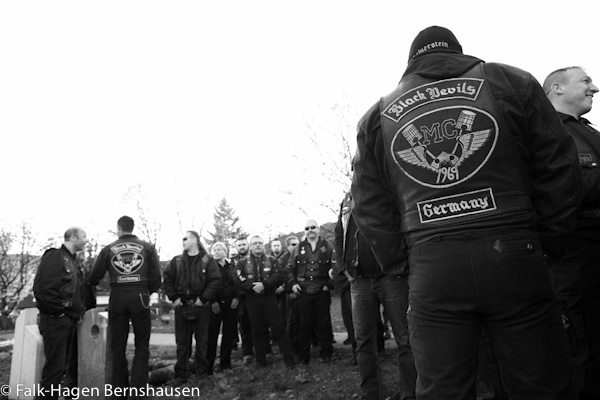 Choosing the right lens, camera, focus, controlling the settings like speed or f-stop to create/control the right depth of field and amount of contrast and detail through the shutter, plus having the subject under control/at ease.
Appreciating the light as the main key and knowing how to read  it properly, understanding it really.
That is I why like photographers like Steve Gullick and Estevan Oriol, they are in control of their style. There is none next to them for me.
What is your approach to portraiture?
Talking for twenty minutes with the model beforehand to get a feel for of the person and explain what my plan is. Because I work alone on location without the magazine, I establish myself as the photographer but also as the producer of the shoot. Once we click, we go ahead and make some pics.
What do you look for in a photographic subject?
Character, confidence and personality. Being open to try something new.
Do you consider how people will react to your work?
No. I just want to do a good job and please the commissioning editor. Plus have a good time and take strong images on which I can built my next steps. Being myself really.
To what extent is emotion a component of your work?
Never thought about it.
Much of your work seems very natural. What interests you about natural shots opposed to 'composed' works? Do you think there is a distinction?
It's possible, yes. I am not sure. It just seems to happen once everything and everyone starts rolling.
If shooting a natural environment would you look to frame the shot in terms of symmetry?
I try to, it's part of visual and graphic language and rules. Alright!!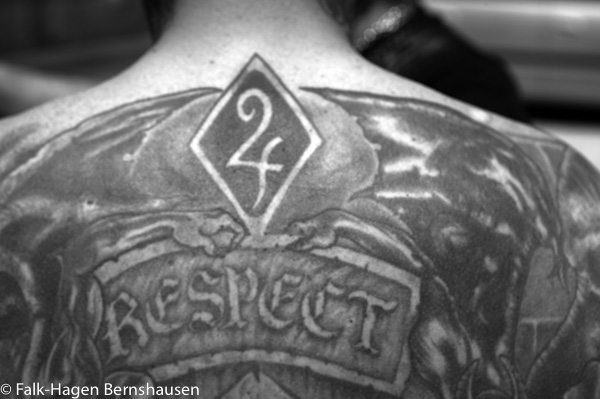 What attracted you to shooting martial artists?
At one point I just got bored with music. So I started hanging out in gyms and started doing some training in early 2011. I wanted a project, to bounce off some free-floating energy and start scratching the social underbelly.
After some time me hanging out people ask you what you do in the daytime, so I started taking some pictures in the gym and at little fights.
At the same time a good friend of mine moved on from being a music journalist to become the assisted editor of Fighters Only magazine. I met him back in 2009 while doing pictures with Carcass on a festival and we have kept in touch since. So I told him about the new project at the gyms and he kept me in the back of his head.
One day in July 2011 he needed a little job done in London. So I did it, it started from there.
You do one job well, the next job will come. You do the next one well, the jobs become bigger and bigger. I have been all over the UK to shoot portraits, covered the UFC and been to Sweden for the magazine. I had some great features out with them and my first cover in the UK, US and Canada.
The guys I meet are really appreciative about me traveling up to their gyms and spending a whole day with them, showing interest what they do and how they live. In exchange I have a good time, meet amazing and inspiring people, and get shown a lot of respect for my profession.
After 7 years doing music it's a nice change. I have become a household name in the fighting scene within 18 months, I am invited to go back to the gyms, have been offered free training, etc.
What role does instinct play in the choices you make as a photographer?
Be ready when it all happens, strike and defend.
When shooting a particular location do you try and capture the place from your understanding of it or from it's own meaning?
I definitely try to. I want to show my subject in their surroundings and what they are all about. I personally like the rural aspect, I also think the showing the surroundings/background of the photographed person shows the viewer what the pictured person is all about.  Normally before I start I have a twenty minute conversation with the person to get to know the person a bit, bounce off some ideas and assess the reaction.  To get a feel of the situation and character really.
What's next for Falk-Hagen Bernhausen?
I try to be active as much as possible. I aim to learn more skills in the moving image industry and move more and more into commissioning features for magazines such as Rock Axxess Magazine, where I shoot the story,  set up the interview and deliver the whole package to the mag or make the contact in the name of the magazine to the bands,PR or management. I never worked just for one mag, I like to flexible.
Apart from that I pitch ideas,  I consult and produce on my projects or other projects. I need to be busy, looking for input and how to increase my own creative outlet. Always looking how to improve my style and working knowledge.
At the moment I am writing a teaching program with two friends out of the British TV industry for an international/ multi-media based summer school project for a well-known German university. Apart from that, I keep a close ear on what is happening with the MC scene in Germany and Italy.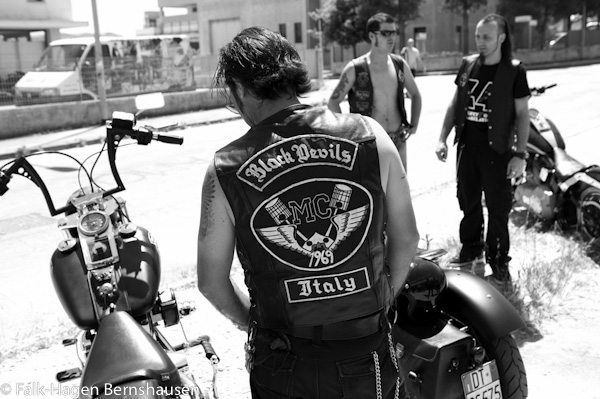 MC, … as in Motorcycle Club. I can't say a lot about it but I get request from MC clubs, custom bike workshops and fighters these days, more and more to do their media as in stills and moving image, showcasing who these people are. I've got some really got friends in that scene and respect them quite a lot. I've shot some really good stuff already and I am welcome back any time. But more all about this soon.
I've got my hand in with an upcoming fashion PR agency. Of course music is still happening for me big time, but that is just one part really now. I always try to be busy, to explore some new ideas and try out some new media and keeping the shutter rolling. With film or digital, still or moving…it's just a matter of choice.
Yes, I walk tall in my life.
All photos: Falk-Hagen Bernshausen – see more at his website: http://www.kage.uk.com/