[dropcap style="font-size:100px; color:#992211;"]"I[/dropcap] guess what 'paint' is to the painter; 'patterns' are to me as a collagist."
Born in Mumbai, India, Hormazd Narielwalla is fast becoming a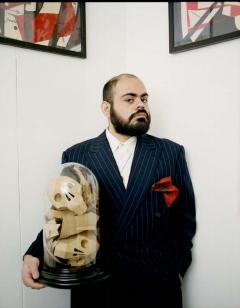 must-have artist amongst serious art collectors. He's written two books, has shown in Saatchi Gallery, and has worked with legendary British fashion designer, Paul Smith. His practice revolves around collage, and the use of discarded tailoring patterns; blending art, fashion, and sculpture seamlessly to create unique works of art.
My practice began in the workrooms of eminent Savile Row tailoring house Dege & Skinner, where I learnt from Managing Director – William Skinner; that they would discard bespoke patterns of customers who, are now, sadly, deceased. The patterns have no value to the firm without the physical body present. I wanted to rescue the patterns and create objects and pictures out of them.
…explains the sharply-dressed artist of his exciting collage works, with the faded tailor marks peeping from behind bold cuts of colour.
Currently showing at the DegreeArt.com gallery space (in group show Between The Lines alongside artists Peter Matyasi, Matthew Spencer, Ana Catarina Pereira and Molly Goldwater) Narielwalla says of his work in the show
I was quite interested in the curatorial output of the show that explores mark making. In my practice process is key to the realisation of the work. I begin with a material that already exists – tailoring patterns. They are either hand drawn by Savile Row cutters from Dege & Skinner or I use antique French domestic patterns, which are printed on fragile paper.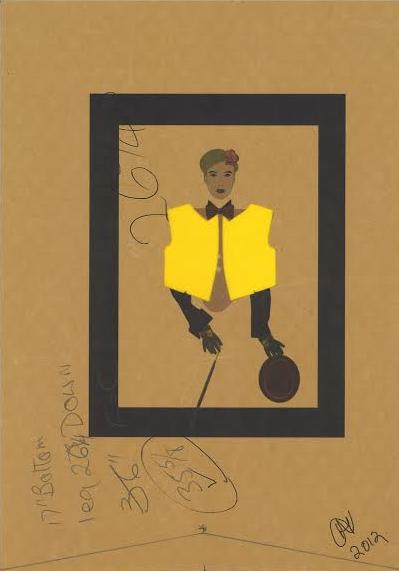 Hormazd Narielwalla, 'Tuxedo girl'
Narielwalla speaks about his works submitted to the Between The Lines show, explaining, "I have three bodies of work presented in 'Between the Lines'. The first is a sculpture titled 'Love Garden' part of a series of five, which were first exhibited at the Saatchi Gallery."
Continuing,
I was selected by the Crafts Council, England to exhibit in the Project Space at Collect – the international art fair for the contemporary object. For this project I worked with historical military patterns of British Army uniforms sourced from tailoring books dating back to 1800. They were used to derive an academic dress narrative of body coat uniforms of the British Raj archived at the National Army Museum. An affirmative association from my adolescence was the authoritative figure of Ashton Pelham-Martyn, an English officer from the British Raj falling in love with Anjuli-Bai, an Indian princess in the forbidden love tale The Far Pavilions.
Using the less common medium of collage, as opposed to painting and straight-forward sculpture, Narielwalla speaks about the allure of collage "It has been a natural intuitive response of picking paper and adding to an already existing paper-based material – i.e. the patterns. Having said that, I have screen printed on them and created them into sculpture too. Sometimes I create work digitally – very rarely – and print onto the patterns."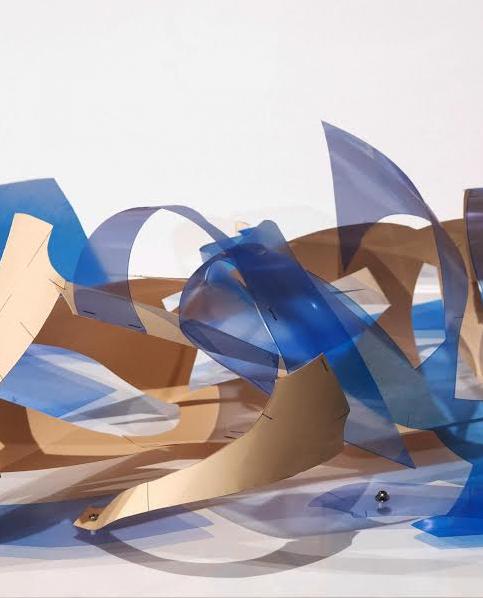 Hormazd Narielwalla, 'Love Garden no.4'
The idea of Narielwalla working with the tailoring patterns of the deceased raises the subject of rebirth and keeping that person alive through the medium of art. Narielwalla also puts emphasis on keeping skills of the past, such as tailoring, incorporated in modern society
I'm looking at theories of Cubism and Abstraction particularly in respect to art history linking them into a contemporary context. Also the whole 'Love Gardens' project was triggered by the colonial history of the British Raj. Patterns are an incredible material to discuss history. You can tell so much about us humans by analysing them – like cultural connotations, choice of dress, shapes of bodies, influences from the east etc. So definitely my work reminisces the past.
Narielwalla has also shown his historical references through his books, his first book being Dead Man's Patterns in 2008. Commenting on the book Narielwalla explains how he moved into the art world
My first dwelling into the Art world was when I launched Dead Man's Patterns (2008) inspired by the first set of bespoke suit patterns of a deceased customer that I acquired. Each section of the book suggests different physical states of the 'man' with a sense of formal preparation for burial. The physical man is never there; the book's pages gesture towards intimacy even though they are merely paper.
Dead Man's Patterns was acquired by 25 collections around the UK and America, including the British Library, National Art Library, Courtauld Institute, Iniva collection and the Fashion Institute of Technology, New York. It was then that Sir Paul Smith became aware of Narielwalla's work and exhibited his first solo show Study On Anansi in 2009, where he focused on patterns combined with Western African Folklore tales.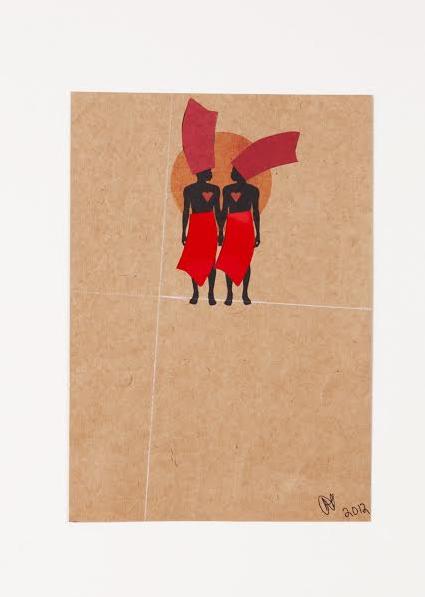 Hormazd Narielwalla : 'Anansie in Love'
Narielwalla notes, "During this time I was subsequently appointed by Dege & Skinner to assist master shirt maker Robert Whittaker, and later to be commissioned by the firm to put together the tailoring biography of their Master Tailor Michael Skinner. In 2011 Benefactum publishers, [in] London, published the biography under the tittle The Savile Row Cutter."
With obvious fashion references throughout Narielwalla's work, his colour palette often juxtaposes neutral tones with bold primary and secondary colours. Speaking about his use of colour, Narielwalla says,
I guess the 'fashion' side of me informs the colour aspect of the artworks. I used to work as a stylist in India and I do think one of the fascinating genres of fashion is the use of colour, and because it's ever changing, so quickly and on such a large scale – I think designers have to reinvent themselves constantly. I look at Parisian couture carefully looking at what colours go. My background of vibrant India, whose people aren't afraid of colour, I guess also has something to do with it.
Narielwalla also uses a mixture of materials when creating his collage pieces, and in his sculpture, including translucent Perspex, explaining, "it's a feeling I'm trying to capture and an intuitive response when I work with the patterns. I would love to experiment with other materials; however it's always a combination of the original pattern, which is the unique criterion of my practice."
An exciting and ground breaking artist using unique methods, Hormazd Narielwalla's work is a celebration of both ancient tailoring techniques, collage and the human form, often creating two dimensional works that suggest the three dimensional through the original tailor's marks on the materials he uses – suggesting that there was once a human form that occupied the space.
With collage and colour being at the forefront of his art, Narielwalla speaks fondly of his influences and art that excites him. "Well the obvious [ones] are Picasso and Matisse for me. But I also love Lygia Pape's work in respect to her construction and line; Hannah Hoch for her mastery in Collage. If I were a painter I would love to be Peter Doig and Paul Klee – amazing."
You can view more of Hormazd Narielwalla's work at www.degreeart.com