[dropcap style="font-size:100px; color:#992211;"]G[/dropcap]rey Branches is the latest alias of Belgian producer Yves De Mey,
also known for his Eavesdropper project and his Sendai collaboration with Peter Van Hoesen, with whom he runs the CD label Archives Intérieures.
The first Grey Branches EP is Lower Bounds, released on Tom Dicicco and AnD's Inner Surface Music label. It's a four-track orange vinyl-only release in suitably stark packaging. The tense, austere tracks (post)-dancefloor tracks show De Mey moving into new territory, creating a raw and ominous atmosphere.
Codex Europa spoke to De Mey about the new project and his wider work.
What's the philosophy or plan that informs Grey Branches? (What does it allow you to do that you can't do under your own name?)
The idea behind the Grey Branches project is to do tracks that are more focused on a dance floor setting, borrowing elements from straightforward Techno and blending them with what I usually do.
Technically speaking I can do whatever I want under my own name, but in my head it works better to use a different alias to do different things, and I think that, for an audience, some separation works as well.  It's probably a bit clearer to know what they can expect.  But I guess what I do under my own name and as Grey Branches has some similarities anyway.  It definitely keeps things more organised on my hard drive though. [quote]For the Grey Branches
tracks I tried to see the whole
studio as a machine, something
very technological[/quote]
Is it hard to maintain the tension between chaos and order in Grey Branches tracks? How do you know when you've gone too far in either direction? (too experimental or too dance-oriented?)
That's probably the biggest challenge of the whole thing.  I've set out certain rules for myself regarding the Grey Branches tracks, but chaos is always lurking.  There's not really a decisive point where I can tell I've gone too far, it's more a feeling that makes the alarm bell ring.  But I think the new Grey Branches tracks will be more stripped-down. 
I'm very happy with the first EP, but for myself, I want to take a bigger distance from the Yves De Mey tracks.  The whole idea is more club oriented, and doing the GB tracks will probably turn into some kind of research or investigation in my kind of club music.
Have you used new techniques for this project?
Not so much really, it's all done with the same equipment and tools.  But the approach is different, more loop-based if you want.
Does it have different sources or inspirations compared to your previous work?
Definitely yes, but equipment related and not really tied to Techno music I like or anything like that.  My main source of inspiration is my equipment anyhow.  For "Yves De Mey tracks", I see the studio almost as an organic creature, every bit of gear talks to the other one.  For the Grey Branches tracks I tried to see the whole studio as a machine, something very technological.  And this really helps me shape sounds and tracks in a different way, although it's an identical set-up.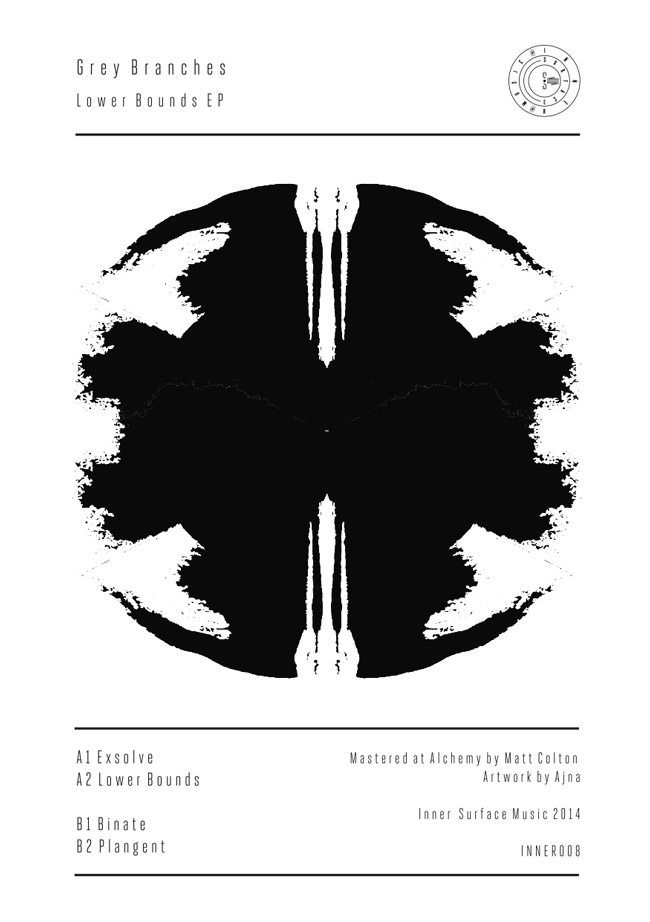 How informed are these tracks by your experience working on Sendai?
Not a single bit, to be honest.  It's a different thing.  I might use a certain technique that I also use when working for Sendai, but that's probably about it.  I'm really wearing a different hat when I work on the various things I do.
'Plangent' is a very dark track that sounds quite "industrial" – is industrial an influence on your work or is this a side-effect of your techniques?
I think most of my output has an Industrial feel to it.  It's the first genre of music I really fell in love with as a teenager, and it's seems I can't undo that love.  And I don't want to anyway. 
That track in particular was actually born out of frustration when working on the Grey Branches EP.  Things didn't go quite well that day in the studio, so I needed to do something radically different.  And all of a sudden 'Plangent' was there.  Done with 2 synths, very intuitive and straightforward.  That should be the basics of all of my tracks, but unfortunately it doesn't always work that way….
[button link="https://archivesinterieures.bandcamp.com/" newwindow="yes"] Archives Interieures on Bandcamp[/button]