[dropcap style="font-size:100px; color:#992211;"]I[/dropcap]t's not the end of the world.In fact it's not even the end of the summer.
–Bowling For Soup 'Shut-Up and Smile'.
Trebuchet once more steps up to the task of making your life nicer with a cooling aspartame and sugar-free home made soft drink that supports your body's function whilst fighting The Man!
---
Green Tea Lemonade Recipe
As the 2013 UK Summer writes itself into the toasty history books of hot, Trebuchet writers and readers alike need something to cool down.  Granted the first few weeks of nice weather drives everyone to a beer garden, backyard BBQ, festival, [quote]Basically, we get
really sick of
spending loads of
our money on
large conglomerates'
sugar water while
they destroy our
cultural lives and
swamp the world
with their wares[/quote]or lager-sodden sports event. Nevertheless, there comes a time when it's nice to have something to drink that quenches the thirsts and perhaps even heals the hurts our poor livers sustain.
Enter Green Tea Lemonade.
It's super healthy, super refreshing and unlike other soft drinks, contains no added sugar or aspartame.
Health Benefits of Green Tea Lemonade:
Reduced Stress Levels: Studies have suggested that green tea can reduce the stress by:
Evening out energy levels: without the usual caffeine highs and lows of other drinks you'll be more chill.
Of course, there is a little bit a caffeine, which here at Trebuchet we know (anecdotally) keeps us happy and alert without grinding out teeth through each others foibles/music choices.
Ref: http://www.green-tea-guide.com/reduce-stress-levels.html
Skin Repair: Green Tea vs Skin Cancer and UK Damage = youthful win
We have zero proof that this is the case but being better hydrated is always a good thing.
Weight Management: There've been lots of suggestions that Green tea can help you lose pounds. We've yet to experience anything of the sort but… that's not to say that it isn't true for some people. Perhaps researchers mean Chinese people when talking about 'some people'.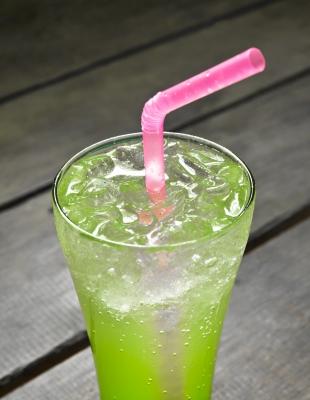 Cancer Suppression: Sounds good… prostate, colorectal, and lung. These are the cancers that Green Tea is a good weapon against. Great. Let's just get to the recipe shall we.
Reduced Cardiovascular Disease
Yeah yeah yeah… all the health benefits of Green tea can be found here: http://www.green-tea-guide.com/
Angrily refuted here: https://en.wikipedia.org/wiki/Health_effects_of_tea
And given a shake of measured optimism here: http://uk.askmen.com/sports/foodcourt_200/237b_eating_well.html
Socio-Political Benefits of Green Tea Lemonade
Basically, we get really sick of spending loads of our money on large conglomerates' sugar water while they destroy our cultural lives and swamp the world with their wares.
And drinking water can get really boring after a  while.
Here's a tasty and cheap alternative to soft drinks that MIGHT be good for you.
(Is Aspartame bad for you?
Aspartame is an artificial sweetener that is added to many commercially available beverages.
Some people controversially argue that there is enough evidence showing that Aspartame is bad for you, possibly deadly, that it should be banned. The larger issue here is that it is a completely unnecessary additive to naturally tasty drinks that you can make yourself sans synthetic chemicals.)
[quote]Ingredients:
Gunpowder Green Tea Loose
Fresh Lemons
Filtered Water – Once boiled
Glass Lipped Carafe / Large Jar. X 2
Pineapple Juice – not syrup (optional)
Sparkling Mineral Water (optional)
Garnish:  Sprig of mint.
(buy organic and local where possible)[quote]
Preparation:
Stage 1: Adding hot water (5 seconds post boiling) to tea (3 grams of dry tea leaves per every 6 ounces of water) let steep for about 3-5 minutes  (you're aiming for a strong brew).
Hint: If you don't have a teapot or have a teapot that you find quite annoying to clean use an 8 cup Bodum style coffee plunger to brew the tea. It's quicker, easy and in hot summer months the strained tea leaves make a great topsoil cover for both indoor and outdoor plants (reducing soil evaporation and given those suffering pot plants a bit of nutrient boost).
Chop 1/2 a lemon and place slice in one of the Carafe/Jar and poor in hot tea and allow to cool. Once cool (room temperature) put in the fridge to get nice and icy.
Depending on whether you like a strong sourish ice tea pour over ice in a glass and drink or go to stage 2 for a lighter sweeter option.
Stage 2: Decant about a quarter of the ice tea base into the second Carafe, add a dash of pineapple juice and add sparkling water to taste. You now have a carafe of a light soft drink that'll keep you going throughout the day.
The pineapple juice and the lemon juice contain fruits sugars so obviously reduce these ingredients if sugar intake is an issue.
Serve in a tall glass, over ice with a sprig of mint for a bit of luxury.
Regal Devilry:
Add vodka and more mint to stage 1 and use a dash of soda water
More preparation information here
Enjoy! 
–
Image: Freedigitalphotos.net/Zirconicusso