[dropcap style="font-size:100px; color:#992211;"]T[/dropcap]he cryptically named Grebenstein is a German producer with a background in drumming and guitar who's gradually drifted onto the darker shores of [post]-techno.
Following two releases on Downwards, his latest appears on the Horo label and if anything the quality level is even higher. Described as 'non club tracks for open minded clubs', Grebenstein's approach is chillingly apt for our troubled zeitgeist. It's sombre and hovers uncannily on the cusp of serene and ominous (even if the latter may be the dominant impression less seasoned listeners take from it).
'Gloss' sets the tone, establishing the dark mode through a drone that steadily builds and clanky, sparsely brutal percussion. At low volume it's ominous, played loud there's a subtly nightmarish interaction between the drones and percussion. Nothing particularly dramatic happens but the track seems to promise that it will (and whatever 'it' is, will probably not be good).
A less directly ominous but still troubled vision is suggested by 'Self'. It has a more suppressed/repressed atmosphere created by the skilful deployment of drones and mournful, liquid bass. Here's there's a sense of inexorable implosion rather than potential explosion.

'Self (Version)' is also slow and intense with a more organic feel. Before being brought to a very sudden end it establishes what could be called a serene scrapyard aesthetic that is calm but purposeful, though still shadowy.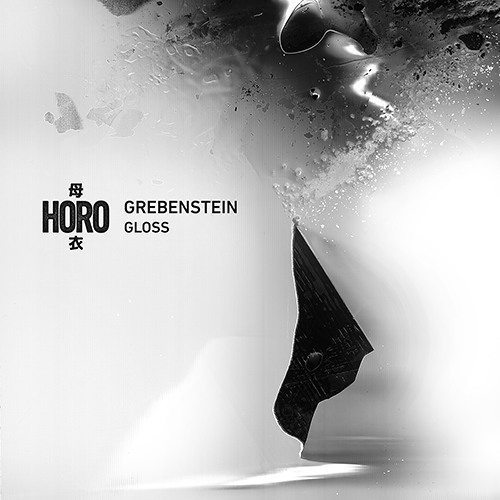 Finally, 'Loss' works hard to dispel any serenity (without sacrificing atmosphere in the process). The percussion is more active and there's a nervy undertow of scurrying sounds that are occasionally whirled around like piles of dead leaves.
Released at a time when the late modernist/early postmodernist dynamism and optimism that drove techno forward are increasingly hard to maintain, the organically-affected Gloss represents a type of decelerationist [post]-techno that brings the listener back to earth in a simultaneously sobering and intoxicating way.
Grebenstein
Gloss
Horo HOROEX3
12" // Digital download
February 24th, 2017