C
urated by Thorp Stavri, Ghost Like Traces radically reframes our understanding of cultural language through the work of ten talented emerging artists. The exhibition running through April at London's Unit 1 Gallery Workshop, is not indifferent to the enriching experience of witnessing a mirage.
Yet, unlike this natural phenomenon Ghost Like Traces enigmatic energy stems from illustrating the tension between human and societal temporality and how these are materialised through cultural debris, fused with an innate human desire to play, and a sense of unity caused by the many looming existential global crises we face. 
Embodying concepts of hauntology, Ghost Like Traces comprises multi-faceted and diverse representations of cultural paraphernalia, unearthing the complex relationship imbued into Western society's material landscape and its inhabitants. The congregation of these eighteen artworks culminates in an array of objects representing how nostalgia can be – or could become – encapsulated artistically. Hauntology illustrates the dualism between material goods and their potential to become future cultural references. How do these objects become metaphors for culture, enabling memories to permeate from them on a sensorial and nostalgic basis, evolving into a ghost of a particular era?
The works are tender and playful, evoking an air of kindred innocence that reverberates throughout the exhibition space. This joyous tone that emanates throughout the gallery could initially cause it to be interpreted as apolitical, particularly when viewed from the fluffy-surface level of Enej Gala's sculpture, ironically entitled Nothing to Lose. Yet, on a deeper level, the line of inquiry surrounding hauntology and objects representing relics of the future parallels the political and philosophical mindset, gently encouraging its viewers to reflect upon material consumption and the future of our society's existence which is intrinsically related to social and geopolitical discourses. This gives the exhibition a sense of soft power, through its ability to articulate these necessary dialogues inquisitively and peacefully. Gala's sculpture, redolent of a child's sketch or an object from a toy shop, demonstrates this by lulling its viewers into a false sense of security by intercepting innocent entities from childish nightmares with the harsh monsters that threaten society, such as climate change and mass production.
Jack Evans's work unpacks these notions further with his sculpture, DOOMSAYER I, which shows a banana skin sprawled across a tomb. Its initial appearance is reminiscent of the absurd, a slapstick sketch of someone slipping on a banana skin. However, Evan's piece seeks to highlight our naivety about the climate crisis and lack of insight surrounding food production. The work uses the banana to respond to the looming of future food crises, whilst drawing attention to how detached we are from the intersection between our eco-systems and global trade. DOOMSAYER I illustrates the cyclical nature of an object, delineating how the banana has transitioned from symbolising a comedic prop, global trade, nutritional goods, and in the future, it could perhaps become obsolete by becoming a ghost of our current era of abundance.
Ghost Like Traces loosely elucidates how the concept of hauntology is transitioning into something new through how the digital age is altering our material relationships within the physical realm. As a culture, are we shedding the final skin of our material landscape, poised to break away from the cocoon of the physical realm into an intangible world consisting of digital commodities?
These notions are prevalent themes within the artwork by Diana Zrnic, particularly within her painting, Blown Away. Zrnic has created a distorted painting, with a stark contrast between vibrant yellows and darker tones of burnt umber and black. Zrinc unifies characteristics of neo-expressionism and digital reproductions of techniques by Escher to create a distortion of a human figure as seen through a phone screen. The colours and formations cascade into one another with a sense of impermanence and fluidity, reminiscent of the fleeting moment of light hitting the water.
Transience dances throughout Ghost Like Traces, formulating a sense of harmony despite its multidisciplinary nature. Could the combination of paintings and sculptures hint at the evolution of our trans-corporeal existence by illustrating the experiential differences between our digital existence versus the physical one? The 2D paintings could represent our digital existence by being a flat-packed digital commodity representing the echoes of a hauntological object, a void we cannot enter, replacing the object's physical body. Whereas the sculptures might represent our physical reality and the immersive experience of the material body.
Although these themes seem weighty, Ghost Like Traces has concealed these topics covertly, presenting them as a garnish on the banquet, complementing the exhibition's tongue in cheek edge, with humour reverberating throughout the space, making the themes accessible to everyone. From manipulating the joy that emanates from the nostalgic objects, Ghost Like Traces is somehow reminiscent of meeting an old friend with many cherished memories you share.
Western society's culture of consumption has created a visual language of branding and aestheticism within its populace. Ghost Like Traces subverts the intimacy we share with the corporate body, simultaneously emphasising the alluring value we place on inanimate commodities. They are recognised as potentially iconic aspects of contemporary culture and personal experiences and then juxtaposed with the superfluous actuality of these objects. Exploring the exhibition implores its viewers to consider these notions, as shown in Niccolo Binda, Marc-Aurèle Debut and Charlotte Dawson's work, who collectively interrogate these narratives from varied perspectives.
Binda's duo of paintings entitled Same Old and Due to the Current Circumstances, take a satirical approach to commentate cultural artifacts and how they have become sensationalised. His work focuses on the intersection between societal archetypes, how they are commodified, and the intimacy we learn to share with the brands that promote more niche trends. The pieces Binda displays are skilled and precise, reminiscent of imagery from commercial trade and mass production. Binda's work manipulates symbols and colour pallets that mimic a retro depiction of counterculture. However, the connotations within his work that relates to mass production highlight the irony between seemingly alternative cultures who then partake in the mass-consumption of material goods. This delineates the human desire to express our identities with belongings that we hold sentimental bonds to, which has then been manipulated by corporate industries.
Underlining the warmth that radiates throughout the exhibition, Dawson's two sculptures immediately evoke concepts surrounding production lines, and a sense of kitsch British culture. Both sculptures of steel shelves embraced by pallet wrap, feature jesmonite casts of Punch and Judy figurines, buried deep into polystyrene packaging, flirting with the viewer by representing an arcade claw machine that tempts you to partake.
Trading the Punch and Judy figurines and the polystyrene chips, Dawson's second sculpture shows hand-made cabbage plates, stacked upon dishwasher racks each on one of the three separate shelves of the steel construction. The sculptures – the cabbage plates and Punch and Judy dolls – demonstrate objects that could have been classed as hauntological in retrospect and have now fulfilled that prophecy and become cultural ghosts. Yet, how they have been presented amongst packaging materials and as being functional goods deepens the narratives within the artwork by hinting at the object's life cycles. The pallet wrap and polystyrene suggest transactions and transportation both from the production site and end destination, whilst the dishwasher rack suggests functionality and service. Dawson's work does not just deepen the discussion surrounding hauntology, but it also amplifies the broader principles of object-orientated-ontology, materiality, and our cultural surplus of commodities.
Marc-Aurèle Debut's practice is also centered around philosophy and more traditional forms of object-orientated-ontology. This allegorical sculpture, Memories Came Flooding In, delves into the relationship between the body, object, and physical space – a philosophical concept entitled the Triangle Connection. Debut's sculpture consists of springs from dismantled beds and sofas which coalesce to form a cascading configuration that morphs between having a skeletal appearance and scenery from nature, such as vines or a waterfall… The close-knit springs are reminiscent of an obscure musical instrument, prompting its viewer to imagine the sculpture having a sonar existence beyond its life as a visual object.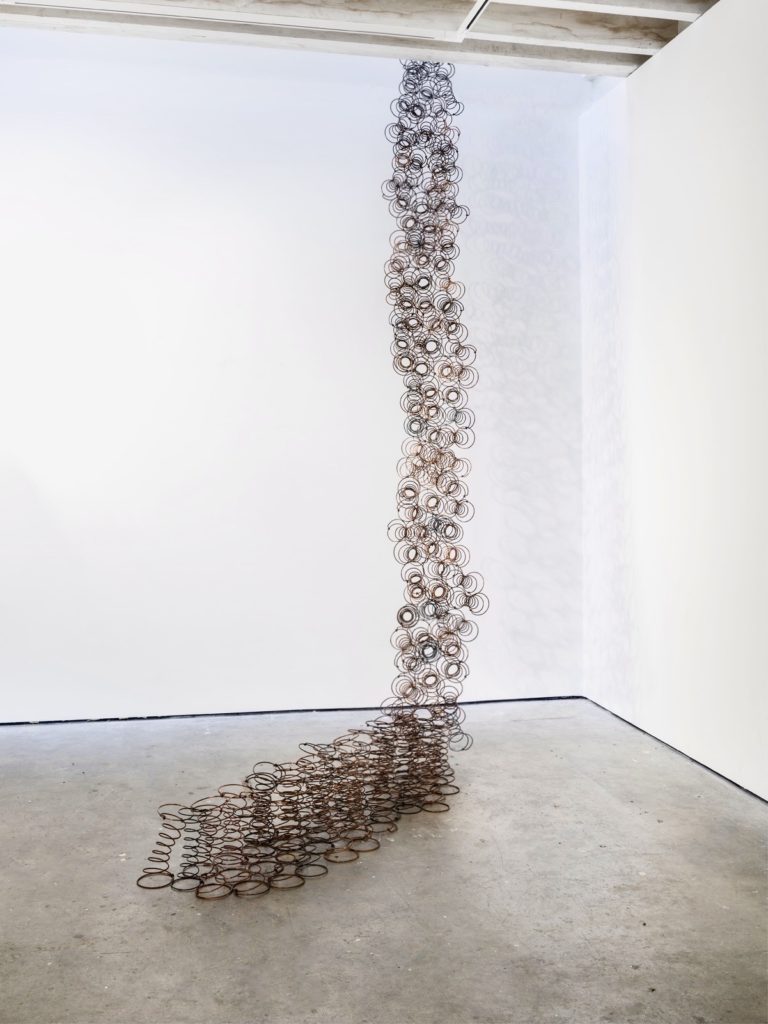 The artwork carries a sense of sentience that continues to infer its hauntological existence; a sofa or a bed is a very personal space, encompassing so many deeply individualistic connotations ranging from comfort, laughter, a sense of refuge, and intimate space. The intensity in the presence of this piece enables it to create a convergence between the memories that supersede the mind, creating a mind-body dualism, which is triggered through remembering the presence of an object in a physical environment which insinuates the concept of the Triangle Connection, whilst illuminating the emotional capacity behind concepts such as hauntology.
The depth of these topics is infinite, yet Ghost Like Traces has encapsulated the concepts with such finesse that it leaves the viewers feeling embedded within the themes. Ricocheting between semiotics, culture, and historical-present experiences, the exhibition creates a conjunction between the ephemeral and the permanent. It illuminates the intricate power behind the human mind, whilst educating its viewers on how to appreciate our physical environment on both a microcosmic and macrocosmic level, creating a space for these complex conversations and shifts in attitude.
Ghost Like Traces is on 8-28th April 2022 at Unit 1 Gallery | Workshop.
Featured Image: Hannah Wilson, Nosebleed (Adam), 2022. All images courtesy of Image Courtesy of Unit 1 Gallery | Workshop
Featured Artist: Niccolo Binda | Charlotte Dawson | Marc-Aurèle Debut | Jack Evans | Enej Gala | Sae Yeoun Hwang | Jerome | Conor Murgatroyd | Hannah Wilson | Diana Zrnic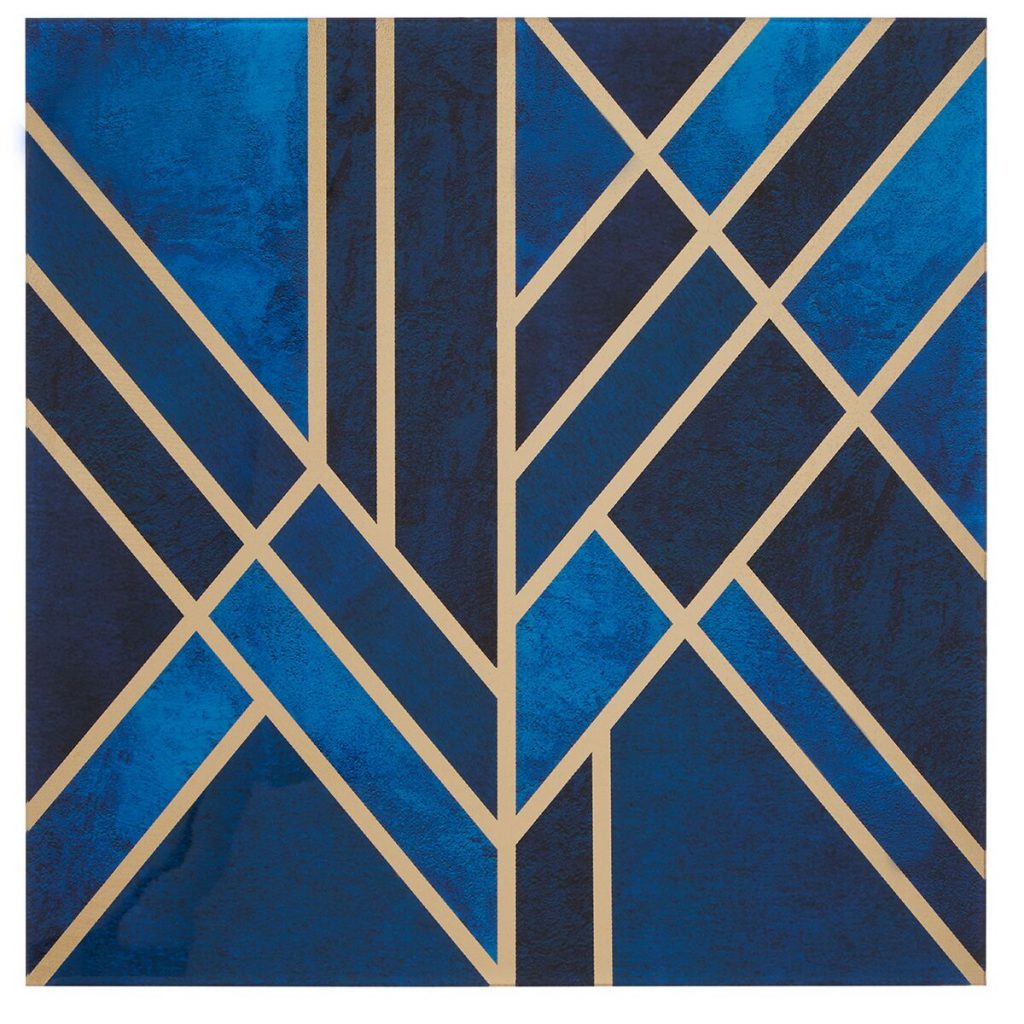 As a multi-disciplinary artist, my work creates a dichotomy between the consumable quality of the manufactured and the delicate nature of the hand-built as a radical pursuit. Fusing this with my contemplative nature, my work delves into the comfort of the polarity within various discourses. Responding to my personal artistic explorations and the ever-evolving narratives within the art realm, my writing delves into theways that art interweaves socio-political commentary, ecology and philosophy with fictitious speculation.