The prestigious Frieze International Fair, a landmark of the London arts calendar, has returned to Regent's Park after being cancelled due to the pandemic last year. This year, with traveling restrictions still in place, we did not see the usual legions of world collectors, curators, museum directors and connoisseurs descending all over town to enjoy the objects that are supposed to be at the cutting edge of present-day art.
Starting with the Sculpture Park at the English Gardens in Regent's Park, just outside the main fairs, this year's edition brings together works of international artists including Ibrahim El-Salahi, Isamu Noguchi, Solange Pessoa and Rose Wylie. It has been curated for the ninth year by Clare Lilley (Director of Programme at Yorkshire Sculpture Park).
Eva Langret, Frieze 2021 London's Artistic Director, commented: "It is the most exciting moment to be able to go back to a physical fair, celebrating London and its creative community after such a challenging year. We are honoured to showcase the work of a remarkable cohort of international artists including Christopher Myers, Danielle Dean, Nikita Gale, P. Staff, EJ Hill, Elisabeth Wild and Vivian Suter. As ever, we are proud to support non-profit organisations and to collaborate with Allied Editions and the Arts Council Collection on our opening season."
Based in Guatemala, Proyectos Ultravioleta will show a joint exhibition by mother-daughter artists Elisabeth Wild and Vivian Suter. The presentation sees Suter's characteristically vibrant unstretched canvases hung freely in a way that evokes the lush greenery surrounding her house and studio in Lake Atitlán, Guatemala, alongside a selection of Wild's lapidary collages, composed of magazine cut-outs. The show will be the artists' second joint display in London, after being awarded the Focus Stand Prize for Proyectos Ultravioleta's booth at Frieze London 2016.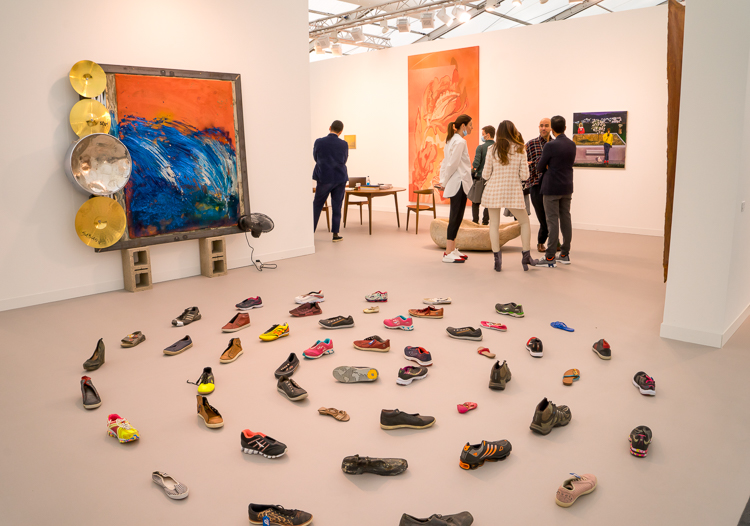 It was refreshing to visit an east London pub/gallery at the heart of the Fair: The Approach is co-directed by Jake Miller and Emma Robertson. Located in Bethnal Green above The Approach Tavern, for over twenty years it has operated an internationally recognised programme from its East London base. The gallery is known for discovering artists and establishing their careers as well as making inter-generational curated group shows a strong focus.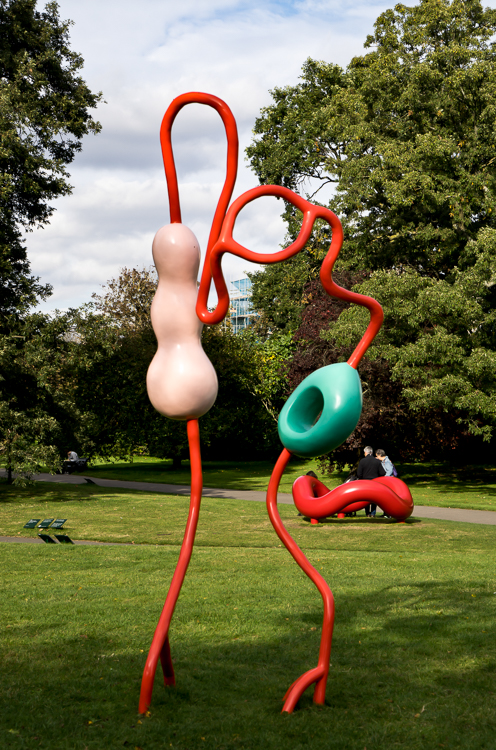 The list of represented artists includes the Estates of important overlooked female artists Heidi Bucher and Maria Pinińska Bereś, as well as seminal British collage artist John Stezaker, together with established and emerging artists including Allison Katz, Magali Reus, Peter Davies, Lisa Oppenheim, Sandra Mujinga, Sara Cwynar, Sam Windett and Caitlin Keogh.
Over the years the gallery has operated parallel programmes in additional gallery spaces in London's West End (The Approach W1) and in Shoreditch (The Reliance). The gallery is currently based solely in its original East End location and continues to expand its programme, showcasing its represented artists in the main gallery space, and both represented and non-represented artists in The Annexe, a smaller, more experimental space at the back of the building.
Another favourite was the work of Bianca Bondi, at the Paris-based Mor Charpentier gallery. Underland, her first solo show features a series of works in which she mixes her artistic practice with chemistry and occult sciences in order to create installations and sculptures that traverse both the human and the non-human realms. The pieces, shaped by more or less controlled chemical reactions, create the forms in their own transformation processes and express a sense of impermanence and instability in the space.
Frieze 2021 and Frieze Masters – October 2021 – Regent's Park and galleries around London
Images copyright of Julio Etchart © 2021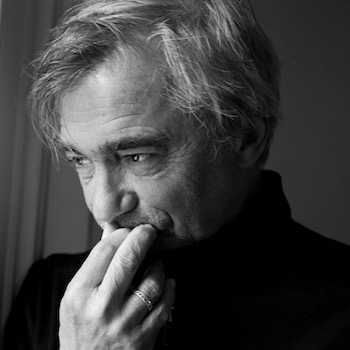 Julio Etchart is a documentary photographer, poet and artist.