[dropcap style="font-size:100px; color:#992211;"]"F[/dropcap]ormaldehyde elektronaut" Felix Kubin has long been known for his distinctive art-infused retro-synth pop and for working with a surprising range of collaborators.
Last year he recorded an album in seven days in a home for the blind in Warsaw with the contemporary big band Mitch & Mitch. The results are sombre, amusing, absurd and memorable. It would be too easy to dismiss Kubin's work as some sort of über-ironic retro hipster kitsch. In conversation he's extremely articulate and it's clear that he sees no contradiction between charming pop and very serious artistic, and even political, ideas.
Speaking,  he cites influences including the Central European dadaist movement and the music of Paul Hindemith. He is also involved in protest activities in his home town of Hamburg (scene of major recent protests against gentrification). Alexei Monroe spoke to Kubin about the Bakterien & Batterien album and some of his other work (which also takes in soundtrack work, radio plays and much else).
How did the collaboration come about?
Felix Kubin: For the production of this album they approached me. The first contact was with the owner of the Mitch & Mitch label. I contacted him because I was organising a festival here in Hamburg in 2002, I was running the music programme. I was searching for artists and I ran into Walter Kuharcek, he couldn't come to the festival as he wasn't from one of the participating cities.
I found his music really interesting and really unusual, I expected a little dated sound but his sound was pretty unique. I liked his CD Retro Sex Galaxy, I invited him to play and he came with the drummer from Mitch & Mitch. He's a multi-instrumentalist. We kept in touch and at some point they were asked to play in Cologne and they were supposed to be supported by a local artist and they suggested me.
We played some tracks together and it was so much fun they applied to the Polish Cultural Institute for money to record an album with me and so we started on it.
We had a very strict agenda in terms of when the record had to be ready. We were forced [by the terms of the grant] to play a tour and it was very hard to organise this is a short time – we had nine days and in this time we both recorded and composed the whole album. I just brought some sequences from my synthesisers, most of which I recorded one day before going to Warsaw and they had two or three ideas, but most of them we made up in the studio – which was in a home for the blind.
It was very strange, every day we walked through this surreal atmosphere with the blind residents and their tapping sticks. We recorded this in nine days and we also had a really short time to mix it. All the recording and the mixing was done by Tobias Levin, a really great producer. So within one month the record was composed, recorded and mixed. Then we went on tour and we only had two and a half days to prepare the songs for the live situation but as we're all pretty experienced we could come up with solutions.
The original idea was to come up with something like a library record. We tried to explain our influences but that's dangerous because people always repeat the influences rather than listening to the music. Of course, the influences were important because they were just a way to have a common ground and some communication about what we like and everything else was just improvised in the studio – improvised composition, you could say.
[quote]I don't want to be a pop underground
star when I'm sixty on stage. I love
the genre of pop but it's just one of
many genres[/quote]
I always like the musique concrete/tape editing approach combined with acoustic or electronic rhythms and song structures so I like to combine elements that come from tape music or contemporary music, from a so-called experimental approach (this word is not really correct because you don't really know what will happen in the end) so our record was really an experiment.
So we use aesthetics from electroacoustic music and film music and combine them with elements of jazz-related… more a jazz feeling, not so much jazz feeling…. This is not a jazz record but you can hear that people have a jazz background. So this and some improvised elements, we had some other elements like in the track 'Too much light, too many suns' or in the track 'The Tired Hands of Madame Curie' which remind me of the music for Tarkovsky films or for Nouvelle Vague films.
It's not that we were sitting down and thinking this has to sound like that and that has to sound like that, it was more a general feeling. The fact [is] that we have a big collection of music and a big knowledge of music, from contemporary avant-garde to Sun Ra, Raymond Scott (who had a jazz background). Actually, it was a bit of a running gag [for us] to use the word jazz, because it's not jazz [laughs] but there is something in it which is more like the attitude of jazz in the 1950s: a jazzy way of composing the record.
Film music composers like Morricone, Krzystzof Komeda, what else? A lot of people said they can still hear a lot of my way of composing in there.
Some tracks have a trace of early 1980s Neue Deutsche Welle, can you comment on this?
Felix Kubin: I think it's because I have an old organ, I use this organ drum machine and this immediately gives a strong sound and then the lyrics are super-simple. It's just narcissism and music because I thought this is a very typical combination you find, everything's said by that and this kind of minimalism could be compared to some NDW lyrics or a way of creating tracks and just saying things simply, but the the tracks are pretty different in form and still it works as a whole album.
I was surprised about this because we were just playing around and trying many different things, making some sketches like number 8 on the CD ('Schnuersenkel'). I had some lyrics lying around, I brought several tracks and I was just playing a sequence on this Roland SH-101, the same sequence you can hear with a very different sound on the track 'The Tired Hands of Madame Curie'. I changed the sound and then they started to play a rhythm, and the brass section improvised and it sounded nice, so I said 'let's just record it'.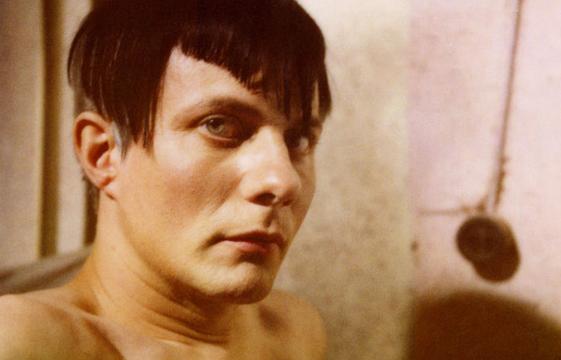 It's basically a recording of the room sound, only the drums are recorded with the close mic but everything else is the room sound, and then we edited some singing to it. It's also because we had such a short time and we thought 'we don't have enough tracks for the album yet, what do we do?' We were in a panic but if you have good musicians it's really possible to create something from the start.
It was a different approach to the double album I released a few weeks before, which took seven years, so it was the most extreme difference you can imagine in producing a record.
Can you describe your general aesthetic philosophy?
Felix Kubin: A lot of my art in general comes from certain life situations, some desperate situations or situations of panic or deadlines I cannot meet and so on. I like to bring this all in, to have a lot of influence from real life. While I was working on that I was also working on another album, a work of contemporary music, with elements of Hörspiel (radio dramas), which I also do. It's a very important part of my general work and it's most present in Germany because it's linked to the language. I was also working on another album which will be put out on a little label from Cologne as a tape release, so all happening at the same time.
I have certain aesthetics that I love and of course they are extended by my knowledge of composing and of different types of music, so I'm not very limited in terms of aesthetics but I do have a certain sound and people immediately hear that even when I work with different instrumentation. I think my interest in acoustic music and acoustic instruments and works with chamber music has been augmented… since 2005… and also the influence that comes from radio plays, all these different fields I'm working in influencing each other.
I was a bit surprised when people said 'he's working with a big band, he's doing something completely different now', as actually I've already done lots of different sounds since 2005. Echo House, the record I did with Ensemble Integrale is also completely different to my pop music, which is the best known and the most popular, but I'm doing stuff all the time and doing more and more in the zone between radio plays, even writing poetry and orchestral music.
I don't want to be a pop underground star when I'm sixty on stage. I love the genre of pop but it's just one of many genres. For me it's all a big experiment, but I like to combine different disciplines and see what happens. In the case of this record the alchemy was working really well and actually we played very good shows together.
Are you planning any British dates?
Felix Kubin: I'm not invited really to England but there's now a guy putting out a seven inch, it's called Care in The Community. He has a very nice concept, asking musicians to compose a piece for a player piano and I composed one in 2011. He will arrange a piano player to play my track and then release it. He's invited me to play Cafe Oto in June.
I played twice in London at Corsica Studios, the people who run it are really nice, both shows were really good. Then I played at the AV Festival in Newcastle, but not too much. Maybe it also has to do with the fact that they don't pay too well in England. I would love to play with the Mitch Brothers in England but it's always a big operation to bring them together, they come together from everywhere (in Poland). Some of them are serious composers and performers.
FELIX KUBIN mit MITCH & MITCH
Bakterien & Batterien
LP/CD Lado ABC/Gagarin Records LadoA/12/GR2030
Produced by Tobias Levin, Felix Kubin & Mitchiz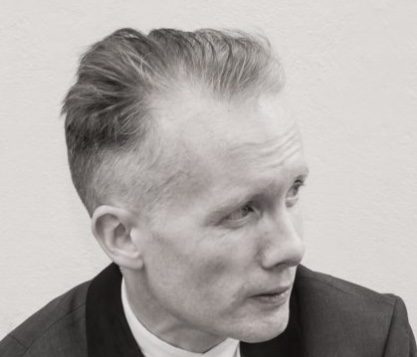 From Speak and Spell to Laibach.