British artist Faye Toogood is the founder of Studio Toogood, whose work spans a diverse range of disciplines including sculpture, fashion and furniture design. For this year's edition of the NGV Triennial in Melbourne, she has taken over the 17th century galleries at the National Gallery of Victoria with three large-scale installations that allude to the lighting effects depicted in the paintings of the Dutch Masters.
The installations assemble abstract, figurative sculptures crafted from found materials – Amazon packaging, car paint and canvas – alongside two tapestry works and objects selected from the NGV archives to create what Toogood sees as Gesamtkunstwerk, or "a total work of art" whereby all the separate elements come together to deliver the significance of the piece.
Arguably, this is an effect achieved by most, effective installations, but nevertheless, Fayegood initiates an interesting dialogue between space and time that exposes the artist's own making processes as much as it pays homage to historical works of art. She spoke to Millie Walton about domestic spaces, designing working with limited materials and capturing the non-existence of light.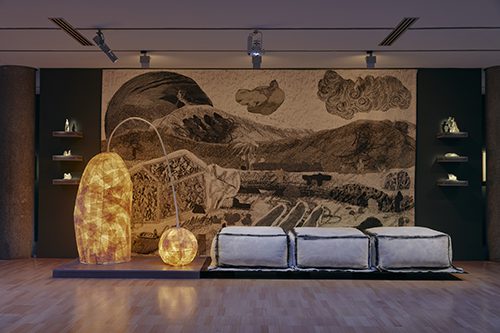 Looking at your works for the NGV Triennial, there's a strong sense of physicality and more specifically, the body in terms of the materials you've used and also the forms of your structures. Is tactility a central concern of your practice?
Materiality and therefore, tactility is always important in my work, whether it's fashion, furniture or an art installation.
I was interested in the idea of creating an abstract version of a contemporary family inspired by the multitude of portrait paintings on the wall. The Family Bust sculptures are my reaction to the Masters. 
How did working with limited materials alter your initial ideas, expectations and the completed artworks?
We had initially planned for all our sculptures to be cast in bronze and aluminium, but with the national lockdown restrictions, we embraced the nature of readily available materials we had to hand such as cardboard, paint, tape and canvas. Finally, we cast one of the sculptures in bronze as a reminder that our cardboard sculptures can be transformed, and continued into permanency.
Within different bodies of works I like the idea of limiting my material palette. These materials have a rudimentary connection to the 17th and 18th Century collection of artworks which was provided by NGV.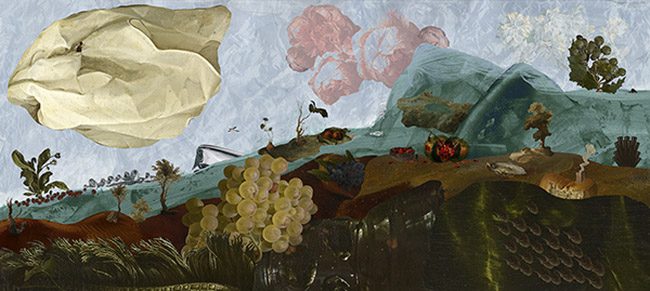 What was your process like creating these particular works?
Normally, the studio makes small-scale maquettes, which get scaled up to final size with our trusted manufacturers and craftspeople. However, this time we embarked on the full-scale production ourselves, retreating to a workshop during lockdown to make the sculptures and wall paintings.
Typically, we are very involved in the install of our works, and would make last minute adjustments to the final positions and arrangement, but my team and I weren't able to travel to the site this time. Luckily, NGV has an incredible in-house team on hand who stayed in constant contact and allowed us to participate in the install from afar.
I read that the scenography was designed to create 'a sense of domesticity'. Can you talk a bit more about what's meant by that?
With the theme of light at this year's Triennial, I wanted to evoke the domestic settings of the 17th and 18th Century, and the lighting or absence of light, in which contemporary artworks would have been viewed – specifically, daylight, moonlight and candlelight.
I wanted to take those historical artworks back into a domestic setting and out of the gallery context. I imagined the first Daylight room to be a courtyard, the Candlelight room a salon and the Moonlight room a bedroom.
Do you enjoy making site specific work?
I respond really well to spaces and creating site-specific works.  I like working with spaces steeped in history as well as blank canvases, whether they're layered with stories like NGV or an opportunity to create something completely new,  I'm always intrigued about what a difference an artwork can make.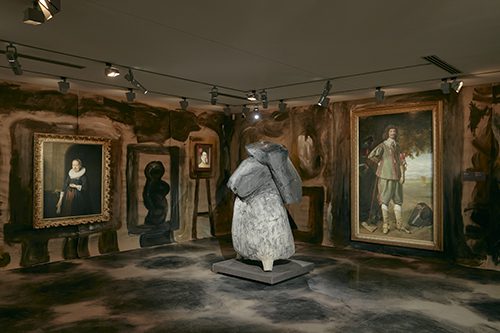 Aside from the history of NGV's galleries, what else drew you to the work of the Dutch masters and were there particular works or painters that you found resonated with your own practice?
I was particularly drawn to the Dutch flower paintings with their impossible arrangements of flowers that would, in nature, never bloom together. I captured details from these Dutch Master paintings and digitally collaged them together before commissioning the weaving of a giant Daylight tapestry to hang in the Daylight Room.
Additionally, I'm fascinated by the non-existence of light which Rembrant seems to capture in his portrait paintings. There is an art to creating something really dark. This self portrait inspired me to create the Candlelight room with its very low level lighting and Family Bust sculptures appearing out of the dark.
As an interdisciplinary artist and designer, do you see your work as part of one continuum or is it important to create some kind of mental, or physical separation between the different practices?
My approach to work is holistic. In the studio, we label the disciplines in which we work, but only so we can communicate who we are and what we do to the external world. For instance, we believe there is room for more design merging and opportunity between furniture and fashion and we'd like to break down these labels though our multifaceted work. Who knows tomorrow maybe we will design garments based on the NGV wall paintings! Our studio looks past boundaries and creates wherever it fits, with the best possible design outcome.
What's next for you?
We are launching our first homeware collection of sculptural table ceramics and hand-loomed throws in the Spring. There will be a lot of new furniture pieces and products coming from the studio too. Personally, over the coming year, I will be renovating my new family home in the countryside.
NGV Triennial 2020 runs until 18 April 2021 in Melbourne, Australia, with exhibitions at NGV International, 180 St Kilda Road, and at The Ian Potter Centre: NGV Australia Federation Square. Find out more: ngv.vic.gov.au
Featured image: Installation view of Faye Toogood's work Downtime: Daylight, Candlelight, Moonlight 2020 at NGV International, Melbourne © Faye Toogood. Photo by Tom Ross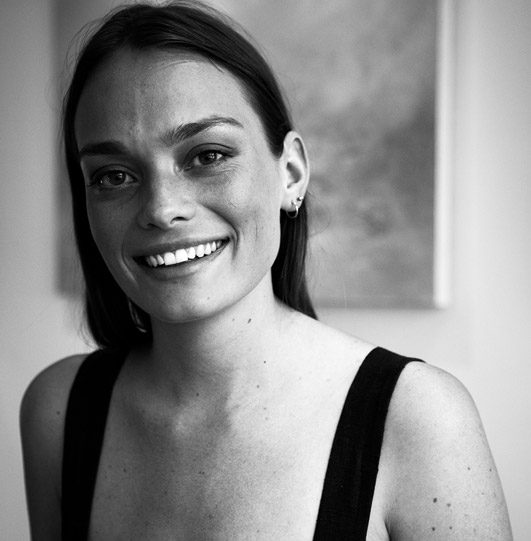 Millie Walton is a London-based art writer and editor. She has contributed a broad range of arts and culture features and interviews to numerous international publications, and collaborated with artists and galleries globally. She also writes fiction and poetry.