[dropcap style="font-size:100px; color:#992211;"]R[/dropcap]ecent talk has been much more about Afrobeats than Afrobeat.  It's a small difference, but a noteworthy one that has personal significance.
While I was living in Nigeria, Naija R&B was painfully ubiquitous. There was an endless repetitive loop heard  in seemingly every club, leavened only by the occasional added insult of something like the Black Eyed Peas' 'Tonight's Gonna Be a Good Night'.  Imagine my dismay upon returning  to the UK only to find that D'Banj et al were threatening to become flavour of the month over here as well.  Auto-tune has a lot to answer for.
This is not to suggest that there's no listenable Naija R&B, or that there is no worthwhile Afrobeat music being produced anymore when in fact, there's plenty of both. And I never expected Sir Victor Uwaifo or Fela Kuti
to still be the last word in cutting edge cool in Abuja – that would be like turning up in London wondering why Fabric wasn't playing anything by that hip new beat combo the Rolling Stones.
I absolutely love Nigerian music from the 1960s and 70s; even so, existing on a diet of nothing but P-Square and Ice Prince was a little bit tough on the aural appetite.
It was with interest that I picked up Fangnawa Experience by Fanga & Maalem Abdullah Guinea.  This collaboration between an Afrobeat group from Montpellier, who self-consciously draw on classic Nigerian and Ghanaian music, and a master of Moroccan Gnawa music promised much.  Overall, it didn't disappoint although first impressions were a bit mixed.
The opening track, 'Noble Tree', while listenable, is lamentably underwhelming.  There's nothing especially innovative about it.  You wouldn't find it difficult to believe you were listening to the late Fela Kuti, or at least an imitation thereof.  There's also not much to let you know that there's a collaborative effort going on between the two artists.
This is straight up Afrobeat funk with a bit of nu-jazz production thrown in.  At 15-odd minutes, there's plenty of time to dwell on this observation.
However, the second track throws in something more interesting.   The style is termed 'Gnawi', singular form of a word that defines the genre of music of which Abdullah Guinea is 'maalem' or 'master'   Reportedly derived from the Hausa word 'Kanawa', it means 'people of Kano.'  Kano is now a city in northern Nigeria, but for centuries past, it was part of a province closely allied to Morocco.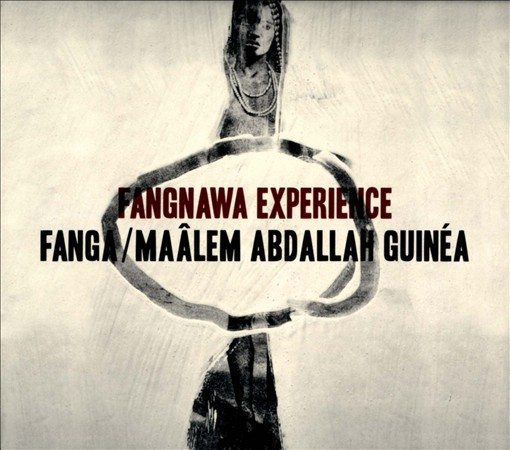 The track opens with a gimbri riff, and settles into a beautiful call and response groove where guitar and keys fit in seamlessly with the gwana chant.
By track 3, the whole thing starts to make cohesive sense. The rhythm from "Gwani" steps up just a touch into a track that puts the constituent elements of the first two tracks together into a sound that is properly danceable, and moreover, distinctive.  From this point on I was sold, so not even the occasional morsel of reverb sax or melodramatic guitar solo was offputting.
[quote]
simultaneously spiritual and deeply dirty
[/quote]
The final track, 'Wouarri', is a proper stomp, and what a great way to finish an album.  This could be the Headhunters (circa 'God Make Me Funky').  But it is not because of the vocals that manage to sound simultaneously spiritual and deeply dirty. This sounds like fun to play, and it's sure as hell fun to listen to.
It also sounds like it'd be stunning live.
You're probably more likely to see and hear this music in London than in Lagos. After all, 'Fangnawa Experience' has come via Montpellier, Morocco, with some West African inspiration tossed in, which  proves that you shouldn't always look for things in the obvious places.
And that's just as it should be.  One thing is confirmed though:  I still want my Afrobeat without
the 's'.
[button link="http://www.strut-records.com " newwindow="yes"] On Strut Records[/button]