[dropcap style="font-size:100px; color:#992211;"]W[/dropcap]riting about the process of creating this record, Dee Dee Penny – singer, songwriter, striking visual front and all-round creative force behind Dum Dum Girls – has described a committed but stumbling process of channelling her inner muse, fraught with setbacks including losing her voice through exhaustion from touring.
From the powerful lead single heralding this album, 'Lost Boys And Girls Club', it's clear that all the effort was worthwhile; that the muse has channelled something decadently nihilistic, appealingly rebellious and alluringly savage.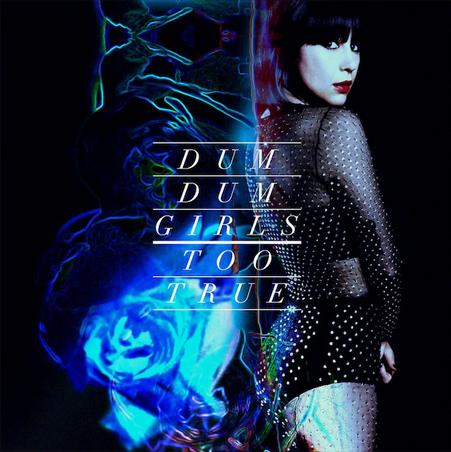 It leads with a hypnotic, lazy bass line and a guitar drunk on reverb – something of the sound of a call to arms, recalling any number of gothy 80s groups – before a dementedly distorted guitar lick fully conjures a sound that should haunt the listener's ears long after its running time.
Dee Dee's vocals hit a particularly lusty note as they add to this mix with some wonderfully well-measured lines on being of "the lost". "There's no particular place we are going / still we are going" she coos, with lyrics that paint dramatic pictures: all "things that all fall apart", "eyes like Xs" and "bind[ing] the pain, the pleasure". It's a heady combination, and a concoction sure to appeal to anyone ever even flirting with the identity of the outsider.
It sits just after the middle of this record, a Goliath centrepiece, but the songs preceding it on the opening half of the album are so appealing and such a pleasant listen that even with the warning of the track listing, it's easy to forget its impending presence – something that adds to its already impactful sound.
Overall, the record offers a sound both retro and distinctly contemporary. One that should be familiar to fans of the band (as well as any fans of The Raveonettes, whose main-man, Sune Rose Wagner, is one third of the established Dum Dum Girls production team, and whose musical fingerprints can be spotted all over this album).[quote]Why be good?
Be beautiful and sad[/quote]
It also boldly extends into new territory, with some sonic redistribution emphasising synthetic sounds, and making more sparing use the guitar sound that marked their earlier work (plucked from somewhere in the ether between the twang of classic rock'n'roll and the glorious din of The Jesus And Mary Chain). When a blast of rhythmic guitar breaks in to opening track, 'Cult Of Love', one minute in, it's a cathartic and exhilarating moment.
There are more delicate shades to some sections of the album, with the light-touch balladry of 'Are You Okay', 'Too True To Be Good' and 'Trouble Is My Name' all gently shifting the tone. There's a real range of musical flavours offered up, but consistent throughout is an inspired pop sensibility of finely-crafted choruses and an incredible knack for knowing where a gear change will dramatically drive a song into an impressive new direction.
This is done to great effect when 'Evil Blooms' swerves into a coda of "Why be good? Be beautiful and sad" – perfectly underlining the sentiment of many of the songs on show.
Dee Dee spelled out the outcome of her creative process as "Desire as muse; Life as experiment; a miracle for every failure and vice-versa." Committing these notions to record has been a pretty successful feat, surely worth the pain along the way.
Too True will be released on January 27th via Sub Pop