[dropcap style="font-size:100px; color:#992211;"]A[/dropcap] retroactive headsup for the witless ones who swallowed the redtop rabblerousing and Cool Britannia soundbytes.
Whilst you lot were refilling the void of personality left by your drooling race for demonstrable affluence, all 90s perma-adolescent and shiny fabrics; buying prefabricated identity by the armful in the form of allegiance to Blur or Oasis, Elastica, The Verve or, uh… Menswear [snorts], quirkier things were afoot at the margins. Things of delicacy and occult delight. All the while (and all-but ignored in the clatter of jingoistic pop-cultural willy-waving and 'caine troughing) an alternate thread of lyrical erudition was being woven.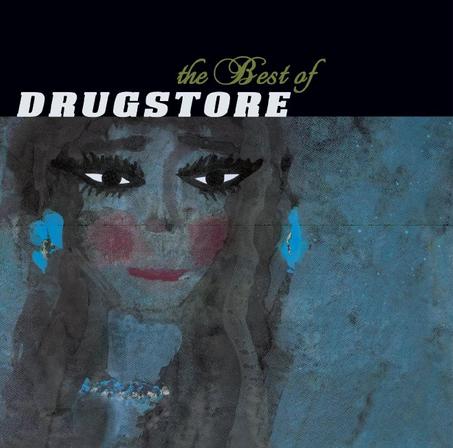 Too rarified to battle the fist-punching bro-nhomie of stadium loboto-rock; too sincere for the tongue-in-arse cheeky facade of mockney sauciness; too self-aware for the let's-sneer-at-the-rich-because-they'll-never-be-as-salt-as-us-gritty-working-class-art-students of the Jarvis school.
No it WASN'T Spice Girls: The Movie. Pay attention at the back, and put that phone AWAY!
Enough. You either know of Drugstore or you don't. And, let's be fair, it does sound like a Britpop name. But they were not. Are not. But neither did they ever quite build the popular acclaim that surely should have been the band's due.
A pity, but then, the lyrical incision and impatience with genre-form that is a hallmark of Drugstore or Radiohead might only ever thrive in a furrow cut across the grain of the drill, as shear-points feeding from the momentum of the mass, but oblique to it.
The Radiohead reference is appropriate, by the way, since a collaboration with Thom Yorke brought Drugstore their solitary top-20 hit: 'El Presidente'. That song features on The Best of Drugstore, as would be expected. Endorsement of the record-buying public is difficult to eschew, as is an artistic connection with the UK's leading figure of twist-eyed musical shenanigans and Spotify-bothering. The rest of the collection is less obvious.
It's a 'Best of', not a 'Greatest Hits', and thus a product of curation rather than market statistics. Which is fine, but doesn't answer the slightly panicky question that comes to mind on reading the tracklist: Where's 'Spacegirl'?!
A jangling build of euphoria that took its unmissable drive from fluid cello foundations, crackle-edged vocals from Isabel Monteiro and a strung out crescendo that brought trance's delayed-drop song mechanics to a glorious effusion of cut-glass guitar chords and the plaintive repeated howl of 'I wanna live like a SPACEGIRL!'. The song is not on the compilation. Alas. You'll have to buy White Magic For Lovers then, which is no great punishment.
Dreampop
That album is well-represented on the collection. They all are. The CD holds twenty tracks: from the no-wave, Lydia Lunch-ish vocals-over feedbacky Jesus and Mary Chain-meets-Velvet Underground guitar tracks (such as 'Devil', 'Solitary Party Groover' or 'Saturday Sunset'); to the more sophisticated builds of cello-underpinned grands chansons in 'I know I could' or 'White Magic for Lovers'. That would be enough to merit an album, but there is a third side to Drugstore – the one that saw them lumbered with the unfortunate 'dreampop' tag.
For a band whose sound as often draws on pedal-steel Country & Western as it does on heavily-reverbed heroin guitar, the dreampop label is only occasionally apt. Perhaps it is because Isabel Monteiro's lyrics on their slower, softer songs are more easily discerned than when placed against the roar of feedback and percussion. There is an upside-down, off-kilter mien to Monteiro's lyric-writing that is made stark against a simple backdrop. A lovesong comes out as a threatening, if terrified, list of the powers that go with attachment:
'Leave a stain on your heart
I could mess up your life,
Make you forever blue,
'Cause I could hurt you,
You know I could'
Elsewhere, on 'Accelerate' or 'Superglider' there is a wistful Blue Velvet atmosphere of motels, lap-steel and bourbon that, whilst convincing, lacks the raw exposure of emotion that is revealed in the best of Monteiro's vocals. A secret track pinned on the end of the record revisits 'Say Hello' in calling out Drugstore's quirky manifesto:
'Say hello to all the junk-heads, all the prostitutes and freaks,
I say hello to all the people in the world'
That exuberant, carnivalesque celebration of diversity and (what was then) alternative lifestyle comes across strongest in the tracks from White Magic for Lovers, whose title track recounts (against a gradually filling soundscape of clashing guitars) a list of folk remedies to win back lost love. [quote]Maybe it's musical Marmite,
inspiring only deep devotion
or outright contempt[/quote]'The Funeral' builds on that magic-realist foundation, bringing a gypsy sideshow polka treatment to the narrator's ambitious designs for her own funeral. It's joyful, tongue-in-cheek stuff, also evident on 'Little Girl' – which sets life lessons (of the 'fortune favours the brave' ilk) against stroked guitar, cello and recorder.
Song for Pessoa
'Song for Pessoa' though, is the masterpiece. On the face of it a simple, heartfelt lament on the death of the Portuguese poet ('All the people gathered/ To see how he lived/ But tonight the poet sleeps with me). That cracked, sad voice of Monteiro's though, elevates the eulogy to something much more. With it: the assured feminine offer of succour, refuge and (from the same hand which penned a line in 'The Funeral' hoping that her ex-lovers will agree 'that I had a cunt made of gold') fuel to fire a thousand observations on the Madonna/Whore complexity in the modern woman.
Irrelevant. What makes 'Song for Pessoa' special is the evocation of Portuguese 'saudades' – a yearning nostalgia for a glorious past now faded, combined with stoic melancholy at opportunities missed. A trope that Portugal still clings to as its defining characteristic. Every sizeable town in that nation hosts a Pessoa Street in honour of a most human modernist poet who, in a style somewhere between Joyce and Proust, provided a small nation with a sense of cultural worth through the leaden fascism of Antonio Salazar; the wrenching and bloody (see East Timor) mess of de-colonization; and the lapse into a calcified and irrelevant peripheral nation of the Euro superstate.
'To see a flame in the dark gently disappear'
For small nations, sporting and cultural figures gain importance. Just to know that there's something world-class about your forgotten state is balm. Monteiro, of Brazilian extraction, taps that wellspring of emotion with skill and subtlety on the track, whispering Pessoa's own lines on the outro against a simple acoustic guitar figure. A hummed melodic motif from, perhaps, 'Goodbye Ruby Tuesday' closes. Crippling stuff, in the best possible way.
Maybe it's musical Marmite, inspiring only deep devotion or outright contempt. Drugstore are not static enough to pin a genre upon: Monteiro's voice veering wildly between the fragility of Hanna Tuulikki and the raddled knowingness of Stevie Nicks, via Kim Deal, Nico and, ultimately, herself. Marmite, perhaps, but certainly worth knowing about.
The Best of Drugstore is a fine introduction.
[button link="http://www.drugstoreband.com/" newwindow="yes"] Drugstore[/button]

Sean Keenan used to write. Now he edits, and gets very annoyed about the word 'ethereal'. Likely to bite anyone using the form 'I'm loving….'. Don't start him on the misuse of three-dot ellipses.
Divides his time between mid-Spain and South-West France, like one of those bucktoothed, fur-clad minor-aristocracy ogresses you see in Hello magazine, only without the naff chandeliers.
Twitter: @seaninspain