An easy album that reminds of JJ Cale, Ry Cooder and the Celtic love affair with smooth folk-country.
Adult Acoustic. A domain legendarily populated by the troubled, drunk, sex mad, violent and jail-prone stereotypes that rarely trouble the charts, but in Declan Sinnott they might be given a scare.
"I love the noise it makes" (apparently a John Lennon riposte to a technical question) is a very tasteful affair that smacks of quality musicianship and solid songwriting. Perhaps too much. Despite the title there isn't much wild noise but carefully cultivated, almost muted, statements.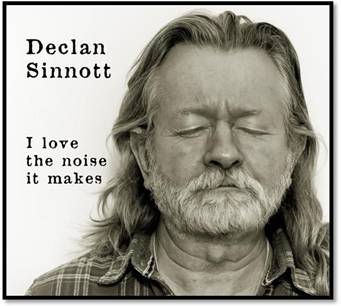 Where the album falls short is where it tries to 'rock'. Where it soars is when Sinnott channels for delicate and intimate material such as on 'I See the World From Here'  where the interplay of acoustic instruments shows a true master's touch.
Sinnott's surrealist yet pastoral imagery is perfectly accompanied by call and response melodies of acoustic guitar propelled by hints of drums and pulsing bass. However it's the subconscious tastes of piano that add a mystical temperament to this beautiful track.
[box] This is relative screaming, mind (i.e. slightly raised voice, as in calling for a bill from a nearby waiter in a polite restaurant). [/box]
On  'Me and My Dark Companion', (Dexter Sinnott anyone?) the singer tells us about his searching for a place of hope and his internal conversations without and within, before screaming 'stop this noise'. This is relative screaming, mind (i.e. slightly raised voice, as in calling for a bill from a nearby waiter in a polite restaurant).  But screaming none the less, and pointing to the songwriter's tension between the world and the ideal.
As a sideman of the legendary Irish singer Christy Moore, Sinnott has shown himself over the years to be a fantastic medium of music and superlative arranger. However, I wonder whether the decades of smoothing material has meant that it's hard for him to cut loose, blow some fuses and shred speaker fabric.  Those destructive noises that the listener cries out for, if only to compliment the sentiments on tracks like 'Ocean', where clashing chords instead of quiet ire would match the fire and vitriol of serious pronouncements about the city and its evils.

There are some obvious influences of musicians like Ry Cooder in the use of slide, and tonally, JJ Cale in the structure of the music, however it's acoustic jam music that rings out loudest. If you listen to Billy Breathes by Phish, with its elliptical structures and musical interplay, there is a lot of commend Sinnott's album and it is in the instrumental passages that he really shines.
Whilst remaining within the blues idiom and speaking through his guitar, Declan Sinnott is a trippy guy. Listening to his stringed bird chariot exit the stratosphere of planet acoustic, one gets a warm summery feeling that is a hard buzz to harsh.
Recommended (with Pimms and a lack of pressing concerns).
Out on Warner Records, 10th September
[button link="http://declansinnott.com/" newwindow="yes"] Declan Sinnott Official[/button]