[dropcap style="font-size:100px; color:#992211;"]W[/dropcap]ith releases spanning two decades, Cristian Vogel is widely recognised as one of the more thoughtful and inventive producers of his time.
In the 1990s he produced extremely innovative techno and electronic music released on some of the key labels of the era including Tresor, Mille Plateaux, Nova Mute and Mosquito
[quote]songs function as
multidimensional maps for
navigating the Spiritual world.
I guess I always of think of
music in this way[/quote]
(which he established with Si Begg). In recent years he has moved ever further from dance music, producing theatre and dance soundtracks, artistic and even academic projects (Vogel studied 20th century music at Sussex University).
His post-dance trajectory symbolically culminated in a playful 'Dear Partyscene' letter posted on his blog in September 2014: "I wanna fulfill my dreams of being a serious composer and that means spending no more time in dark clubs with you and all my time in warm studios working on my music. So I gotta say goodbye."
In November he released his second album for Berlin's eclectic Shitkatapult label, Polyphonic Beings, whose artists he's also remixed. The album is as immaculately produced as Vogel's long-term listeners have come to expect and encompasses a range of moods and atmospheres.
He claims that " … our 'songlines' are contained in our technology, we are technological beings" and this forward-thinking spirit is still at the heart of his work. Even as he drifts away from the techno scene he was such a vital contributor to, he does not deny his history, even quoting the message carved into the B side of the 1992 Underground Resistance vinyl Seawolf: "Brothers of the Underground transmit your tones and wreak havoc on the Programmers. This is war."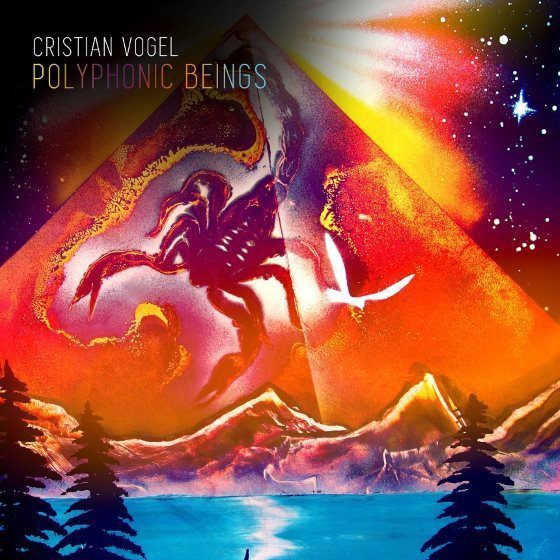 Alexei Monroe spoke to him about this idiosyncratic release, one of his strongest in recent times.
---
The album was recorded over a year in various locations – is there an influence from these specific places or times on the tracks?
Yes, in fact I set about travelling in order to allow the music to be influenced by the places and times. That's not to say that this is simply a travel diary of an album. The songs do have stories in them, and characters but they are not necessarily temporaly or geographically fixed to the places where the music was conceived.
There's a Bruce Chatwin book called Songlines which describes the role of music in aboriginal culture, especially in the 'walkabout', where songs function as multidimensional maps for navigating the Spiritual world. I guess I always of think of music in this way.
Was it a challenge to assemble the tracks into a unified album?
Yes, it was a challenge right until the mastering room, when the lathe starts cutting, the sound of the material or even the track order cannot be changed. Like always, there's so many careful decisions to make from the very precise ones during technical composition, to the broad, significant ones like artwork or titles.
There's quite a strong dub presence – is dub important for you as an inspiration and do you see yourself working more with dub elements in future?
I have ambivalent feelings towards words like 'dubby' being used to describe my music. What does it actually mean? I don't really see any connections with my music and Jamaican music, and I'm not reworking band recordings with studio effects to make versions. If you mean the application of certain techniques like delays and smearing with hands-on the board performance then yeah. I do some of that sometimes, whatever it takes.
You quote Stockhausen in the album's sleeve notes – do you feel closer to the pioneer of elektronische musik or to the cosmic Stockhausen of later years?
Stockhausen's music is very challenging to listen to, and I can only truly understand some of his theoretical work now, after over 20 years working with sound and computers. I read somewhere that he spent 20 years studying composition, signal and acoustic theory before making his first compositions on tape. The whole Sirius thing is pure Mu-Psi at its most unsettling. Of course I experience strange things too working with the energies in music for such a long time.
You've been with many labels over the years, why did you settle on Shitkatapult?
I can't say I am settled. Its not the only label I work with, but I like that they come from a club scene mentality and acknowledge that influence on an artist like myself, without cramping the style of the music I want to release now.

Are you still trying to push ahead with new techniques for each release or are you now more concerned with perfecting your craft?
I always push for new techniques in my craft and in my life. I want a certain excitement in my creative work and that takes rigourous dedication.
What's the balance between analogue and digital techniques and equipment in your current work?
I work only with digital sounds for synthesis and signal creation, and high end analogue equipment for mixing and recording.
You've spoken about the 'musical revolution' you were deeply involved in in the early 1990s. Where are we now, 20 years later?
What was revolutionary then is now routine and there has also been a
strong counter-revolutionary movement against electronic music.
Is a 'permanent revolution' in electronic music possible or desirable?
The extensive power that electronic technology gave to music, allowed it to expand in so many dimensions, its difficult to comprehend. Revolutionary in the sense of spinning around, yes … music is still compressed by DSP algorithms and encoded as MP3 for transmission over data-networks.
Think of a Fibonacci spiral. There is no way back.
[button link="http://www.shitkatapult.com" newwindow="yes"] Shitkatapult[/button]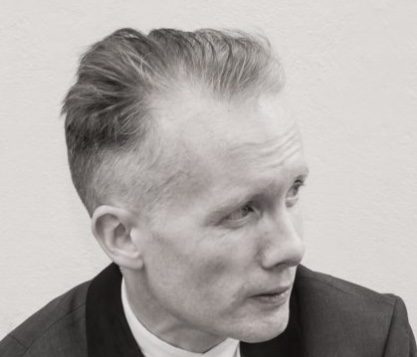 From Speak and Spell to Laibach.