As with many gigs around this time of year, this was something of a competition: bands versus football. One end of The Macbeth was rather dominated by a projector and screen (showing an entertaining Euro 2012 match), with the stage at the opposite end. When my attention was diverted towards the stage by some light, chipper and twinkly sounds, and I saw a guy wearing a bright Sonic Youth t-shirt and gas mask, I instantly knew which way I'd be looking for the next half hour or so.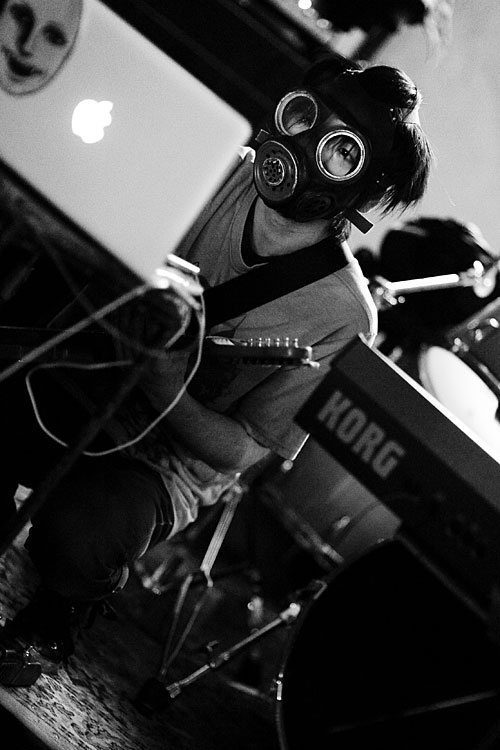 The ambience of Umez's introductory backing track was summarily torn apart by the gas-masked man assaulting the audience's ears with some intense and grating (yet somehow not un-tuneful) electronic noise. He was soon joined on stage by the female half of the band – also, I'm informed, a member of charming London-dwelling Japanese popsters, No Cars, a band who employ a put-on naivety in the pursuit of joyously under-cooked indie pop-punk.
grating (yet somehow not un-tuneful) electronic noise
I really didn't expect the retching and howling she dramatically performed into her microphone, quickly engaging in a noise-on-noise shouting match against the on-going torrent of squelchy and distorted white-noise and static. I've always found confrontational musical two-pieces like this very entertaining, a taste I blame The Kills for.
The addition of a guitar and bass to their arsenal of electronics and an eventual migration of vocal style to something a little off-key and flat, but sweet and unthreatening, helped to open up their sound and take them on something of a song-by-song journey towards a more conventional musical approach. The addition of a drum machine and a little guitar-sampling loop pedal use for their finale completed the transition and by the time they concluded the song by pairing those toned-down vocals with some tunefully feedback-drowned guitar, all the pieces had slotted nicely into place.
tuneful, domineering but never overbearing, bass
Another drum machine is central to a lot of what Civil Civic does, literally. Set up centre stage, given pretty much a full position as a third band member, was a neat little box of gizmos, showing off to the audience a set of four LED squares, set to light on different simulated drum sounds. This lent a little physical rhythm section presence between Aaron Cupples, playing awesome hi-fi guitar licks, and Ben Green, on tuneful, domineering but never overbearing, bass duties, with both also taking on some keyboard and synthesiser work, often without really breaking from their main instrument. They make for a pretty awesome and exciting spectacle, occasionally crossing the stage to seemingly feed off each other's energy.
"Play the hits!" demanded one of this appreciative audience early on. "All of them!" And this shouldn't justifiably be funny – their album, 'Rules' is almost incessantly glorious. The lack of any vocals do nothing to diminish how engaging, inventive, catchy and hook-laden these powerful and oddly nostalgic tunes are. The record plays like a collection of theme tunes to brilliant TV shows nobody's ever heard of. They do a good job of re-tooling its running order to fit their live show, with more gentle numbers like 'It's Krill' building to powerful ought-to-be anthems like the brilliant 'Run Overdrive'.
A little power was lost in some of their live interpretations and the odd mistake was difficult to ignore in the setting of such well-crafted material. Their stage presence was also diminished twice by a stage invasion of gesticulating, self-aggrandising prats (OK, in all likelihood the band's over-enthusiastic mates, and they were jokingly thanked as "The Civil Civic Dancers", but in the eyes of this reviewer/miserable sod, it was uncalled for, detracted from the band's ability to perform and made all involved look like attention-seeking tossers. Bah, humbug, etc.).
These are small complaints though, when you're able to see the complexity of some of the onstage tasks they've set up for themselves, and when you take into account that they're currently more out of practice than they ought to be – visa problems having led to this gig being the only date of a planned trek across the continent, and other issues apparently thwarting the live plans for this supposedly cursed band.
By all accounts, more satisfying and entertaining than the second half of the football, by the time Civil Civic ended proceedings with their joyful surf-inspired tune, 'Grey Nurse', no-one can have left disappointed.
Those who didn't want to know the score were looking the right way.
---
At The Macbeth, Hoxton