[dropcap style="font-size:100px; colour:#784468;"]T[/dropcap]he full might of pump action Cop Killers Body Count was about to be unleashed on London town and the night was gently lubed up with two very pleasant and unexpected musical treats.
We put our black gloves on and the chant went out early for Body Count but greasing the hole to slide us in oh-so-gently were curly haired Spanish classic metal rockers, Crisix who kicked things off in true head banging style. Following swiftly on with barely time to get to the bar, Cardiff's very own Astroid Boys stretched things a little wider, combining rock, punk, hip-hop, grime and politics into a forceful catchy blend. Both bands new to our radar, both showing they can totally showboat and shine onstage and both equally deserving of headlining themselves (catch them when you can).
"The full unadulterated force of Body Count live was really something extraordinary to behold"
Then, from out of the mounting tension sprang forth Body Count. A band that's been punching for nearly three decades, driven by the truly outstanding guitar work of founding member Ernie C and fronted by musician, rapper, songwriter, actor, record producer, author, blah-de-blah-de-blah Ice-T.
On the back of the latest Bloodlust album, and in the shadow of Criminal Behaviour Orders preventing five young Londoners from making or performing Drill music without police permission, Body Count hit Camden square between the eyes with their unmistakable mix of thrash metal and rap (Thrap?), the perfect amalgam for expressing rage and injustice. Pulling no punches, musically or lyrically, they blasted through their set including Manslaughter, No Lives Matter and Cop Killer. Only ever previously sampled by us online, the full unadulterated force of Body Count live was really something extraordinary to behold. Comprised mainly of middle class white men, including Darth Vader squished unceremoniously between a swathe of writhing sweaty bodies, the audience's auditory and visual senses were smashed with Body Count's powerful and potent onslaughts on racism, class inequality and police brutality.
"Like a black Billy Fucking Idol, he continually squinted out at the crowd"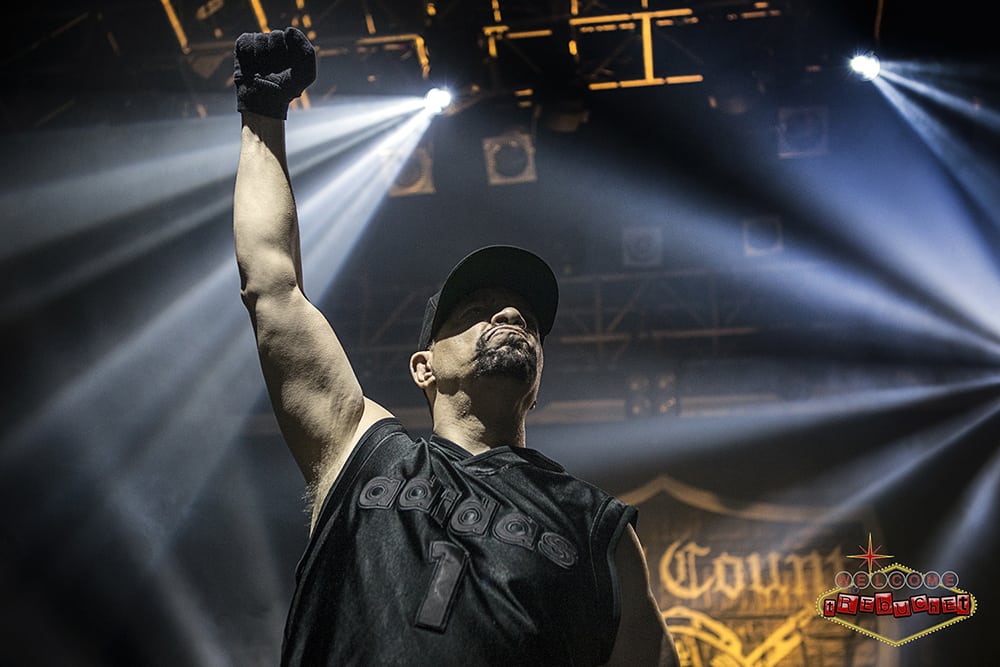 Flanked by a masked faux guard (with flagging deltoids) holding a faux pump action 12 gauge, a sprinkling of theatrical fear enhanced the very commanding presence of Ice-T. Like a black Billy Fucking Idol, he continually squinted out at the crowd with clenched fists and trademark sneers, and proceeded to pour water all over the shoulder-to-shoulder photographers in the press pit, to which we say, Sir, we enjoyed your show but you are a complete MUTHAFU@KER.
[youtube https://www.youtube.com/watch?v=Vu1vrb-cvwU&w=560&h=315]
If you want to get your camera gear soaked anytime soon, Body Count will be playing the Louder Than Life Festival in Louisville, KY on 29th September.
Review by Carl Byron Batson.  Body Count played Koko in Camden on 12th June 2018.
All photos copyright Carl Byron Batson – not to be reproduced or used without express prior written consent

Photographer, published poet, former party animal, body builder, grave robber
to the stars and renowned chainsaw juggler, Carl can often be spotted on his
Harley Davidson pretending to be in Terminator 2. He is also frequently seen in
the press pits of old London town, camera in hand, avoiding being hit by bottles
of wee and crippling his opposition with secret Kung Fu moves.