A Retro-rock night and musical fashions, anachronism, mending old ground, conversational racism and phenomenal guitar playing.  Let's burn something.
The Borderline is a place where Rock and Roll is the only star. As you wander down the sagging stairs past billboards of famous people, you see once-young familiar faces peering out from under proto-celebrity visages. They, like you, are caught expecting so much, and musing the night's selection you wonder which end of a musician's career brought them here. Whatever the career trajectory a Borderline night starts with a descent.
Hitting the basement the first thing that hits a punter is the inescapable and profound stink for which the venue is famous. Here, ventilation is a complex and foreign word. Nothing escapes the Borderline, it condenses everything till under pressure it explodes, with luck taking the audience with it.
Inshallah, so shall it be… Rock and Roll will never die and not even fire will kill it. Despite objections about the lot of modern music there is a serious and healthy scene in London. It's Tuesday, the venue's full and this isn't rare. On any given night you can see a passable band playing a great set to a taken crowd. Somewhere, on some dimly-lit stage there is a band reaching above themselves and the city's cynicism, playing a show they'll refer to with offhand but heartfelt satisfaction in years to come.
So it was with the The Zipheads.
A local band playing straight down the line psychobilly, what they're still deciding on musically they've claimed visually, and with gusto. They sizzle on stage, they strut, they spit, they flex with the detached cool of a tourette's-suffering epileptic at a Father Ted convention. Yeah it's shtick – Dressed up geek-punks, sporting some 'Z' emblazoned sunglasses and on-cue snarling – but so what? Shoegaze was lovely but now is the time to shine.
That said, while the Zipheads have mastered the quiffs and the one-two, fuck-you amphetamine rush of Stray Cats-era rockabilly, their rock solid songs ring a bit stock. They've got the makings of an above-ground outfit but have a ways to go yet before they can punch an audience to the floor with conviction.
Anthemic choruses are great but if they're not lyrically memorable (a hard thing to get right and one that few bands actually manage) then they'll never gel with an audience. The thing that any band has to face is that a memorable chorus hinges on actually having something to say.  At the moment it feels as though the Zipheads are honing their craft and making sure ingredients are right before striking out on their own. Consequently, while the energy is right and the shouts loud, it feels like they are taking fewer chances. I'd be happier if they faced alienating their genre-based paychecks, took risks, and got weird!
…and so the following shouldn't necessarily be taken as a indictment against the rude and rising band but more as an entreaty by a fan who wants to hear more of the magic.
In a number of songs the guitarist Ray utilises a very similar sounding arpeggio for each of their raucous breaks. It's not bad but they should try using punctuating pauses, changes of pace, key, mode or even emphasise repetition to greater effect. The key thing any band should avoid is having a set that comes across samey –  which it did a little bit.
One of the main ways to avoid a plateau of energy is to have variations in tonality. Both amplifiers and guitars have a number of emotive settings that can be used to create a varied sound even if the songs and/or their structures are less differentiated.
It'd be great to see a revival band really investigate the era.  What else was happening in that period? – exotica, space travel, cultural revolution, sexual liberation and the creation of the 'teenager' as a marketable proposition.  Just as Sci-fi uses the future to imagine our society's problems against a different backdrop, it's not only possible but necessary to use the anachronisms of retro rock to raise blisters on today's infections.
I'd like to see The Zipheads bring out a roto-vibed and chorused farsifa organ mid-set, re-imagining the Chemical Brothers as the Wisconsin Kramiski brothers, a 'hyper loud tail-fin and space age' psych band, and bludgeon the audience with a cross between the 13th Floor Elevators and the Silver Apples.
Despite all these well-meaning concerns The Zipheads know the way to rock, and watching them coax a fantastic and original rendition of the Clash classic 'Daddy was a Bank Robber' was a genuine pleasure. Perhaps even a 'must see'.
irrepressible energy and positive attitude
Next on the bill were the frank and worrying Death Valley Surfers, who played so loud that I couldn't really tell one song from the next. They are a great band that have been on the scene for a number of years with a variety of lineups, and their mix of country, surf and psychobilly is really a vehicle for frontman Russ Surfer's irrepressible energy and positive attitude. They are a serious party band and have learnt that doling out tequila to an audience mid-set wins friends and makes for strong impressions and facial expressions.
The volume was a problem for me, it swamped much of the melody and the dynamics got lost. However, in the fuzzy interlude of medium loud I sensed a talented band capable of tasty licks, punctuating horns, and the right sort of psychobilly soul that justifies their existence.  Without a doubt they'd come into their own if the crowd was a bit drunker and it wasn't a Tuesday. The same could be said for any band, but Russ and Co took the party to the crowd like pros and I'll see them again.
As the Death Valley Surfers left the stage amongst strong applause and pats on the back we were pretty sure that whatever our foreign guest Bob Wayne was to dish up, our UK representatives had acquitted themselves admirably.
Listening to Bob Wayne over the preceding weeks I wasn't necessarily sure what to expect from the live show. Outlaw country being lampooned and championed all at the same time reminded me of that great writer/performer Kinky Friedman ('They ain't making Jews like Jesus anymore', 'I'm proud to be an Asshole from El Paso'). An artist whose love of country was met by his distaste for its more backward proponents – usually the wider (in many senses) country audience. Where then was Bob Wayne's show going to fit with all of this?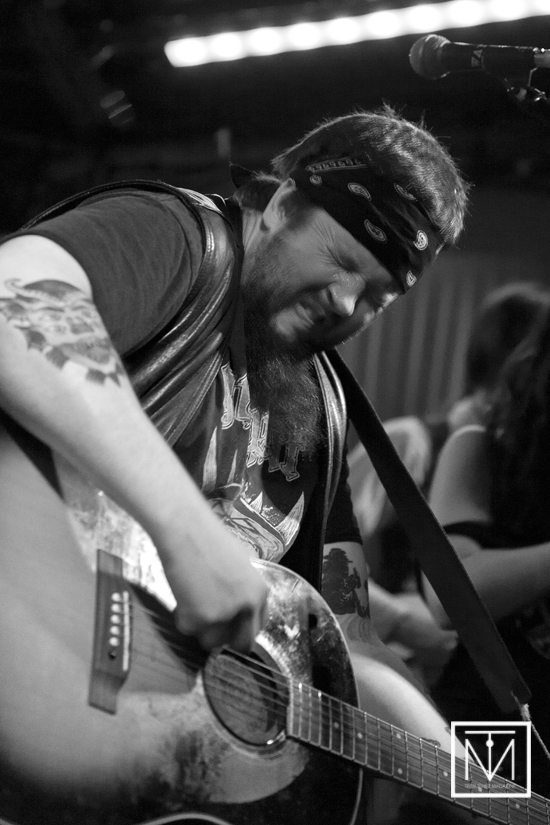 As the band struck up the first song of rollicking country the atmosphere was upbeat, the songs were fun, with lots of references to trucks, driving, drugs and drink.
It was a party.
His songs are raucous stories of down home anachronisms, patriotic sentiment, good times and a superfast guitar playing. I admit that the interplay between the fiddler and lead guitarist had me completely transfixed: that guy's riffs are immense and his fretwork is so blistering that even his guitar couldn't keep up. It seemed inevitable that the poor instrument would break, but tragedy all the same when a broken string halted the show.
The Economy is slowly dying, them Muslims, they're multiplying
As the string was being mended Bob Wayne said he'd play a song that someone in the crowd had requested, he apologised in advance for messing it up as apparently he hadn't played it in a while.
From the start of the set Bob Wayne is a eyeful of a performer; jumping about, screwing his face up, hootin' and hollerin' as his practised hands played the songs on automatic pilot. As he started to play the chords to '2012' he stood stock still, and with a very serious face started to sing. Compared to the party vibe, the tone in the room dropped noticeably at the lines about 'The Economy is slowly dying, them Muslims, they're multiplying, things ain't just what they used to be'  and further for 'America's for sale and it's the A-rabs and Chinese that are buying'. At least in some parts of the room. In others, rebel flags were waved about and boots stomped on the ground.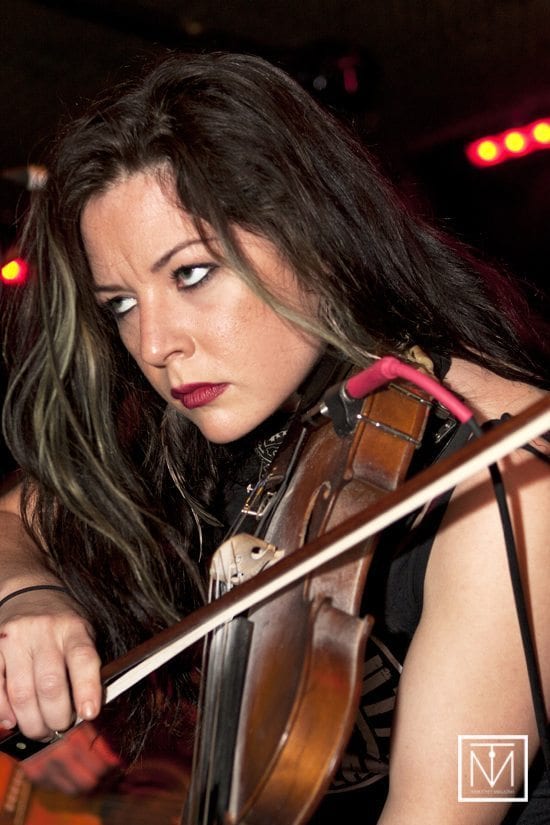 Where did the party go? Was Bob's cold delivery a rusty performer remembering the lines or serious sentiment? The lines themselves seemed rather tame parodies of backwater polemics. However, given walkouts during the concert and barrage of devolving 'discussion' on the internet afterwards, it was clear that things had gone a bit South.
Now whether Bob Wayne truly believes that the world will end in 2012 we don't necessarily know, but we do know that he's a sober guy that sings about drinking, so it's pretty clear that he doesn't feel that he has to live every one of his songs. Assuming then that along with his other apologists he's just having 'racy' fun, he'd probably do better to let the audience in on the joke more. But then why should he…? Isn't edgy music supposed to be edgy?
it was clear that things had gone a bit South.
If satire is the aim then perhaps Bob is too good, too po-faced and too convincing. But then, he is in good company.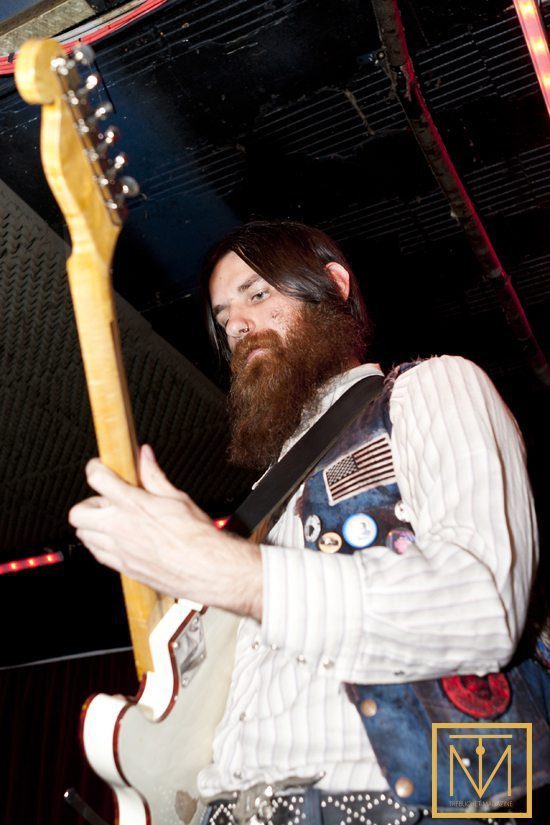 Merle Haggard wrote 'Okie from Muskogee' as a satire of some country audiences but it became a defacto anthem and threatened to define country itself (to the dismay of many southern artists, outlaw and otherwise). Closer to home, anti-pop band Chumbawumba's anthem 'Tubthumping' suffered the same fate. As did Springsteen's 'Born in the USA' elsewhere.
Songs take on a life of their own and the danger in presenting the views of others as your own is that people take you at face value. Simply put, the character within '2012' is a reactionary bigot and on the night it was taken as such by some quasi-racists and liberals in the audience.  Perhaps they're right in their straight up appraisal but I'd prefer to think that, like the pinnacle of popular American drama (the WWF) we're asked to boo the heel as a paper-thin veneer of the values he stands for.
the danger in presenting the views of others as your own is that people take you at face value
With Merle not taking the front place of saying that Okie was a satire (why ruin a good run?) it was up to Chinga Chavin to drop 'Asshole from El Paso' – a cult hit that left no doubt who the band were laughing at.
Just as Okie represented a group gently ribbing their own and telling them to chill out, perhaps '2012' does the same thing? In the end it's a shame that the night became about this one song and how many racists were in audience. I thought Bob's band the Outlaw Carnies were excellent and the songs fun. I don't know whether I'd go again though.
Do something nice for your friend next door,
think twice before you call your wife a whore.
It's the little things in life that make it count.

– Bob Wayne '2012'.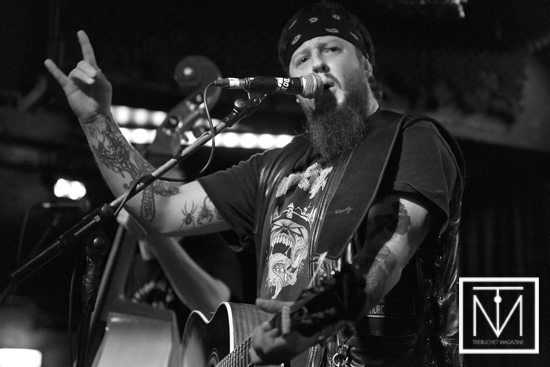 June 5th 2012, The Borderline London, UK
Bob Wayne and the Outlaw Carnies
Support from: The Zipheads,The Death Valley Surfers.
http://www.savingcountrymusic.com/tag/bob-wayne
Photos: Carl Byron Batson