[dropcap style="font-size:100px; color:#992211;"]M[/dropcap]y relationship with Russian Folk metallers Arkona can be best summed up like so – I tried, but even alcohol couldn't help me like them.
I first encountered them back in 2006, – they were already notables on the folk/pagan metal scene, so I gave them a try. They left me cold, and not in the nice Barren Russian Winter way, either. But I felt there was missing something here, that Arkona were one of the dreaded slow burners that I just needed time to 'get'.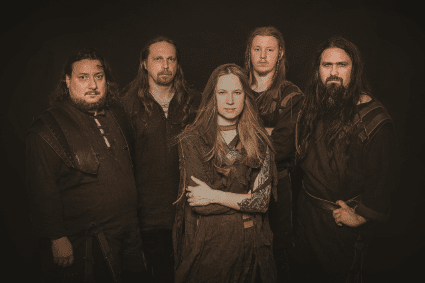 As was often the case, I decided to 'get' them via the medium of alcohol. I tried mid-range Sainsbury's lager. I tried real ale. I tried cocktails. I even tried fruit cider. Nothing. Zilch. I even went so far as to try it on my own homebrew. Suffice to say, nothing came of it, though I do remember ending up watching the video to Röyksopp's "Poor Leno" and sobbing inconsolably. In short, whether pissed or sober, I just couldn't get Arkona, as much as I tried.
Fast forward to the godforsaken shitpile that is 2016, and I find myself reviewing a re-recorded version of Arkona's 2004 debut, Vozrozhdeniye. Could I finally get it, sober and unfettered by low level alcohol poisoning? I gave it a shot [Arf! – Ed.]. On a superficial level, of course, Vozrozhdeniye is a clever, inventive and versatile album. Lead vocalist Maria Arkhipova clearly demonstrates her range as ever, ranging from shrieks to chants, to rasps, to croons, to whispers, to rolling her Rs like Evelyn Glennie discussing Afrrrrrrican rrrrrrrhythmic rrrrrrresonances and rrrrrrrock knockers.
The band's combination of mid-tempo, faintly epic metal, folk instruments and keyboards goes together well, while each song is varied and distinctive. Even the bass stands out (Ruslan Rosomaherov, take your bow, oh leader of the neglected four string metal brotherhood), helped no end by the fact that the production actually lets you hear the fucking bass in the first place.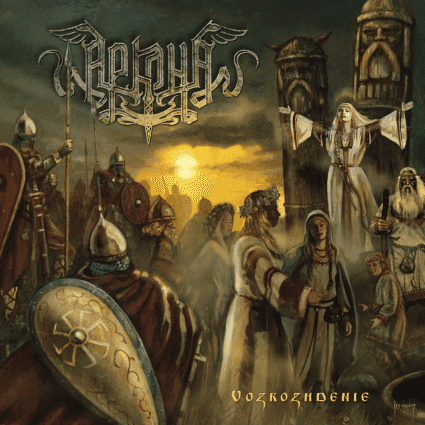 But still, with or without enough booze to prevent me operating heavy machinery, this album leaves me cold. The truth of the matter is that there are bands far less accomplished and precise than Arkona who, nonetheless, have a vital spark Vozrozhdeniye doesn't have. It's hard to describe; perhaps it's like the difference between a day out in the woods and a day spent staring at a shrub. There's just not enough life to the latter, nor with this album (nor the Arkona oeuvre in general).
So what have we learned today? Well, firstly, alcohol does not make you a better reviewer, though it does help you get through those long, dark nights of the soul when you need to write 250-odd words on yet another shit screamo band.
Secondly, it is easy to appreciate Arkona, their polish and the work they put into everything, but it's hard to actually like the end result regardless.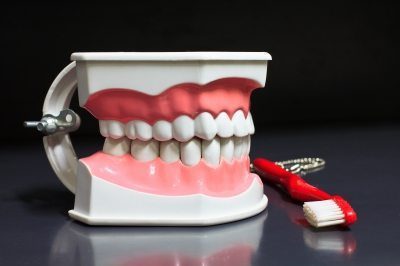 Alexander Hay is a writer and polemicist based online and in print.