[dropcap style="font-size:100px;color:#992211;"]L
[/dropcap]
aunched in the 1970s by Japan's oldest major movie studio, Nikkatsu, the Roman Porno series was a higher quality variant of pink cinema, which allowed directors creative freedom so long as a sex scene quota was met. Acclaimed by audience and critics alike, the series was prevalent throughout the 70s and 80s, and, in 2016, the studio launched the Roman Porno Reboot Project as tribute to yesteryear. Amongst the filmmakers to contribute was Sion Sono, with Antiporno. As to be expected from the cult director, the film is… quite a trip.
"They piss standing up. Men even look down on toilets."
Covering themes of feminism, the virgin/whore dichotomy, and the Japanese woman's fragile sense of freedom in the patriarchy, Antiporno keeps us guessing from the very beginning, a breakneck pace taking us through this fiercely lurid and often surreal journey. The brightly coloured apartment Kyôko appears to live in is clearly not a normal residence, yet an intense half hour works hard to establish her as a spoiled artist, with a penchant for sexually humiliating and abusing her personal assistant, Noriko. The tension winds up to near unbearable as she orders Noriko's rape by her media luvvy admirers, until, "CUT!" An abrupt breaking of the film's own fourth wall and savage role reversal reveal that the viewer's initial instinct was correct; this is not a real home, and all was not as it seemed. Far from it. A non-linear remainder becomes almost nonsensically meta as the lines between reality and Kyôko's own damaged psychology become more and more blurred.
Ami Tomite is outstanding as the troubled Kyôko, seamlessly switching between her characters to striking effect. Mariko Tsutsui as Noriko also deserves praise for this; the two actresses maintain believable rapport as the tables are suddenly turned, then turned back, and turned again. Admittedly the film is a tad tricky to follow at points and is not an easy watch—which should not be mistaken for criticism—rather it's a maelstrom that effectively reflects Kyôko's mind and women's struggle as a whole. Nor does it feel a tribute to Roman Porno; the sense is more akin to a wry "fuck you" to the limits of the filmmaking process. For some food for thought, however, Antiporno is a choice morsel.
Antiporno is available on dual format from 30 April
[button link="https://www.amazon.co.uk/Antiporno-Dual-Format-DVD-Bluray/dp/B077697M54/ref=sr_1_1?s=dvd&ie=UTF8&qid=1524036009&sr=1-1&keywords=antiporno&dpID=61yTXsIbejL&preST=_SY300_QL70_&dpSrc=srch" newwindow="yes"] Antiporno on Amazon[/button]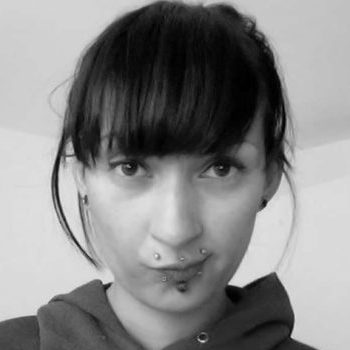 Naila Scargill is the publisher and editor of horror journal Exquisite Terror. Holding a broad editorial background, she has worked with an eclectic variety of content, ranging from film and the counterculture, to political news and finance.