Anselm Kiefer, A Snake in Paradise, 1991-2017, (detail)
[dropcap style="font-size:100px;color:#992211;]T[/dropcap]his exhibition comprises mainly large-scale paintings that are flooded with molten lead. The lead, when cooled, is then peeled back to reveal the destroyed paintings underneath, some of which were painted many years ago.
As such, the lead sublates the paintings. It destroys them as it lifts them into another realm. The peeled lead hangs in heavy curls protruding from the flat surfaces which are the remnant paintings, now vestiges.
The exhibition is accompanied by a full colour catalogue and a text comprising a letter from Anselm Kiefer to Thaddeus Ropac saying, 'what you saw the other day as a model for the exhibition doesn't exist any longer. i've changed the exhibition completely;' and a series of extracts from Kiefer's diaries through the making of the exhibition.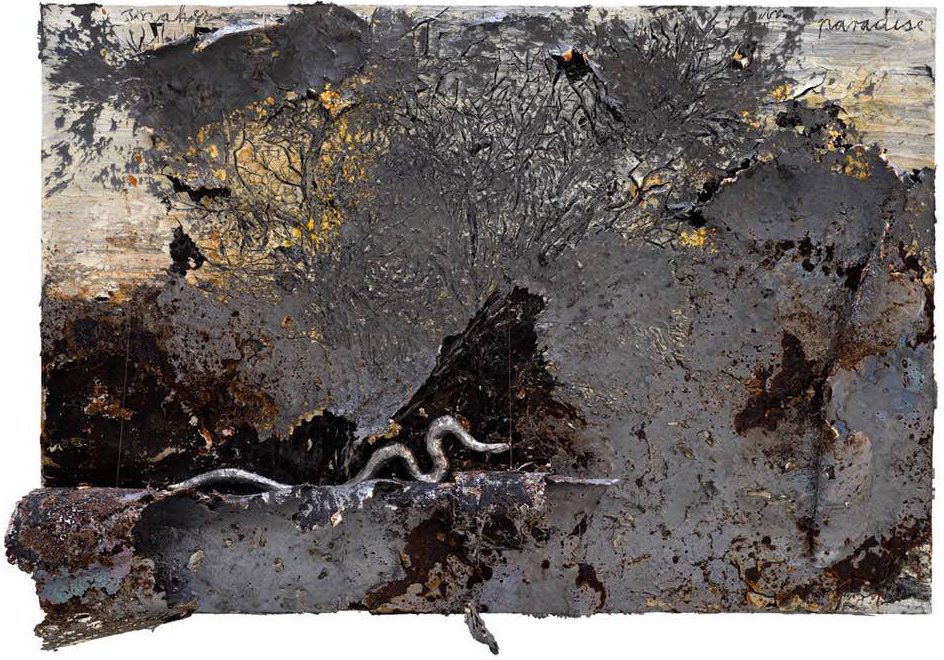 Anselm Kiefer, A Snake in Paradise, 1991-2017
The airy spaces of Galerie Thaddeus Ropac, in the Paris suburb of Pantin, provide fitting accommodation to Kiefer's show of vast new works. Tate Modern's account of Kiefer's work and the themes he deals with points the reader to Paul Celan's poem, 'Todesfuge,' translated as 'Death Fugue.'
Paul Celan was a German speaking Romanian Jew, whose parents were murdered in an internment camp in Transnistria Governorate. Celan was imprisoned in a labour camp between 1942 and 1944.
Kiefer's works, we discover, 'are characterised by an unflinching willingness to confront his culture's dark past.' Looking at the works brings with it a sense of deep angst, an uncanny mixture of simultaneous regret and foreboding.
Black milk of daybreak we drink it come evening

we drink it come midday come morning we drink it come night

we drink it and drink it

(Paul Celan, henceforth PC, 2010)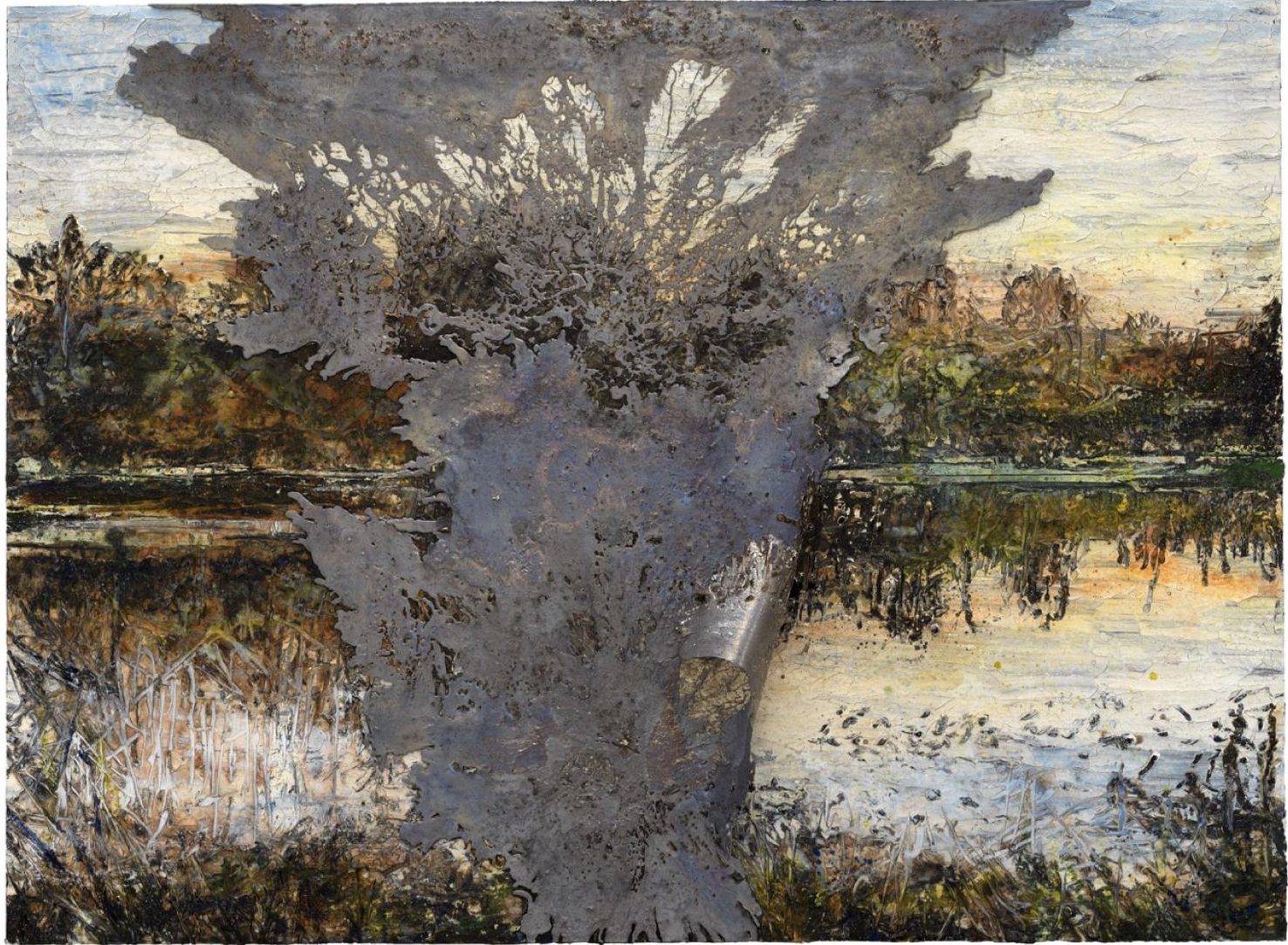 Anselm Kiefer, Gehäutete Landschaft, 2014-2017
Emo, Nihilism, and Theology
The exhibition is dedicated to the Italian philosopher, Andrea Emo (1901 – 1983), whose work is nihilistic, but in so being, it touches on matters of religion and theology. His biographer quotes him, 'all the higher forms of the spirit are sad and try in vain to get out of themselves to find something that saves them.'
God,  in being always and everywhere, negates Himself and becomes nothing and nowhere. Emo, 'God must atone for his universality, he must destroy every value and his own, so that the disappearance, the hiding of God in his atonement is none other than the new creation, the new creation of values; and so the cycle begins again.' In this last quote we glimpse something of Kiefer's attempt to create anew out of previous works. In his diaries we read,
                Tuesday 6 June 2017       22:14
emo, by contrast: 'there is nothing new except in recollection … the new arises out of us, ourselves the future if we can relinquish it,' emo sees death not as something approaching us, but something always already here (the hare and the hedgehog), each of your actions is already its negation, it doesn't wait for the end, it is always already there. it is a constant of self-suppression, self-annihilation, self-destruction. only an iconoclast can be a good artist. it is the simultaneity of an action and its negation. existence is not simple appearance, from which one can free oneself through contemplation, but the absolutely genuine presence of non-existence itself.
we spade out a grave in the air there it won't feel so tight

A man lives at home who plays with the vipers he writes

he writes in the German-born nightfall

(PC, 2010)
Anselm Kiefer's new works
The works in the show are re-workings of paintings made, in some cases, many years earlier. The paintings no longer hold their value for Kiefer, who has now transfigured them by pouring molten lead across them, and then coiling or rolling back the lead to reveal unrecognizable paint surfaces where the lead has pulled away some of the pigment.
Sometimes the process leaves odd symmetries as the paint on the unfurled lead matches the paint shape on the canvas – not unlike a Rorschach pattern. Nevertheless, the lead always looks incongruous, like a new form of life obliterating an old one. There is something savage about the pictures and also something tender and desperate.
                Thursday 6 July 2017       20:47
thanks to your close polish collaborators [Kiefer writes to himself in his diaries] (ludwik, wieslaw, marian, damian,mariusz) who discovered a way to raise the heavy, hot, liquid lead above the picture, over which you can then unleash the frightful flood without being swallowed up yourself; thanks to these co-workers you can now let nothingness reflect itself. reality becomes truth, that is to say picture, since one sees it in the nothingness and as nothing.
he writes it and steps out of doors and the stars are aglitter he whistles his hounds out

he whistles his Jews off has them spade out a grave in the ground

(PC, 2010)
The lead of the pictures and in the vitrines works as a metaphor – the crushing burden of an elemental, brutal force. The lead weight of history, the deadening weight that stifles.  Kiefer used up seven tons of lead in making these works.
In Die Argonauten, 2017, a group of decrepit airplanes, assorted in size and in date, and in military formation, fly toward a lead cloud, over a parched earth. The metaphor is sickening.
Snake in Paradise, 1991-2017, shows a glistening metal serpent, slithering in a hole made by the molten lead across a canvas with the word, 'paradise' scribbled on the top right-hand corner. The figuration of the snake contrasts with the formal weight of the landscaped canvas obliterated by lead.
                Sunday 2 July 2017           17:16
when you previously destroyed pictures there was sudden nothingness. rien n'allait plus. a menacing nothingness. and then came the ennui, for after the raging destruction there was no other 'theme' in sight. there was nothing more, no concept to which you might have clung.
A man lives at home who plays with the vipers he writes

he writes in the German-born nightfall the gold of your hair Margarete

the ash of your hair Shulamith we spade out a grave in the air there it won't feel so tight

(PC, 2010)
Beauty and the Sublime
And yet these works are beautiful. It is a desperate beauty, a sickening beauty, a terrifying beauty. The works overwhelm the spectator. But their overwhelming presence is itself the seat of their beauty. They are sublime works.
Overwhelming beauty is a feature of the work that is praiseworthy. It is not just that they are merely sensational – that would underwhelm. Their massiveness is part of what creates in the spectator the kind of beautiful fear when in the presence of oceans or mountains or deserts or vast night skies. How slight am I? How immeasurable is this at which I gaze.
The collision of the 'frightful flood' upon and against the painted landscape in Gehäutete Landschaft, 2014 – 2017, is apocalyptic and as frightening as the culmination of the Manhattan Project. As he witnessed the first detonation of a nuclear weapon on July 16, 1945, a piece of Hindu scripture ran through the mind of J. Robert Oppenheimer: 'Now I am become Death, the destroyer of worlds.'
These pictures are metaphorical; but even as they are metaphors they convince as pictures of a most sombre, unspeakable truth. That truth is not a concern over Germany's past; it is a concern over humanity's future.
References: Paul Celan (2010) 'Todesfuge, translated by A. Z. Foreman as 'Death Fugue,' Accessed on 23 March 2018 at: Poems in Translation
Anselm Kiefer
"Für Andrea Emo"
11 February – 31 May 2018
Galerie Thaddaeus Ropac, 69, avenue du Général Leclerc, 93500 Pantin, Paris
Anselm Kiefer at Thaddeus Ropac
Photos: Georges Poncet. Courtesy Galerie Thaddaeus Ropac, London · Paris · Salzburg
© Anselm Kiefer
Lead image: Anselm Kiefer, Für Andrea Emo, at Galerie Thaddeus Ropac, Pantin, Paris, February 11th – May 31st 2018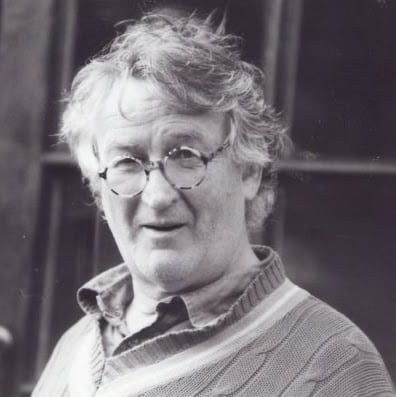 Ed studied painting at the Slade School of Fine Art and later wrote his PhD in Philosophy at UCL. He has written extensively on the visual arts and is presently writing a book on everyday aesthetics. He is an elected member of the International Association of Art Critics (AICA). He taught at University of Westminster and at University of Kent and he continues to make art.